The Prime Minister has rightly expressed his shock at the suicide of a farmer, widely attributed to the CSG industry. He should fix the system that disempowers landowners and communities. Thom Mitchell weighs in.
The Prime Minister said today he will be "looking into" the suicide of George Bender, a Queensland cotton farmer and anti-coal seam gas protestor who took his own life yesterday after a 10-year battle with the invasive and often bullying industry.
If Malcolm Turnbull is serious, the best place for him to start would be the actions of the LNP government, and its state allies. But I doubt he will.
It's true of course that Labor has also driven the aggressive expansion of this much-hated industry across vast swathes of farming country; but it's been ably abetted in trampling over farming communities by the Liberal and National parties. And Labor aren't in power – Turnbull is.
Earlier this year, the then-Abbott government released a 'Domestic Gas Plan' which laid bare its ambitions for a next generation mining boom.
According to Ian Macfarlane, the then-Minister for Industry, Innovation and Science — but mostly for industry — the plan was to "cement our position as an energy superpower and remain competitive".
Having travelled to Chinchilla, on Queensland's Darling Downs – where Bender's family had farmed for five generations – I can tell you that there's a lot of farmers who are worried they won't remain competitive in the face of a now-entrenched coal seam gas industry.
In my short tour of that now highly industrialised South East corner of Queensland, I saw scores of people reduced to tears of frustration and powerlessness. Through that trip I know at least one other farmer who blames the industry for his son's suicide.
Queensland Senator Glenn Lazarus knew Bender personally, because he's been investigating the industry's impact on communities intensively since he came to parliament at the last election.
"George was a brave, courageous, big-hearted cotton farmer in Chinchilla who fought for 10 years to stop CSG miners from entering his land to mine," Lazarus told parliament yesterday.
"All his bores had dried up because CSG mining in nearby areas had depleted the underground water, and contaminated water was all that was left.
"If this was not enough, the mining companies then wanted to mine [18 gas wells, reportedly] on George's land."
No doubt industry would dispute these characterisations; but it's not the complex scientific debate that's most visceral here, it's the way communities' concerns are consistently diminished and dismissed by governments of both stripes.
According to reportage from The Guardian today, "The Prime Minister did not elaborate on how [his 'look into' Bender's death]would proceed or to what aim."
Turnbull noted that extractive rights and regulations are "not entirely but largely, very largely within the realm of state".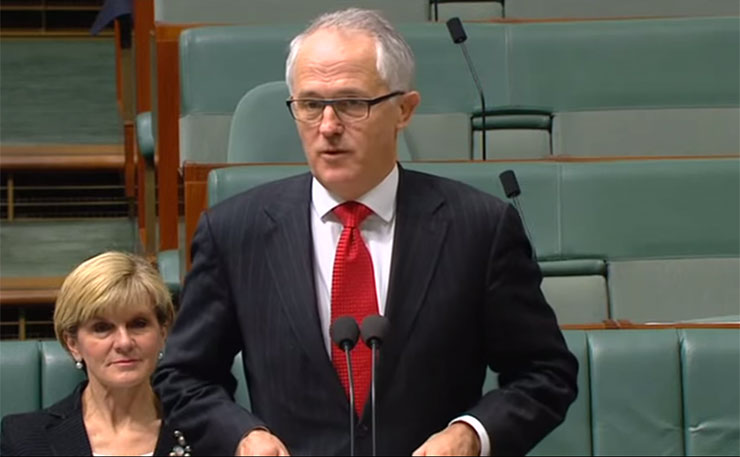 True enough, but as the Liberal party's Domestic Gas Plan makes clear, "The Australian government expects the states to support the development of the unconventional gas industry…"
And it must be high volumes for export, because "the Australian government does not support domestic reservation policies". In that, they're at odds with a host of comparable nations which deploy a plethora of policies to keep domestic supply cheap.
Not in Australia, though, where it "will not address the challenges and will defer future investment". "Instead" — would you believe it — "additional supply is needed".
Further to this, and much to the Federal government's displeasure, "New South Wales, Victoria and Tasmania have moratoria that effectively block the development of new supply".
In other words, Australia will have an increasingly large unconventional gas industry, come hell or high water. It will replace the mining boom, and farming communities opposed to coal seam gas had bloody well get out of the way.
Naturally, the document also waxes lyrical about strong regulatory systems, stringent science, and community consultation. But it does not countenance the idea that people and communities can 'lock the gate', so to speak.
One of the industry's greatest challenges is that coal seam gas is a sprawling, landscape-industrialising, industry which requires constant and invasive access to other people's land.
And they really don't give a fuck how they get it.
Compensation per gas well on a property can vary from hundreds to thousands of dollars a year. It really depends on how hard they think they can screw you.
The remonstrations of one particularly hated company — Metgasco, which is trying to force its way into an unwilling community in New South Wales' Northern Rivers — are particularly telling of prevailing attitudes to corporate social responsibility.
"It's got nothing to do with [community]opposition," a public relations spokesperson for the company told New Matilda in April.
"You know what, they have a licence to do it, they're allowed to," she said.
"They've paid money for a licence, they're legally allowed to do it, so why would you not do it?
"What would be the point of having a company? If your reason for being [is]to explore for gas, why would you not do it?
"People don't like lots of things, and they still happen."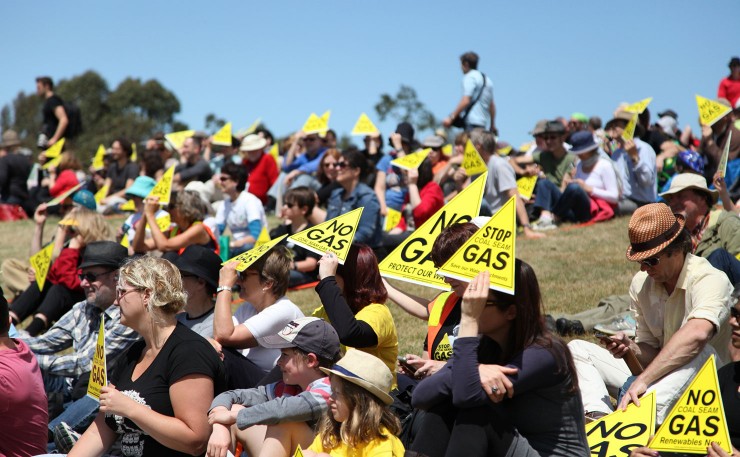 They sure do, because landowners have no right to refuse coal seam gas companies access to their property. Effectively, they're forced to negotiate for compensation with a gun to their head.
Earlier this month a Senate Inquiry — consisting of three Liberal members, two Labor parliamentarians and one Green — rebuffed a Bill to allow landowners the right to refuse access to their properties.
Admittedly, the Bill included a ban on hydraulic fracturing or fracking, a controversial gas extraction technique, but reading through the Committee's report you get the sense that the damage giving landowners more rights would do to the industry's profit margins meant it was simply not on the cards.
For years, the major parties have consistently ignored this issue.
Like that Committee, Turnbull may well "look into" the tragic story of a man who felt so belittled and disempowered he took his own life, rather than continue to fight the gas boom.
He may look, but he will quickly look away again when the heat dies down.
* Lifeline is a free crisis and support line – phone 13 11 14.
Donate To New Matilda
New Matilda is a small, independent media outlet. We survive through reader contributions, and never losing a lawsuit. If you got something from this article, giving something back helps us to continue speaking truth to power. Every little bit counts.