When Turnbull ousted Abbott, I made some predictions about his trajectory. One was that he would likely want to avoid the egregious anti-Muslim bigotry and dog-whistling of the Abbott government. This has been put to the test with the shooting in Parramatta, with mixed results.
A noticeable feature about media coverage of the shooting is that there is very little information about Farhad Jabar, the shooter. Consider this report at the Guardian, last updated on October 4, two days after the shooting. It noted that "Detectives are continuing to investigate the motive behind the fatal shooting", which is a polite way of saying they don't know the motive.
Which is how we wound up with this impressive statement: "Police commissioner Andrew Scipione says investigators are still a long way from establishing a full picture of Farhad but 'his actions were politically motivated and therefore linked to terrorism'". Terrorism presumably because this was a violent act by a Muslim.
At Fairfax, on October 5, Nick Ralston reported "senior police sources" said "that Jabar was not only not on their radar but that they had not heard mention of his name before Friday." And again, "Police concede they have a lot of work to do before they have a full picture of who the 15-year-old, of Iraqi-Kurdish background and born in Iran was, and what motivated him."
The Daily Telegraph has basically been a funnel for the speculation of the police, which has mostly centred on Muslims.
Taylor Auerbach and Sarah Crawford reported – with colourful language of the "terror teen" and "cold blood" – that Jabar "had been a regular member of an Islamic schoolyard prayer meeting being audited by the state government".
Also at the Tele, to get a sense of the 'Muslims Muslims Muslims' element, Laura Banks summarised the latest state of police investigations as of 7 October thusly: "Police have established the teenager was at his Parramatta home on Friday morning before he went to the Parramatta Mosque in the afternoon to listen to sermons by two imams."
It was also reported that in his last 12 months alive, Jabar gave up basketball and had been "skipping school to attend prayers".
Fairfax's Patrick Begley solemnly reported that "Jabar attended a Hizb ut-Tahrir lecture at Parramatta Mosque on Friday." Begley duly peppered his article with innuendos: "Hizb ut-Tahrir, which seeks to establish an Islamic caliphate, has been criticised for not condemning violence committed by radicalised Muslims… Hizb ut-Tahrir, which is banned in some countries but not Australia… refused to condemn acts of violence by Islamic State".
Begley somehow managed to write that Hizb ut-Tahrir doesn't condemn violence by "radicalised Muslims" whilst also noting the group had said "Actions like the Parramatta shooting are plainly wrong", and its philosophy of non-violence. And "Hizb ut-Tahrir did not deliver a lecture at the Parramatta Mosque on Friday". But it's easy to attack Muslims – especially a marginalised group of Islamists who are unlikely to get a right of reply in any major media outlet.
Whilst police didn't know where the 15 year-old got his gun from, they now – according to the Tele – suspect it "came from Middle Eastern crime gang". Even more excitingly for the Tele, "police suspect it was handed to the schoolboy at the Parramatta mosque." This undoubtedly will lead to even more media harassment of the mosque, and associated dog-whistling.
After five days of the police knowing little and being seen to know little, roughly 200 police officers were duly summoned to do something and display strength by launching pre-dawn raids and arrests on four homes across western and northern Sydney.
Five arrests were made, four of them allegedly for terrorism related issues, and one for fraud. Two of the four were teenagers. Three of the four homes were raided in September last year, and the fourth was raided in February this year.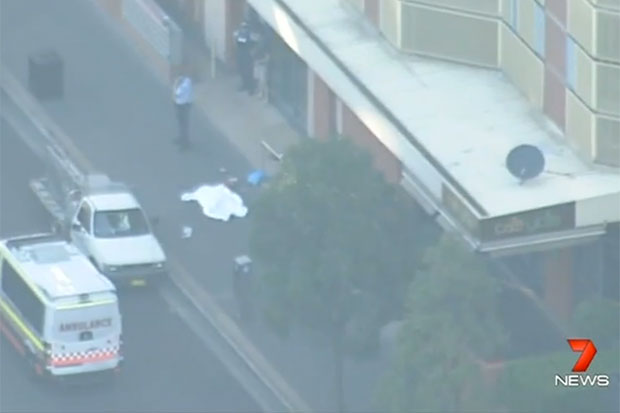 Deputy Police Commissioner Catherine Burn said "The allegations and reasons why we detained them is because we suspect that a terrorism offence has occurred, and we suspect they may have some knowledge."
So unless they collaborated on the attack, or are keen to become informers, it is likely they will soon be released, perhaps when media spotlight on police inaction dies down. [Ed's note: Three of the four teenagers were reportedly released this morning]. Media attention tends to rapidly diminish, as in the supposed Anzac Day related raids on April 18, where charges were more quietly dropped against Harun Causevic within a week.
The government's new rhetoric
In his immediate reaction to the shooting, Prime Minister Malcolm Turnbull struck a different note to Abbott. He said, "It is also important to remember that the Australian Muslim community will be especially appalled and shocked by this. As Commissioner Scipione and the Premier have noted, we must not vilify or blame the entire Muslim community with the actions of what is, in truth, a very, very small percentage of violent extremist individuals."
And again: "It's also important to understand the critical importance of the collaboration, co-operation with the Muslim community. Efforts to blame or vilify the Muslim community are utterly counterproductive."
Turnbull also said: "The Muslim community are our absolutely necessary partners in combatting this type of violent extremism." And again: It is "important to understand the critical importance of the collaboration, co-operation with the Muslim community."
There are positive and negative sides to this statement. It is positive to describe the Muslim community as "partners", in the sense of suggesting an equal relationship, though I think this is unlikely to happen in practice. Turnbull sensibly observed that, "We cannot guarantee that incidents will not occur". Given that police can't offer that guarantee, what kind of guarantee can or should be expected from the Muslim community?
Then there's the rhetoric of Assistant Minister for Multicultural Affairs, Senator Concetta Fierravanti-Wells. Displaying her profound insight into Daesh and its appeal, she said, "They do want to go over and rape, plunder and pillage — that is why they are going… They are being induced to go over … with promises of AK-49s, drugs and women. I have heard that directly from people who have had dialogue with these young people."
Presumably no-one has informed her that Muslims in Australia don't need to go to war zones in devastated and dangerous countries to access sex and drugs in Australia.
Fierravanti-Wells ruled out changing the laws that would strip dual-national citizens of their Australian citizenship, and refused to comment on banning Hizb ut-Tahrir beyond saying that free speech is "important… but advocating terrorism should not be part of free speech".
She then insisted on the need to form a partnership with Muslim communities.
"We have to work with the communities; we cannot be in the homes, we cannot be in the schools, government cannot do this alone. They have to do this in partnership with those communities." Striking that the Assistant Minister for Multicultural Affairs should sound so suspicious of Muslim homes and schools.
It seems like Senator Fierravanti-Well's idea of partnership is Muslims serving the government, even as laws and policies target them and strip away their rights. Is any other community expected to fight this or that type of crime? Would the Federal Government ever announce the types of issues they expected Catholics or Jews to help them address?
What partnership might look like
At the Australian, Ean Higgins reported on Catholic priest Chris Riley, founder of Youth Off The Streets complaining that Muslims are failing to "get off your backside and do something".
This follows the traditional nonsense about Muslim leaders needing to condemn Daesh. Considering that Jabar's background was Iraqi-Kurd, and born in Iran, he was probably exposed to plenty of criticisms of Daesh, as they have fiercely attacked Kurds in Iraq and Syria. If Jabar did sympathise with Daesh, this was not because he had never heard criticisms of it.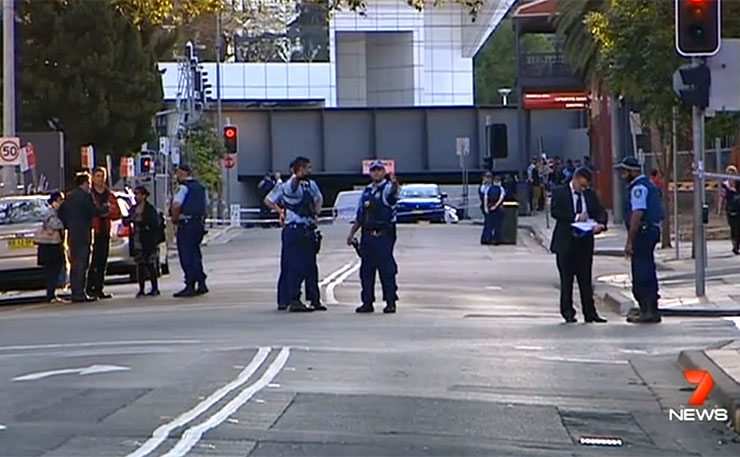 Higgin's story continued: Riley discussed the case of a 19 year old who he worried would be "vulnerable" to extremist propaganda, and the police said he has last been tracked to Jordan. Riley heard "the youth's claim that he and other Muslims felt persecuted by Australian authorities and some of the ­citizenry. 'This is a racist nation. People are defacing their mosques. They just have to deal with this every day,' Father Riley said."
In an unusual act of journalism at the Australian, Jennine Khalik reported on long-standing difficult relations between police and teenagers from the school the shooter attended, Arthur Phillip High School.
Khalik spoke to students who knew Farhad Jabar and the teenager who was arrested and charged in relation to posts he allegedly wrote on Facebook about police. She wrote that, "The teenager yesterday told the ABC he was taken away for filming police on his mobile phone during the interaction. Other students at the school say they are often stopped and searched or moved on by authorities."
Khalik reported
Afghan students say they are often being moved on by authorities, or stopped and searched, when hanging back after school, when sitting outside the local library, when walking to Parramatta train station or when making their way to the Westfield's shopping centre around the corner from the school. 'They're always stopping the Afghans on the side, searching them, telling them to move on,' one student said. 'They see them walking down the street, they'll ask for IDs … for no reason.'
In his remarks on the shooting, Turnbull referenced the government's "de-radicalisation programs". Which is a good time as any to recall the paper his own Minister Assisting the Prime Minister on Counter-Terrorism produced on radicalisation.
It claimed that the following "can help push someone onto a path of radicalisation:
• discrimination and social unfairness
• exposure to hateful attitudes and actions, either as victim or perpetrator, and
• overseas events that may harm their community"
That is, some might be radicalised by things like the harassment by police that Khalik found was a common experience among students she interviewed. Or by our US allies in Afghanistan bombing a hospital and rejecting an independent investigation into it. Or by our air-strikes on Iraq and Syria. Or that our former Prime Minister "congratulated" the mass murdering tyrant of Egypt for his slaughter of unarmed protesters.
Australian media reported widely on the "emotional" moment Peter Greste discovered his colleague had been pardoned in Egypt. Egyptians might feel similar sympathy for the other estimated 41,000 political prisoners jailed since military dictator Abdel Fattah al-Sisi's coup in July 2013. They also have friends, families and well-wishers: unrepresented across the mainstream political spectrum in Australia, but capable of emotions, too.
Or the new Prime Minister of Australia. Last year he defended the attack on Gaza, claiming the "fundamental issue" was the safety of Israelis, because Israel "faces an existential threat".
If the Turnbull government wants to partner with the Muslim community and address radicalisation, these are some of the issues it might regard as worth addressing, if it takes its own paper on radicalisation seriously.
If it is resigned to future attacks, and prefers Muslims acting as servants rather than partners, then it will continue making demands on Muslims without effecting any change in domestic or foreign policy.
It is not hard to predict which path the government will go down. Yet as the government makes demands on Muslim "leaders", without making any concessions, those leader's denunciations of Daesh will become increasingly worthless, as they will lose their credibility with relevant audiences.
And then familiar discussion will follow: are the Muslim leaders doing enough to fight terrorism? Because it is easier for politicians and the media to pick a scapegoat than re-examine policies that might benefit from being changed.
Donate To New Matilda
New Matilda is a small, independent media outlet. We survive through reader contributions, and never losing a lawsuit. If you got something from this article, giving something back helps us to continue speaking truth to power. Every little bit counts.