The push for a political pact to deal with climate change is gaining pace, with more than 146 countries representing almost 87 per cent of global greenhouse gas emissions having submitted their targets ahead of the United Nation's climate change summit in Paris this December.
The news comes as India, the third highest polluting country, submitted its target to the UN on Friday. The nation of 1.2 billion people will aim to reduce its emissions intensity, or the amount of carbon created per unit of Gross Domestic Product, by between 33 and 35 per cent by 2030, based on 2005 levels.
Though not bound to honour its pledges, India has said it will aim to source "about 40 per cent [of]cumulative electric power installed capacity from non-fossil fuel based energy resources by 2030".
India is the last major economy to announce its plans ahead of the Paris summit. In its submission to the UN it insisted it is "not a part of the problem" and stressed that the per capita emissions of Indians are around one third of the global average.
Even before India had submitted its target, over 75 per cent of all member countries to the UN Framework Convention on Climate Change (UNFCC) had responded to the United Nation's call for commitments by October 1.
All countries classified as 'developed' under the Convention, as well as almost 70 per cent of 'developing' countries, have now submitted their targets. Over 80 per cent of the commitments include intended actions to adapt to climate change, an area that's of vital importance to developing states like India that are also struggling to bring poverty levels down and develop their economies
The Executive Secretary of the UNFCCC, Christiana Figueres, was positive about the progress being made under her watch. "Over the past few months, the number of countries submitting their climate action plans to the Paris agreement has grown from a steady stream into a sweeping flood," she said.
"This unprecedented breadth and depth of response reflects the increasing recognition that there is an unparalleled opportunity to achieve resilient, low-emission, sustainable development at national level."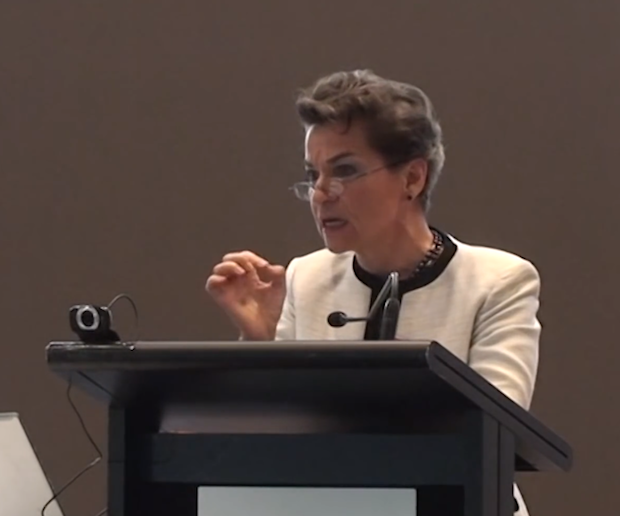 But it's unlikely to be enough to limit the rise in global temperatures to the two degrees above pre-industrial levels that 195 national governments, including Australia's, have accepted is 'dangerous'.
Estimates of how much carbon the deal in Paris will cut vary from enough to limit the global rise in temperatures to 3.5 degree down towards an increase of 2.7 degrees.
The United Nations will synthesise all of the targets received to provide their own estimates by November 1, but climate analysts are increasingly warning that Paris should be seen as a starting point for change and not a solution in and of itself.
It's expected that the summit in Paris will call for nations to undergo reviews of their targets every five years, with a view to ratcheting up the level of ambition until enough action is taken to stick within the two degree guard rail.
Globally, the geopolitical signs of climate action have been positive over recent months, with the United States announcing a plan to cut emissions from the power sector by 32 per cent to 2030 and China confirming it will kick off a national emissions trading scheme in 2017.
As the world's largest emitter, China has taken on a leadership role ahead of this year's summit, moving away from a past in which it was viewed as a 'developing' nation. There is a growing partnership between China and the United States, which is likely to be a game-changing shift that will help in avoiding a failure of the sort produced by the Copenhagen climate conference in 2009.
The communist state has promised to reduce its emissions intensity by between 60 and 65 per cent by 2030, and is aiming to peak emissions around the same time. In contrast, India has made no indication of when its carbon emissions will ultimately go into a decline, and they will inevitably grow for decades to come as the Indian government pursues its goal of "electricity for all".
Since the first UN climate summit was held in Germany in 1995, global emissions have climbed steeply. Between 1900 and 2008, total emissions increased 16-fold, and between 1990 and 2008 the total amount of carbon being pumped into the atmosphere increased by 1.5 times, according to the US Environmental Protection Agency.
This year is expected to surpass 2014 as the hottest on record. Of the seven months to August, four posted the hottest global average temperatures since records began in 1880, two were the second hottest ever seen, and the remaining month came in as the fourth warmest April ever.
In a grim example of the tangible affects these sorts of changes to the earth's weather systems are having, Oxfam is warning of a global humanitarian crisis as the inclement weather afflicting 2015 combines with a likely 'super El-Niño' to undermine global food security.
Donate To New Matilda
New Matilda is a small, independent media outlet. We survive through reader contributions, and never losing a lawsuit. If you got something from this article, giving something back helps us to continue speaking truth to power. Every little bit counts.