The union representing workers in the mining sector has blasted the Greens after the party unveiled a major new policy aimed at preventing mining companies shirking their obligations to rehabilitate old mines and managing job losses expected to hit the coal sector.
The General President of the Construction, Forestry, Mining and Energy Union's Mining Division, Tony Maher described the policy as a "cheap stunt" and said the it came as a total surprise to his union.
"I think it's a pretty lazy contribution to the debate," he told New Matilda. "They haven't engaged with us at all, and I think that's quite scandalous…I'm a little bit disgusted that they didn't pick up the phone," he said.
The Greens announced their policy on Wednesday last week seeking to marry up the related problems of chronic underfunding for mine site rehabilitation and expected job losses in the coal mining sector, increasingly thought to be in structural decline.
Described by the party as a victory for workers rights and the environment, the Greens' plan would see coal mining companies pay money into a trust held by the Federal Government, with the funds later being used to rehabilitate mine sites after operations are complete.
On top of the jobs created by rehabilitating the sites, interest accrued from funds held in the trust would be used to train coal miners for new jobs in "clean industries".
The Greens have called for an audit to identify the true cost rehabilitating coal mines across the country, expected to be currently underestimated by billions of dollars. Tailored plans would be developed for each coal mine's eventual closure and rehabilitation.
Maher agrees that "there's decades of work in rehabilitation," but said it was a shame the CFMEU wasn't consulted before the Greens announced their policy "because it's an area that does need a lot of policy work and we're doing a lot of work on it".
The backbone of the Greens' policy is a report from the Institute for Energy Economics and Financial Analysis, a US-based clean energy think tank which has declared coal to be in structural decline as key markets in China and India move to aggressively reduce their reliance on imported coal.
As global powers like the United States, the European Union, and China scale up efforts to address climate change ahead of a key United Nations summit in Paris this December, the IEEFA's bearish forecasts are being echoed in the outlooks of mainstream financial institutions.
Goldman Sachs recently concurred that coal is in structural decline, downgrading their futures forecasts by 23 per cent and leaving coal tanked in the low $50/tonne range, which would be very bad news for Australian exporters.
Greens Deputy Leader Larissa Waters said that the party consulted with "mine site rehabilitation and financial experts in developing this particular policy initiative," but did not directly respond to inquiries about why the relevant trade union was not included in those discussions.
Waters said the Greens are "looking forward to discussing our policy with unions and workers" and that the party will "be open to feedback about it" moving forward.
"This is both a workers' rights policy and an environment policy," she said.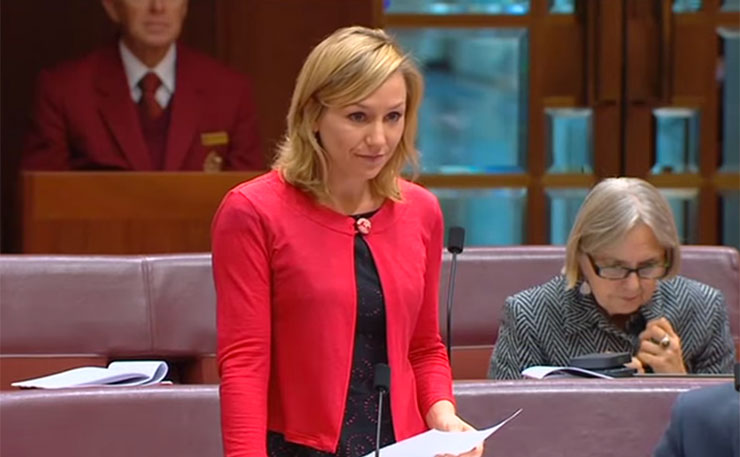 "It protects workers from the situation where mining companies close down in the face of crashing demand and try to avoid their rehabilitation obligations. They could do this by leaving Australia like James Hardie tried to do, or by selling mines to shelf companies or less reputable companies.
"This would leave workers in the lurch, since state governments would be left with the clean up costs and may be unable or unwilling to pay."
Maher agreed that there's a major funding gap in the money mining companies will need to fork out if their environmental footprint is to be properly erased, and he said given rehabilitating mines involves "almost the same skills" it could be a source of "decades of work".
"If left too late to address as an issue, then state governments will be left with the choice of leaving a lunar landscape or forking out public money," he said.
But he disagrees with the Greens' assumptions about the future of Australia's export market, which he maintains "is expected to grow in the foreseeable future".
"All [the Greens]have done is take that institute's report that we saw weeks ago and said 'oh well here's a way we can make ourselves look like we're caring for the workers', and it's totally inadequate," Maher said.
He drew a distinction between the downturn in domestic demand for coal power generation in Australia and the ongoing market for Australian coal exports.
"[In] the domestic power industry the need to confront these issues is between now and midcentury. The mistake the Greens make, and that the Institute makes, is they think the export coal industry is in the same timeframe. It's not."
"The policy doesn't deal at all with the power station workforce," he said, adding that workers employed in Australian coal-fired power stations will be among the first to feel the crunch as government policies work to encourage cleaner sources of energy.
Waters told New Matilda that the Greens "will be announcing a comprehensive transition plan for the power sector later, which will include a plan for 90 per cent clean energy by 2030."
Maher said that level of ambition was a good example of where an environmental party and a trade union simply have different priorities.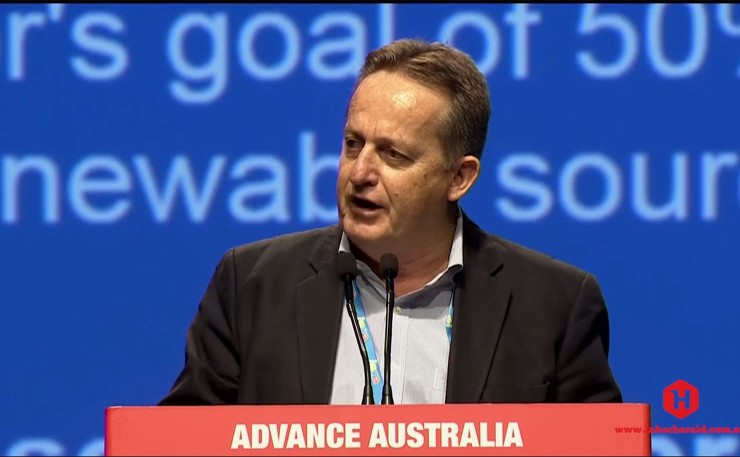 He argued the market is likely to get to around 40 per cent clean electricity generation, rather than 90, in the same timeframe. The CFMEU is sceptical renewable energy will be the font of jobs the Greens and some elements of Labor have consistently suggested.
Maher argued that while renewable energy does create jobs, it creates them in other countries.
"The economic modelling produced by NGOs and the Greens party about millions of jobs is frankly a nonsense," he said. "All the jobs in renewables are in manufacturing and in installation [and the former]occurs in China, and Finland and Germany, not in Australia".
"Take a wind turbine — we get to put down the concrete slab. If we're lucky we might get to fabricate a bit of steel for the tower and erect it. It's a very short construction job, and the manufacture of rooftop solar occurs somewhere else [too]."
Although the Liberal Party has been mute on the issue of how to transition workers out of the coal industry, the CFMEU has made some progress towards a plan to transition workers employed at coal-fired power stations through its affiliation with Labor. At the party's recent National Conference, Maher struck a preliminary deal that would see the ALP establish an agency to oversee the shift.
"I think [that agency]should organise for the redeployment of labour," Maher said.
"You've got to bear in mind power stations [will]close down one at a time and there'll be a percentage of the workforce who won't be interested in retiring, and have got more years to work, and there are vacancies at the other places.
"And there are vacancies because they have natural attrition as their workforce ages. It's a fairly simple matter to redeploy that labour to vacancies at other power stations. But if you leave it to the market it won't happen.
"I want to find well paid jobs, and I want a government agency to oversee that. I don't trust the market, with good reason. The market has always screwed workers in restructuring and we're going to negotiate with whoever's in power to look after the workforce," Maher said.
Donate To New Matilda
New Matilda is a small, independent media outlet. We survive through reader contributions, and never losing a lawsuit. If you got something from this article, giving something back helps us to continue speaking truth to power. Every little bit counts.