The Prime Minister of Fiji, Frank Bainimarama has hit out at developing nations for their "unacceptable" progress in reducing carbon emissions as part of a speech to the United Nations General Assembly, in which he warned of a humanitarian refugee crisis on the scale of the current migration out of Syria if more is not done.
The talks come as Foreign Minister Julie Bishop seeks a place for Australia on the UN Security and Human Rights Councils, but Bainimarama warned that developed nations like Australia are not listening to the voice of Pacific Island nations, whose human rights are threatened by rising seas and hostile weather patterns.
"It is simply not acceptable for advanced economies to build a high standard of living on the degradation of the earth and the seas," Bainimarama said.
"The choices we face may be politically difficult in the short run, but the consequences we are already seeing – environmental degradation, unbearable heat, drought, powerful tropical storms and unpredictable weather patterns – are simply unacceptable," he said.
"[Fiji] plans to move some 45 villages to higher ground, and we have already started.
"We have committed to resettle people from other low-lying, South Pacific Island States that face the prospect of being swallowed up by the rising ocean and falling inexorably to oblivion.
"Should that happen, the people of those Island States would be refugees as desperate and lost as the hundreds of thousands fleeing conflict in Syria and Iraq," he said.
As New Matilda reported in June, experts in migration law, like those at the University of New South Wales' Kaldor Centre for International Refugee Law, are already warning that the "disasters on steroids" climate change will bring is likely to create a need for special refugee visas for residents of Fiji and beyond.
It is clear by now that international pledges nations have made through the United Nations climate change process will not be enough to keep the global rise in temperature to less than two degrees, which is the level accepted as 'safe' by Australia and around 200 other nations, including Fiji.
Commitments so far would lock in a rise in temperatures of around 3.5 degrees, although it should be stressed that the crucial climate negotiations in Paris this December are seen as part of a continuing process, and not an end point.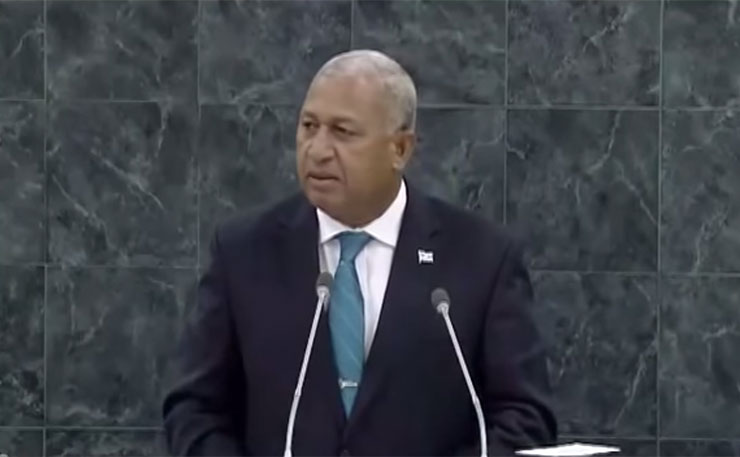 At the United Nations Bainimarama drew attention to a plea from Fiji that global temperature rises be kept below 1.5 degrees, rather than two, and the "detrimental affect that climate change is having on [their]ability to extend and strengthen human rights in the region".
"The Suva Declaration calls for the 2015 Climate Change Agreement to limit global average temperature increase to less than 1.5 degrees centigrade above pre-industrial levels," Bainimarama said.
"It calls for the Paris agreement to be legally binding on all parties, and for it to recognise loss and damage as a stand-alone element.
"We also call for Climate Change adaptation measures to be 100 per cent grant financed."
Fiji holds hopes for a sympathetic ear
No doubt the controversial leader — who came to power through a series of military coups that contribute to the dim pall around his own human rights record — will be hoping for a more sympathetic ear in Australia's new Prime Minister, Malcolm Turnbull.
Last month the then Prime Minister, Tony Abbott, was caught out guffawing at the Immigration Minister Peter Dutton's joke that "time doesn't mean anything when you're about to be, you know, have water lapping at your door" after a meeting of the Pacific Forum where Australia refused to do more on climate change.
The incident sparked domestic condemnation, as well as aggressive rebukes from Bainimarama's fellow leaders in the Marshall Islands and Kiribati, and the gag was seen as especially egregious because Australia's carbon pollution reduction targets put it firmly at the back of the international pack in terms of ambition.
In his address Bainimarama pointed out that for Fiji and other Pacific nations, time is at the very crux of the climate crisis.
"We hold our resources in trust for future generations, and we will not squander them for short-term economic gain," Bainimarama said.
"The emergency is now. The solution must be now. The time for excuses is over."
Donate To New Matilda
New Matilda is a small, independent media outlet. We survive through reader contributions, and never losing a lawsuit. If you got something from this article, giving something back helps us to continue speaking truth to power. Every little bit counts.