At the National Press Club today Greens leader Richard Di Natale is expected to provide detail on a policy that would force mining companies to pay realistic rehabilitation bonds, with the interest on the billions of dollars collected to be redeployed to "protect thousands of coal workers from being left stranded by mine closures".
Announcing the major new policy yesterday, Di Natale and his Deputy Larissa Waters said that increasingly effective international climate action and other external market realities are forcing a collapse in the coal market, which is thought to be in structural decline.
"This scenario creates two major public policy challenges: how to transition thousands of jobs in the sector, and how to pay for billions in clean up and rehabilitation costs for dozens of disused coal mines," Di Natale said.
"As coal companies go bankrupt or leave Australia it's coal workers who are hit hardest, followed by state governments who are regularly left to foot the bill for cleaning up the mine," Waters said.
"Under the Greens' plan, rehabilitation funds would be paid into a Federal Trust Fund for the companies to access at the conclusion of their operations."
The policy is underpinned by analysis from the IEEFA (Institute for Energy Economics and Financial Analysis), a US-based clean energy think-tank of market analysts which "is convinced that the seaborne thermal coal market has entered structural decline".
"Having peaked in 2009 and rebounded again in 2011, the seaborne price has since fallen 70 per cent," IEEFA said. "Thermal coal imports to China declined 9 per cent in 2014, and year-to-August 2015, coal imports have declined a further 31 per cent year-on-year."
Many others analysts are similarly concluding that coal is in structural, rapid decline. Key markets like India and China are moving to cut reliance on imported coal, and China in particular is gaining momentum in its push to curb climate change and pollution through policies like the recently announced national emissions trading scheme.
This month the Prime Minister's former investment bank, Goldman Sachs joined a host of analysts — which IEEFA said include UBS, Merrill Lynch, Deutsche Bank, HSBC and Morgan Stanley — in downgrading its demand and price expectations for coal, with no material price recovery expected in the long term.
Most recently, "In September 2015 Goldman Sachs reported coal was now in structural decline and downgraded their thermal coal forecast by 25 per cent to US $50 a tonne nominal over the long term".
At the same time, the coal industry has not been forced to put up the funds that would realistically be required to rehabilitate mines that are abandoned, put into 'care and maintenance', or slated to be retired in coming years, and there are growing fears they could be 'phoenixed' or sold to shelf companies to avoid liability.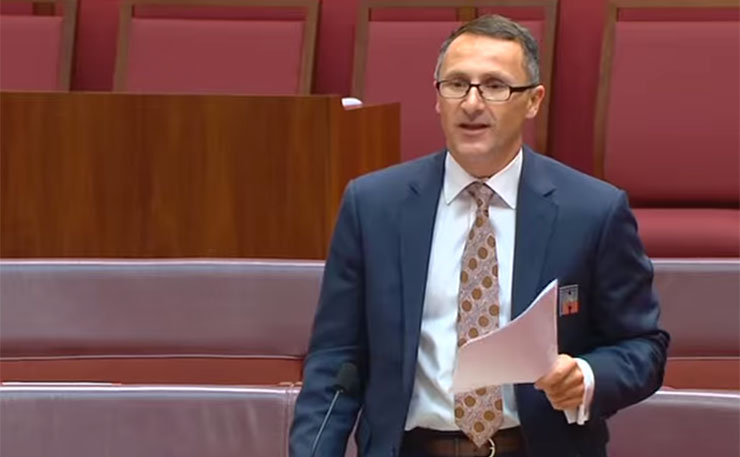 According to the Greens, "Around Australia there are 50,000 abandoned mines which are not being adequately rehabilitated."
In April last year the Audit Office of Queensland, one of the big coal states, found that "the financial assurance held is often insufficient to cover the estimated cost [of]rehabilitation and is rarely enforced".
"Successful environmental rehabilitation is not occurring and the state remains exposed to unnecessary and unacceptable financial risks," the audit said.
"In NSW, the government holds just $1.8 billion in security deposits, while the relevant department estimated Rio Tinto's Mt Thorley-Warkworth mine clean up costs would be at least $2 billion — for just that one mine," the Greens said in a two page policy brief.
Given its way, the party would "find out how exposed state governments are by establishing an independent auditing taskforce to determine the gap between secured rehabilitation bonds and the actual cost of rehabilitation".
"Tailored plans for each mining company which would be forced to pay into the Federal Trust Fund would be developed, and the interest made on the Fund [would]be spent on the jobs transition by either attracting new, clean industries to those regions or retraining workers".
"The money [could]also be made available to those companies that bring their rehabilitation works forward to create local employment and secure a safe environment."
The Labor party also has a little-known policy to tackle the inevitable shocks to the jobs market in the declining coal industry, which forms part of a deal with CFMEU boss Tony Maher who seconded Bill Shorten's resolution for an aspirational 2030 target of drawing 50 per cent of energy from renewable sources at the party's recent national conference.
"This resolution introduces an Australian first — a government agency dedicated to managing the redeployment, retraining and if necessary arranging income support for affected workers," Maher said at conference.
But he cautioned "this has budgetary implications, so I hope Labor endorses it with its eyes open," and was at pains to point out the union believes there is a strong future for export coal.
"Make no mistake, if you pass this resolution and Labor in government doesn't deliver for workers we will wage a concerted campaign to get what has been promised and we expect every single delegate here to support us," Maher said.
For its part, the Coalition has so far been mute on the issue of assisting workers through the decline of coal. Richard Di Natale will front the National Press Club at midday today to canvass the Greens' new policy in greater depth.
Donate To New Matilda
New Matilda is a small, independent media outlet. We survive through reader contributions, and never losing a lawsuit. If you got something from this article, giving something back helps us to continue speaking truth to power. Every little bit counts.