In his first major policy announcement last week the new Prime Minister unveiled a serious campaign to tackle domestic violence. Mr Turnbull's leadership comes at a crucial time for women, with domestic violence an epidemic in this country.
But it is not only Australian women that our system is failing; the government is sending some of the world's most vulnerable victims to an environment that it knows is especially dangerous for women.
If Turnbull is serious about reshaping Australian culture into one that is 'respecting of women' as he claims, he must also immediately close the Nauru detention centre.
Recently I have been contacted about increasingly alarming reports of sexual violence perpetrated against women and girls on Nauru.
Many have nursed the abuse for months, too scared to tell anyone.
There are those who have been assaulted within the camp; alone at night in unlockable tents, or as they walk through the camp to use the bathroom or showers.
And then there are those that have been attacked in the community, such as a 24-year-old woman raped while on day release.
Violence comes in various forms; for some it is the repeated threat that once they are resettled on the island the guards will come for them. And indeed, they come.
Reports have circulated regarding packs of intoxicated men who seek out single women once they are resettled on the island. While the circumstances of each case of sexual violence I hear of differ, one thing is clear; female asylum seekers are not safe in Nauru, in or out of detention.
There is no reprieve for those fortunate enough to be returned to Australia for medical treatment. Women admitted to hospital are constantly monitored by guards (often male) who stand at their door, always watching. Victims are held in a state of constant uncertainty, afraid that they may be returned to Nauru at any time, without notice.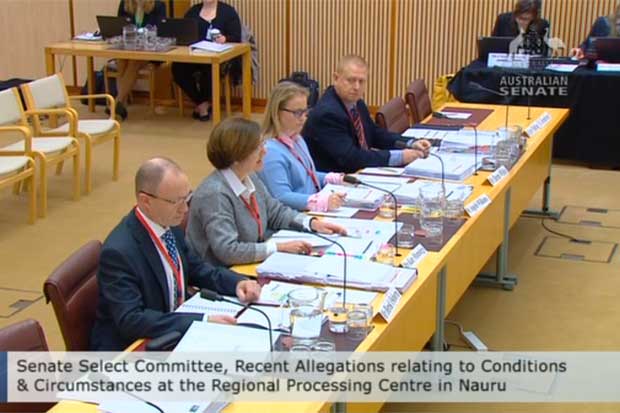 Far from offering them protection, we send them back to the men that they fear.
The Australian government is well aware that gender-based violence is a serious problem in Nauru. In 2014, the government jointly published a report with the United Nations and Nauruan government, which found that almost half of local women surveyed had experienced physical and or sexual violence in their lifetime.
The recent Senate Committee into Nauru heard extensive evidence concerning sexual assault occurring within the Australian-operated detention centres on the island.
Significantly, the Committee was told that the issues of violence and sexual exploitation were 'obvious from the outset of the centre establishment in Nauru.' It is within this context that Australia sends some of the world's most vulnerable women for resettlement; including those fleeing situations in which they have suffered long-term abuse with inadequate or no state protection.
Despite the optimism felt by many regarding the overthrow of Mr Abbott, the early signs for a softening in our treatment of asylum seekers do not look good.
In the hype around the Cabinet reshuffle, it is telling that Peter Dutton remains Minister for Immigration. While it is indeed a step in the right direction to have a woman as the Minister for Women, Michaela Cash is unlikely to show compassion to the 198 women and children currently languishing on Nauru, having aggressively advocated for the coalition's 'Stop the Boats' policy as Assistant Minister under both Mr Morrison and Mr Dutton during one of our nation's darkest chapters in immigration policy to date.
While Mr Turnbull expressed 'concern' regarding the situation on Nauru and Manus Island earlier last week, in the same breath he reaffirmed his commitment to regional processing.
Last week's announcement is a welcome and long overdue acknowledgement of the seriousness of domestic violence in our country. Any campaign to tackle the epidemic in Australia cannot, however, be separated from the decision this government makes on a daily basis to outsource the suffering of women under our care to an environment in which they are subjected to a rampant culture of abuse.
If Mr Turnbull is serious when he claims that he wants Australia to be known as a country that respects women, he must immediately end their ongoing detention on Nauru.
* Katie Robertson is an Associate in the Social Justice Practice at Maurice Blackburn Lawyers.
Donate To New Matilda
New Matilda is a small, independent media outlet. We survive through reader contributions, and never losing a lawsuit. If you got something from this article, giving something back helps us to continue speaking truth to power. Every little bit counts.