What a difference a week makes. We're just a few days into the Turnbull Era, but it already seems utterly different to one preceding it.
On Sunday, Prime Minister Malcolm Turnbull announced a new cabinet, the new executive of his "agile" new team.
And some of the replacements have indeed been agile. Out goes much of the deadwood of Tony Abbott's malfunctioning government: bye-bye to Joe Hockey, Kevin Andrews and Eric Abetz. So long to Ian Macfarlane, Michael Ronaldson, and Bruce Billson.
The downfall of Tony Abbott, Australia's most conservative recent prime minister, has brought with it the destruction of one of the most conservative ministries in modern history.
Kevin Andrews was a conservative warhorse, but also a perennial plodder as a minister. Ian Macfarlane was the driving force behind Tony Abbott's love of all things burnable. As Employment Minister, Eric Abetz was committed to curbing union power and driving down the real wages of Australian workers (something the weak economy achieved for him). And it was former treasurer Joe Hockey who brought us "the end of the age of entitlement."
Hockey is the most prominent figure to leave government. He is exiting politics altogether, either for a cushy ambassadorship to Washington or for a lucrative role in commerce.
Hockey's disastrous performance as treasurer was a key factor in Abbott's fall. The 2014 budget was the spark that lit a conflagration of public discontent against Abbott and Hockey's austerity. The constant stream of gaffes from the unpopular treasurer played a significant role in undermining the Abbott government's legitimacy, even within its home constituency in business.
Similarly, few who want Australia to address the existential challenge of climate change will mourn the passing of Ian Macfarlane from the cabinet. Macfarlane was a committed and cunning energy warrior. He promoted the interests of fossil fuel at every turn. He tried to sabotage and hamstring Australia's renewable energy industries whenever he could.
There are a number of survivors lucky to have escaped the purge. George Brandis and Christopher Pyne appear to have been saved by going over to the Turnbull camp early; Pyne gets to offload the poisoned chalice of Education and Brandis keeps Attorney-General, while being stripped of Arts. Mathias Cormann helped frame the budget that destroyed Joe Hockey's career, but he keeps Finance.
Most astoundingly, Peter Dutton remains in the cabinet, and remains in charge of Immigration. Dutton was one of the worst performers in the Abbott cabinet, a telling comment in itself. His time in Health was a catastrophe as he bumbled his way through a series of increasingly silly positions on a GP co-payment. Since then, Dutton has given us the Australian Border Force, a shiny new paramilitary with guns, dogs and badges.
And then there's Greg Hunt, Australia's worst modern Environment Minister. Tragically for the environment, he still is.
Perhaps Malcolm Turnbull is setting up Dutton as a fall guy. After all, bad things will keep happening in Australia's immigration system. Keeping a stolid and unpopular Dutton around provides Turnbull with some cover for what will remain a punitive and unjust system of Pacific gulags.
In sweeps a new broom: Simon Birmingham, Mitch Fifield, Marise Payne, Michaelia Cash and Kelly O'Dwyer, to name just five.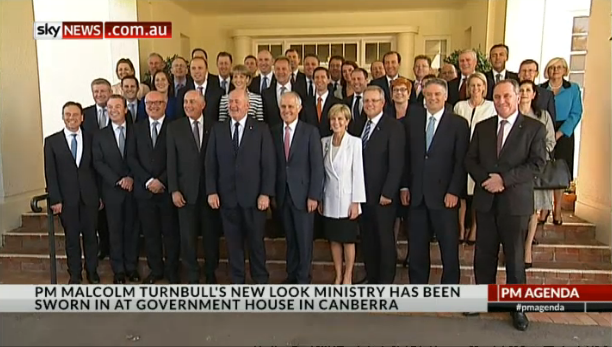 The new ministers to Turnbull's cabinet include fresh faces in key roles. Australia's new Defence Minister is New South Wales Senator Marise Payne, the first woman to hold the role. Payne is a long-term moderate who has consistently been shut out of party leadership positions because of her factional alignment. The contrast with the dogmatic, hangdog Kevin Andrews could not be starker.
But Defence is a minister's graveyard, and Payne has some huge calls to make, and soon. Item number one is what to do about the Navy's future submarines. South Australia wants them built in Port Adelaide, but this will cost big. As usual with big defence procurements, a rational view of Australia's strategic interests will most likely be ignored, in favour of more immediate political calculations.
South Australian Simon Birmingham gets the critical Education portfolio. Given the mess he's been left by Christopher Pyne, Birmingham has a lot of repair work to do. $100,000 degrees were a damaging slogan that was hurting the Coalition in its middleclass heartland. University deregulation is a dead duck in the Senate, so Birmingham has to work up a new policy in a sector that has eagerly welcomed Labor's new higher education policy, promising $2.5 billion in extra funding.
Mitch Fifield takes over as Communications Minister from Turnbull and Arts Minister from George Brandis. As with education, these sectors are angry with the government. Tech nerds and communications types have a much dimmer view of Turnbull than the general public, blaming him for saddling Australia with a steampunk-era National Broadband Network. Artists are angry with George Brandis for ripping $105 million from the Australia Council. Before Fifield can move on he'll need to douse these still-burning spot fires.
Perhaps the most interesting appointment of the Turnbull cabinet is the decision to give Arthur Sinodinos the reinstated gig of Cabinet Secretary. Turnbull's chief numbers man has thus been given the role at Turnbull's right hand, running cabinet processes from a special office just outside the cabinet room doors. In Turnbull's own words, he will be "at the centre" of the new administration. Sinodinos will be the ultimate gate-keeper to keep crazy or half-baked policy ideas off the agenda. Liberal loyalists will be hoping that he can bring the same sure touch that he was said to demonstrate as John Howard's chief of staff.
Thanks to Michaelia Cash, Australia's Minister for Women is at last actually a woman. Even if she is not a feminist, Cash represents a step forward from the ongoing farce of the Abbott government's approach to gender issues. But Cash is also a fiercely anti-union Public Service Minister.
Of course, the most important new minister is Treasurer Scott Morrison. Morrison's rapid rise to the top economic policy position has been heady even by his standards, but the new gig is certainly challenging. Morrison inherits a faltering economy in which growth is flatlining and the property market in Sydney and Melbourne is flashing bright red.
Turnbull has appointed Morrison on the theory that he must be a better salesman than Hockey, but if the economy worsens all the charisma in the world will not suffice to placate voters (as Paul Keating found out). The truth of the matter is that Australia needs more fiscal stimulus in the short-term if the budget is to repair in the medium term, but few believe Morrison will be anything but a fiscal conservative. Like Hockey before him, Morrison is at the mercy of global economic forces; his fate may well be decided by Janet Yellen or Xi Jinping.
Close analysis of the Turnbull cabinet offers some insights, but many uncertainties.
It undoubtedly is more moderate than Abbott's, but that's not saying all that much. Many of the same ministers responsible for the Coalition's current troubles are still there. The new ministers are not necessarily blemish-free (Mal Brough as Special Minister of State?), and unless the overarching policy changes, they'll still be implementing laws and measures that voters hate or that can't pass the Senate. I think we can safely say: there will be more gaffes.
Then again, a change is a good as a holiday, and right now it's all smiles in the Turnbullian Republic. For the optimists, the thinking goes that if the new Prime Minister is popular enough, many of the Coalition's problems will start to disappear.
Certain opinion polls already have the Coalition ahead of Labor on two-party preferred polling, others are neck-and-neck. If true, that's quite a honeymoon.
Honeymoons never last, but this honeymoon merely needs to go on for a few more months, and some in the Coalition will turn their minds to an early election. That's a scenario many in the Labor Party are quietly terrified of.

Donate To New Matilda
New Matilda is a small, independent media outlet. We survive through reader contributions, and never losing a lawsuit. If you got something from this article, giving something back helps us to continue speaking truth to power. Every little bit counts.