Joao Dujon Pereira's new feature-length documentary Black Hole crystallises the fury, sadness and spirit that sustained a historic years-long blockade against the Maules Creek coal mine, and takes us inside the communities and alliances that coalesced to make it possible.
It captures a powerful piece of Australian history, which saw 350 people arrested working to protect the critically endangered Leard State forest, Gomeroi traditional custodians' sites and culture, and the livelihoods of Liverpool Plains farmers in northwest New South Wales.
It peels back the spin, and reveals the humanity and selflessness of the folks who stood up to try to stop Whitehaven Coal's Maules creek mine and Idemitsu Resource's Bogabbri coal mine, which are eating into 3,500 hectares of the Leard Forest from either side.
It does what Pereira set out to do, "to create an emotive film; a mix of humanistic, cinematic, anthropological and documentary that really engaged people".
It pushes past the image we're often fed by the press, of dreadlocked protestors irrationally antipathetic to jobs and development, and explores a flashpoint in Australia's love affair with big coal.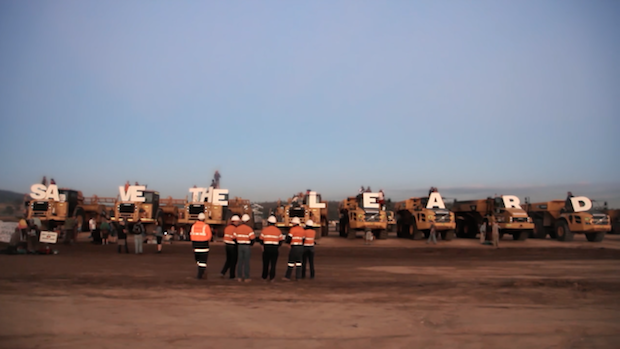 The documentary was launched at the Environmental Film Festival Australia in Melbourne earlier this month by Bob Brown, the former Greens leader, who told New Matilda that "it's a film about environmental corruption in Australia".
"We expect that that might be happening in Indonesia or Papua New Guinea, but no, it's happening on the western plains of New South Wales," Brown said.
"It not only talks about the Leard Forest, but it nails the imbalance between corporate coal mining and ordinary community."
Pereira worked on the film for 16 months, travelling back and forth between the forest and his home in Melbourne, running on "maybe four or five hours sleep a night", and tens of thousands of dollars of his own funds, to capture and cut the 700 hours of raw footage back to an hour and a half feature.
"I arrived in the Leard, I think it was the end of March or beginning of April in 2014," Pereira said.
"So someone had told me about it and said it might be of interest and I went up there to make a short film.
"I went up there for five days and realised there was nothing being made as far as a feature; I captured five days of stuff, came home and then I went up a week or two later for five more days, and I said to my partner, 'actually it's a feature that needs to be made', so I crow funded quickly and made $20,000."
Although it was shot and produced on a shoestring — the rest of the money Pereira found himself, with no institutional or organisational backing — the film is flecked with beautiful shots.
Drone cameras take us through the rivers of the area, the forest, and above the crowds of people sitting in surreal solidarity in the countryside more than seven hours drive from Sydney.
We see the Gomeroi people forced into the humiliation of going on country to perform a burial ceremony while dressed in miner's hi-viz. We are taken inside the story of how the coal trains were stopped for a state Premier's glowing opening ceremony, but when the Gomeroi go to do their ceremony, they rattle obnoxiously and interminably past.
It takes us inside the blockade camp, recording the moment when a corporate spy engaged by Idemitsu Resources is interrogated by the protestors who'd trusted, and then uncovered her.
It shows the Pacific Islanders who came thousands of kilometres to protect their homelands from climate change, and intimate moments with activist Jonothan Moylan, who famously hoaxed ANZ Bank with his fake press release.
And it shows, probably for the first time, the guerrilla actions, the four wheel drives packed with protestors probing the forest at night, the locks closing around demonstrator's necks as they use the only weapons available to them, their bodies, to hinder mining machinery.
It shows the intense and menacing security and police presence that ultimately did little to perturb people from their convictions.
"I always had this idea, for a while, that it was kind of like a real test for me to try and create something that hadn't been created before," said Pereira.
"And when I went up to the Leard, it kind of figured out for itself.
"It just kind of fit with what was happening in the Leard — so emotive and passionate and raw — and it was a piece of Australian history that I think needed to be documented in a way that showed the energy of what was going on."
The film could never have captured the whole fight against Whitehaven Coal and Idemitsu Resources — the multiple court cases, the parliamentary jostling, and the investigation into whether Whitehaven Coal provided false and misleading information to prop up its environmental assurances — but it captures the essence of people's emotional distress.
It's a story that I am intimately familiar with, but coming in cold I imagine there are segues which could be hard to follow. Still, that's not really the point. The cracking voices and contorting faces of people who've just walked over a ridge in the forest to look down at the destruction being wrought on it are the best way to show what mobilised thousands to visit the blockade.
"It's a film about corporate power over the good of the community and the political connections which back corporations against farming communities, and regional and certainly environmental interests," Brown said. It would be hard to think of a more powerful challenge to that imbalance than the diverse and unlikely alliances of ordinary people that the film depicts.
BLACK HOLE – OFFICIAL TRAILER from OPTICAL ALKEMI on Vimeo.
As one person interviewed puts it: "You can actually see, in this camp, the coming together of farmers, activists, and Aboriginal people to protect the land and water that they all love."
For Liverpool Plains farmers, the Maules Creek mine alone will mean 18,000 tonnes of coal dust being pumped into their atmosphere, and although the local community is deeply divided, many see the thirsty mines as a threat to their livelihoods and lands.
But nobody loves the country that's being cleared, blown up, and excavated, more than the Gomeroi, who have lost not only the biodiversity they're charged with protecting but also many of their sacred sites, which have been desecrated or entirely destroyed.
"I'm first generation Australian, and I was born on this land, and it resonates so heavily with me … to be connected to and to share the Gomeroi's stories of heartbreak and to share it in such a way to the Australian population and world that this is the reality of our country," Pereira said.
One of the Gomeroi women who features heavily in the film, Dolly Talbot, told New Matilda of her fear that "if they keep destroying [sacred sites]there will be nothing left to tell our children".
"You can tell the story but how can you take them to these places that are gone?
"It's destroying the spirit of Aboriginal people, quite honestly; that's what they're destroying."
"The invasion continues, and it's legalised corruption and desecration," Brown said.
"I think it's terribly important, I'm very glad there's a national tour of the film.
"Communities need to know that if they think they're going to defend themselves through sweet reason and a mature and fair approach with corporations like Whitehaven, or for that matter any coal corporation, they're going to lose from the outset," he said.
Black Hole will screen in Adelaide, on September 23; Brisbane, on October 6; and Sydney, on October 7. For a full list of screening dates and locations, or to sign up to host a screening, visit the Black Hole website.

Donate To New Matilda
New Matilda is a small, independent media outlet. We survive through reader contributions, and never losing a lawsuit. If you got something from this article, giving something back helps us to continue speaking truth to power. Every little bit counts.