Politicians from any parliament or government which supports or chooses to ignore the cruelties dished out by the government of Israel should be held accountable.
In their defence, such politicians might say they did not know about the extent of the slaughter and destruction in Gaza, the continued stealing of Palestinian homes by settlers in East Jerusalem, more demolitions of houses throughout the West Bank or the destruction of Bedouin camps.
The most recent violence towards Bedouins might influence at least some politicians' attitudes towards a government they had previously supported.
A week ago, Abdul Khanaven squatted on the earth floor of a tarpaulin covered, corrugated tin shack in the Jahalin Bedouin community located one hundred meters off the main Jerusalem to Jericho highway. This is his home. He is this community's leader and as a gesture to visitors he serves hot sweet tea. Under a cloudless sky, the sun beats down, the temperature hovers in the high thirties and a few scraggy sheep and a skinny donkey graze outside.
'Armed Robbery'
Abdul is dignified. On the sparse, rocky hills his people have herded their sheep and goats for centuries.
Now they are in the way of Israel's policies to clear the land and people from their homes so that well-resourced Israeli settlements can be expanded and vital spring waters acquired.
In recent articles in the Israeli newspaper Haaretz, journalist Amira Hass called the Israeli army's policy of destruction and evictions on the West Bank, 'armed robbery.' Two other Haaretz journalists, Gideon Levy and Alex Levac, say that the Israeli Civil Administration that governs the West Bank has 'an appetite for destruction.'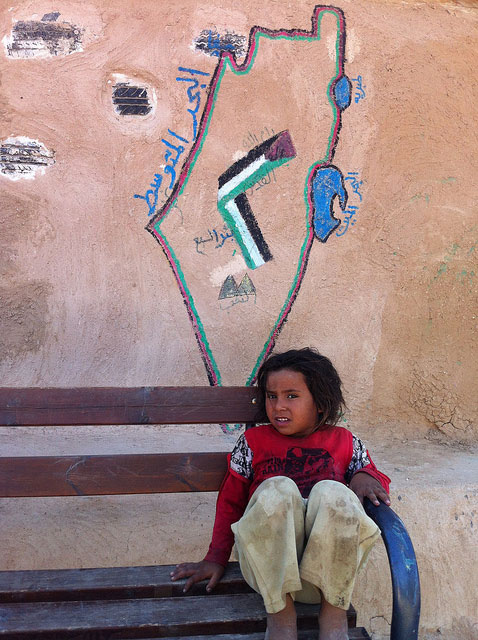 Abdul knows about such policies but is at a loss to know why governments which protest that they are committed to uphold human rights don't have the courage to insist on holding accountable governments which abuse human rights. He says, "Our lives are hard enough. We don't interfere with how other people live, so why are we treated this way?"
Towards the Bedouins, the Netanyahu government, aided by the army and by settlers, have formed a coalition of cruelty. In the Jahalin community, home to over 100 people, Abdul and his friends have built a three-room school which provides education for 170 children aged between six and 14. The children come from five other Bedouin communities and each walks on average about three kilometres to reach the school.
In their construction of classroom walls from rubber tyres and mud-based cement, the Bedouins were influence by the experiences of Indigenous peoples from South America. In their neat blue and white check uniforms the Bedouin children appear happy and enthusiastic about being in these classrooms, yet the school and the children's prospects of continuing their education look bleak. The school is to be demolished.
A year ago, after the completion of the classrooms, representatives of the Italian consul in Israel arrived with playground equipment for the children. Abdul recalls, "We were so grateful for this gift and the children were excited."
Abdul says that during the ceremony to handover the playground equipment, an Israeli drone circled overhead and soon after the Italians left the camp, squads of police arrived, apparently alerted by the drone. They climbed the roadside barrier and made their way up the rocky slope to the camp. They explained that they had come to confiscate the playground materials because cement would be needed to fix the equipment to the ground.
Cement was forbidden because it could be used to make the playground firm and appear permanent. Bedouins were to be moved, nothing could be permanent. In common with Palestinians in East Jerusalem, Bedouins should live in a state of permanent uncertainty.
Subsequent attacks on the school came when settlers invaded the camp and smashed classroom windows. Instead of seeking revenge, Abdul and his community colleagues invited settler leaders, mostly mothers with children of the same age as the Bedouin children, to come to the camp to consider a joint education project and so achieve reconciliation.
The proposed reconciliation meeting took place. Abdul explained what happened next. "Instead of helping us, the settler people reported that our land is now classified as Area C, under full Israeli control. Soon after the meeting with the settlers, we received an order saying that our school will be demolished." I sipped more tea. Abdul continued, "The settlers reported us. Why do they treat us like this? We hurt no-one."
Impunity: No-One Accountable
His fear that his precious school will be demolished is well grounded. A week ago a neighbouring Bedouin camp, located next to the large settlement Ma'aleh Adumim, but on land which Israel wants in order to prevent the movement of Palestinians, was destroyed. In the early hours of one morning, troops arrived with civilian bureaucrats whom Levy and Levac describe as part of a brutal and vicious mechanism to enforce the eviction of people from their homes.
This forced removal took place in 42 degrees Celsius heat. One hundred and twenty seven men, women and children became homeless. The journalists observed that "Nothing was left, no tent, no roofing material, not even a water container."
The people were abandoned to their fate. The troops treated this exercise as a job well done.
Australian politicians who unreservedly support Israel's policies to use any means to acquire the land of Palestinians and the Indigenous Bedouins, should know that in effect they support the uniformed thugs who arrive to destroy the homes of dignified but wretchedly poor communities. These politicians may froth at the mouth at such a suggestion and may even make the usual charge that someone who writes in this vein must be anti-Semitic.
Instead it looks as though those who support ethnic cleansing are partners in crime, willing to perceive cruelty as of little consequence if the victims are far away or can be stereotyped as not really worthy of attention.
Cruelty as a policy priority persists because the so-called international community has chosen never to hold Israel accountable, always to turn a blind eye to enable successive Israeli governments to behave as though they are above the law.
Donate To New Matilda
New Matilda is a small, independent media outlet. We survive through reader contributions, and never losing a lawsuit. If you got something from this article, giving something back helps us to continue speaking truth to power. Every little bit counts.