As Malcolm Turnbull was sworn into the top job on Tuesday activists from Lock the Gate were meeting with crossbenchers and other MPs to prosecute their case against a raft of the fallen Abbott government's environmental policies, which new polling suggests the community is deeply suspicious of.
The fresh polling, undertaken by Lonergan Research on behalf of Lock the Gate, was carried out in late August during what turned out to be the death throes of Tony Abbott's leadership. It shows there is clear concern among voters at the Abbott government's campaign against environmentalists, an attack that turned out to be its last major pitch before its demise.
Tracing a thread that was becoming increasingly pronounced under Abbott's leadership, 61 per cent of respondents agreed that changes to environmental law the Coalition was campaigning on represented attempts at "silencing the voice of the community".
A substantial 37 per cent strongly agreed, suggesting a hostile reception of the Coalition government's efforts to portray green groups as cashed up coal saboteurs engaging in "vigilante lawfare" when they use the courts to uphold national environmental law.
The Coalition had been pushing to amend Commonwealth conservation laws by restricting who can challenge government approvals to those 'directly affected', although it's uncertain whether a Turnbull government will back away from the reforms.
This and a separate Bill, which would see the government pass the buck and make states responsible for the assessment and approval of major developments like coal mines, are in Lock the Gate's sites as farmers lobby in Canberra today.
"If you have a look at it, Abbott's previous regime has had quite a few goes at pushing [these policies]forward and it's just not happening," said Phil Laird, Lock the Gate's National Coordinator.
"There's so many other things that require reform and attention and it's a side show for the overall government," he said.
It's a "side show" that appears to have been contributing to the government's unpopularity, too, with the poll showing that almost two thirds (64 per cent) of respondents agree the Abbott government was "putting the interests of the mining industry ahead of Australian farmers and agricultural industries".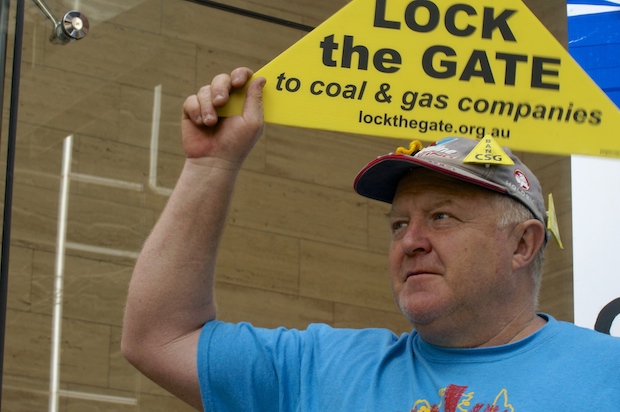 A resounding 80 per cent of respondents agreed that "Australians should be able to protect our water, farmland and special natural places from mining," with 53 per cent of those strongly agreeing.
Tensions between big mining and agriculture have come to the fore in recent months as farmers revolt against the approval of the Shenhua Watermark coal mine, near Breeza in north west New South Wales.
Laird is hopeful concerned residents will find a receptive ear in Australia's freshly inked prime minister.
"In terms of him dropping these particular things as a priority, I think you've got to realise that Malcolm Turnbull was once the minister for water," Laird said.
"He understands the importance of it and he's someone who has rural interests.
"You know… I think he can take a fresh approach to this issue."
The government's Bill to complete the handover of Federal environmental powers to the states and territories — a process that legal experts argue would likely set environmental protections back 30 years — came before the House of Representative last night but never made it to a vote.
"It appears the government brought on this deeply unpopular Bill because it didn't have anything else to debate [and]then when it became clear that it didn't have the numbers to pass the Bill, they deferred a vote at the very last moment," said Larissa Waters, the Deputy Leader of The Greens.
Laird agrees, and he said that given "it seems as though there'll be a different Cabinet and priorities when Parliament resumes" he hopes the Federal hand off of environmental oversight is "put to bed".
"People have a right to care; these are Federal matters and it's just wrong to try and offload matters of national environmental significance onto state governments and potentially even local councils," Laird said.
With the Abbott government proving deeply antipathetic towards environmental advocacy — holding inquires targeting 'green tape' and the cash flow of environmental organisations — proposed changes to the law were seen as thinly veiled attacks.
But in the process the government racked up some powerful enemies, not least of which was Sydney shock jock Alan Jones, usually a stoic defender of Abbott. With Labor positioning to make the Abbott government's attacks on renewable energy and its low-bar ambition on climate change a key election issue, Turnbull will need to take a distinguishing position either way.
"I think it's really refreshing that the new PM is talking in those terms," Laird said.
"For a long time Australia has had a very well diversified economy, and for that reason the eye of government has been spread over those different sectors.
"[But] for the last 10 or so years there's been a division between the amount of attention that's given to that sector and other sectors in the economy….
"I think [Turnbull's comments are] a tacit acknowledgement perhaps that we've been out of balance for a long time, at least for the last ten or so years, and it's a great thing for a PM to be saying those things. Now's the time to innovate."
That's unlikely to happen before December, though, with Turnbull's Deputy Julie Bishop stating this week that the government will persist with its current policies on climate change, at least until a crucial UN conference on climate change later this year.
The polling commissioned by Lock the Gate had a sample size of 1,014 voters and found that 44 per cent of respondents do not believe that "the coal industry is the backbone of the Australian economy".

Donate To New Matilda
New Matilda is a small, independent media outlet. We survive through reader contributions, and never losing a lawsuit. If you got something from this article, giving something back helps us to continue speaking truth to power. Every little bit counts.