Malcolm Turnbull will become the 29th Prime Minister of Australia, after this evening rolling Tony Abbott in a Liberal Party leadership spill.
Turnbull defeated Abbott a short time ago, 54 to 44 votes. One vote was informal.
Julie Bishop has won the deputy leadership over Kevin Andrews, 70 votes to 30.
Turnbull asked Abbott to call the ballot this afternoon, after more than a year of speculation he would challenge, and after a false start in February.
Turnbull and Abbott are expected to both address the media in Canberra shortly.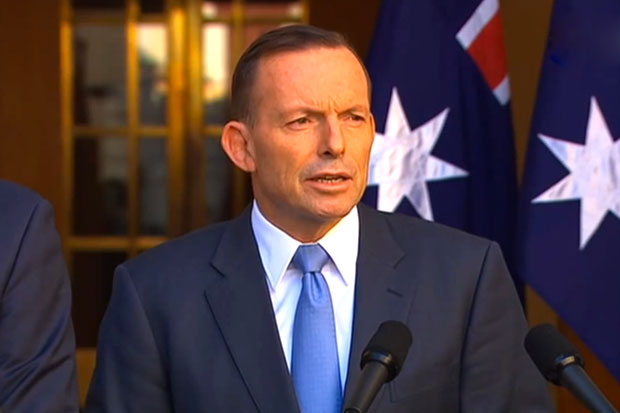 Turnbull's win draws a line under another turbulent period in Australian politics – Abbott's leadership has been plagued with gaffes and controversy.
One of the more worrying developments this evening is the reappearance of Mal Brough, the architect of the Northern Territory intervention in the Howard government.
Brough lost office in the 2007 election, but won the neighbouring seat of Fisher in 2013.
Brough was seen walking in with the group supporting Malcolm Turnbull.
Brough was thought to be forever stuck in the political wildernesss, after his involvement in the Peter Slipper affair.
But it looks more like pergatory, if the photo in the SMH is anything to go by.
Abbott served 2,114 days as leader of the Liberal Party, but only 727 days as Prime Minister, and fell four days short of two years from being sworn into office.
---
10:33pm: Malcolm Turnbull and Julie Bishop will be giving a press conference in the next five minutes. We'll bring you a story once it's done.
---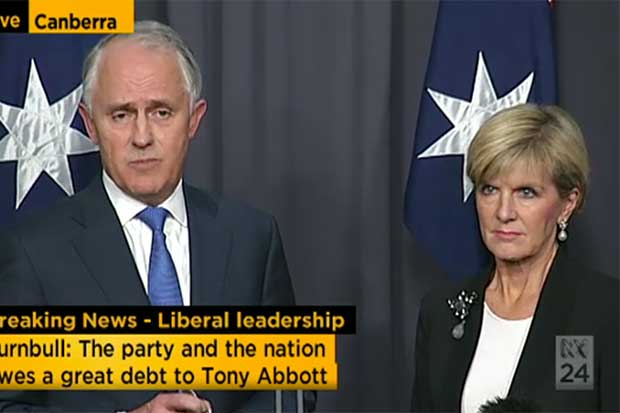 10:55pm: Turnbull and Bishop have addressed the Canberra press gallery, with Tunrbull promising a consultative leadership style and a "thoroughly Liberal government".
We'll have a transcript of the conference for you shortly.
It's expected that Tony Abbott will address media later this evening, but not yet confirmed.
---
11:47pm: An extremely nervous looking Barnaby Joyce has addressed media outside the parliamentary doors late this evening. He seemed to threaten the Nationals would walk away from the Coalition… and then didn't. And then did.
His confused comments appear simply to be the Nationals jockeying for position, although Joyce underlined the fact no-one should forget he (Joyce) quit the Opposition frontbench and that people shouldn't take his determination for granted.
---
105:am: It took a little while to get to – lots of other things going on, but as promised, a transcript below of Turnbull's first press conference as the new leader of the Liberal Party.
"This has been a very important day in the life of the nation, the government and of course of our party.
As you know, the party room a little while ago elected me as leader of the Liberal Party and re-elected Julie [Bishop] as the Deputy Leader of the Liberal Party.
I want to say at the outset what a great debt the nation owes, and the party owes, the government owes, to Tony Abbott. And of course to his family, Margie and their daughters.
The burden of leadership is a very heavy one. Tony's discharged that as leader of the party and of course as Prime Minister over many years now. And the achievements of the government that he has led have been formidable.
The Free Trade Agreements that have been negotiated represent some of the key foundations of our future prosperity, which I'll talk about in a moment.
And of course restoring the security on our borders has been an extraordinarily important step, enabling us for example to offer the increased and generous arrangements for Syrian refugees last week.
So I want to thank Tony very much indeed for that.
Can I just say briefly, and as I said the hour is late and I want Julie to be able to say something to you as well, this has been a very important, sobering experience today.
I'm very humbled by it. I'm very humbled by the great honour and responsibility that has been given to me today.
We need to have, in this country, and we will have now, an economic vision, a leadership that explains the great challenges and opportunities that we face, describes the way in which we can handle those challenges, seize those opportunities, and does so in a manner that the Australian people understand, so that we are seeking to persuade, rather than seeking to lecture.
This will be a thoroughly Liberal government, it will be a thoroughly Liberal government committed to freedom, the individual, and the market.
It'll be focused on ensuring that in the years ahead, as the world becomes more and more competitive, and greater opportunities arise, we are able to take advantage of that.
The Australia of the future has to be a nation that is agile, that is innovative, that is creative.
We cannot be defensive, we cannot future-proof ourselves. We have to recognize that the disruption that we see driven by technology, the volatility and change, is our friend, is our friend if we are agile and smart enough to take advantage of it.
There has never been a more exciting time to be alive than today. And there has never been a more exciting time to be an Australian.
We will ensure that all Australians understand that their government recognises the opportunities of the future, and is putting in place the policies and the plans to enable them to take advantage of it."

Donate To New Matilda
New Matilda is a small, independent media outlet. We survive through reader contributions, and never losing a lawsuit. If you got something from this article, giving something back helps us to continue speaking truth to power. Every little bit counts.