This week in Australian politics began with calls on the Abbott Government to prioritise Christian refugees over Muslim refugees fleeing the slaughter in Syria.
It was an Islamophobic principle embraced with enthusiasm by the Commonwealth, who announced on Wednesday that it would extend 12,000 places for Syrians, with priority to be given to 'persecuted minorities'.
That's 'dog whistle' for 'not Muslims'.
The working week ended on Friday with a racist and vulgar joke by the Minister for Immigration, Peter Dutton who surmised that, like Aboriginal people and Muslim and ethnic leaders, time meant nothing to Pacific Islanders because they would soon be wiped out by climate change.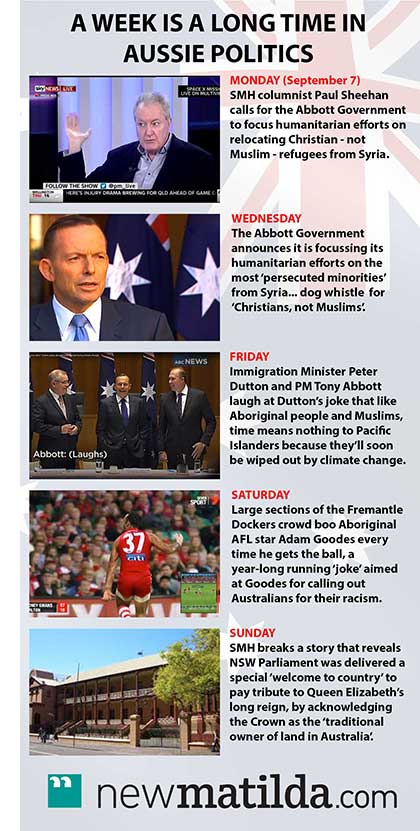 Prime Minister Tony Abbott found the joke particularly funny, laughing heartily on camera until the Minister for Families, Scott Morrison pointed out there was a boom microphone nearby.
By the weekend, Australians decided to that the 'nod and wink' from our leaders meant they should step the redneckery up a notch.
On Saturday night, large sections of the Fremantle Dockers crowd booed Aboriginal AFL star Adam Goodes every time he got near the ball.
In case you've been living under a rock, Goodes has been booed for over a year now, ever since he called out a young girl in the crowd during the Indigenous Round in Melbourne last year, for screaming "ape" at him from the sideline.
A month ago, Goodes took leave from the Sydney Swans after publicly revealing the impact it was having on him. It prompted Dockers coach Ross Lyons – a former assistant coach with the Swans – to publicly state people who continue to boo Goodes were clearly racist and bigoted.
Thousands of Australians rose to that challenge on Saturday night, just as thousands did at the St Kilda match a fortnight ago.
A significant proportion of our countrymen are determined to wear their racism on their sleeve, no matter how ugly the rest of us tell it looks.
And for their part, the AFL is once again silent, doing precisely nothing to stop it.
Our weekend finished with news in the Sydney Morning Herald this evening that a NSW parliamentary dinner held to honour the long reign of Queen Elizabeth II was to feature a special welcome to country: one that acknowledged "the traditional owner of this land: the Crown."
That story was broken by the Sydney Morning Herald, the very news outlet which promoted the view from columnist Paul Sheehan that Christians should be prioritized over Muslims in our refugee intake.
And so it goes, round and round. Where it will stop, nobody knows.
Australia's racism is deep, and entrenched. But it doesn't just begin at home.
Our breathtaking ignorance – and our determined indifference to the suffering of other people, from refugees, Pacific Islanders, and First Nations people – pervades all levels of Australian society, from ministers and prime ministers, to footy fans and newspaper columnists.
We have a problem Australia, and despite a very raw but equally helpful debate only a month ago, we appear to have learned very little.
There's seems little point in calling for our politicians to show leadership on this issue – that's where some of its coming from.
And there's little point demanding better of our media – they make money from the conflict, and in Australia there's no greater currency than debates about our own putrid racism (more specifically, the opportunity for people to deny our own putrid racism).
All we can do is sit back and watch. Again. And wonder what next week, in the shadow of the Canning by-election, will bring us.
Donate To New Matilda
New Matilda is a small, independent media outlet. We survive through reader contributions, and never losing a lawsuit. If you got something from this article, giving something back helps us to continue speaking truth to power. Every little bit counts.