It took him three days, but over the weekend, Minister for Immigration Peter Dutton finally came out and 'apologised' for joking that, like blackfellas and Muslims, time meant nothing to Pacific Islanders because they'd soon be swamped by rising sea levels.
Because climate change disaster is particularly funny when you probably won't be around to witness it.
In the spirit of apologies, New Matilda has compiled a list of some of the 'Great Moments In Abbott Government Apologies'. It's not necessarily an exhaustive list – there's simply too many for the available space – but readers are welcome to paste their favourite moments in the comments below.
We begin, of course, with the man of the hour himself, Mr Peter Dutton.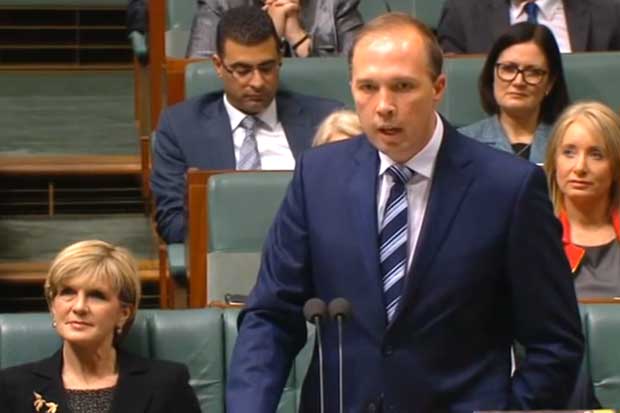 1. The Peter Dutton 'Middle Finger' Apology
As a retired Queensland copper, no-one was expecting too much from Peter Dutton in the apology stakes after his "vulgar" Pacific Islands joke. But even his critics were a little surprised at how low a base he was coming from.
In what can only be described as 'I'm sorry I got caught – accept my apology or GFY', Dutton told Sky News earlier today: "I should have realised the mic was there and didn't, it was directly behind me but I made a mistake. I apologise to anyone who's taken offence to it."
Which was received a little like this: 'The problem is not that I made a racist joke and then poked fun at people who stand to lose everything, it's that I did it where people could obviously hear me… in front of a three-metre television boom swith a microphone on the end of it…which I didn't notice… at a major press conference'.
But in case anyone was in any doubt at how thoroughly indifferent to people's feelings Dutton really is, he added this little rider: "It was a light-hearted discussion with the PM and I didn't mean any offence to anyone. If people have taken offence then they should accept my apology."
There you have it Pacific Islanders – you should accept his apology. And you too Cape York blackfellas. And Muslim and ethnic leaders. Move along, nothing to see here.
---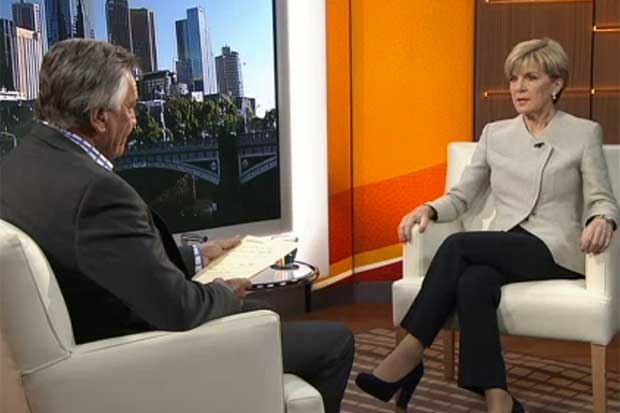 2. The Julie Bishop 'No Way Out' Apology
In January 2014, when media revealed that Australian warships had repeatedly breached the maritime borders of Indonesia during asylum seekers operations, the Abbott Government was left with no room but to apologise.
Rather than draw it out, Foreign Minister Julie Bishop came straight out and offered an 'unqualified' one.
"I've sent a written apology on behalf of the Australian Government and also personally," Bishop told media.
Which is a good thing, and a sensible response… and not dissimilar to the apology Tony Abbott delivered to Malaysia a few months earlier, shortly after winning office.
It was necessitated by Abbott, as Opposition leader, trashing the Malaysians over the thoroughly disgusting Labor government's asylum seeker deal (aka the 'Malaysia solution'). Abbott was apparently unaware that if he was eventually elected to lead the country, good relations with near neighbours is relatively important.
---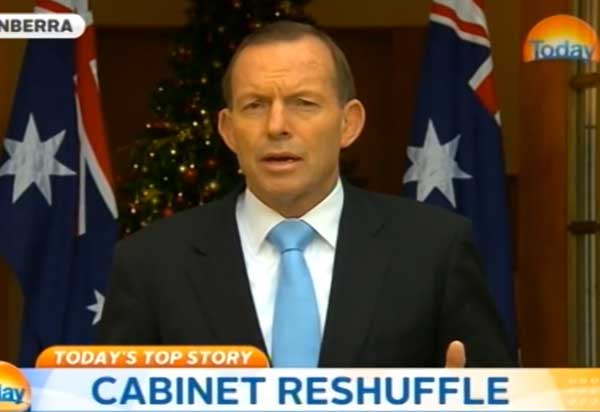 3. The John Howard Inspired 'Statement Of Regret' Apology
Abbott's apology to Malaysia was quite a bit more effusive than the one he delivered to Indonesia in November 2014 (which, incidentally came just a few months before Bishop's apology to Indonesia for the border breaches).
Media had revealed that Australia had spied on Indonesia (under the Rudd government) including tapping the phone of president Susilo Bambang Yudhoyono.
After kissing a bit too much Malaysian arse, Abbott obviously decided to tone things back a bit by going 'full Howard', acknowledging that he "regretted" the incident, but noting that Australia had nothing to apologise for.
---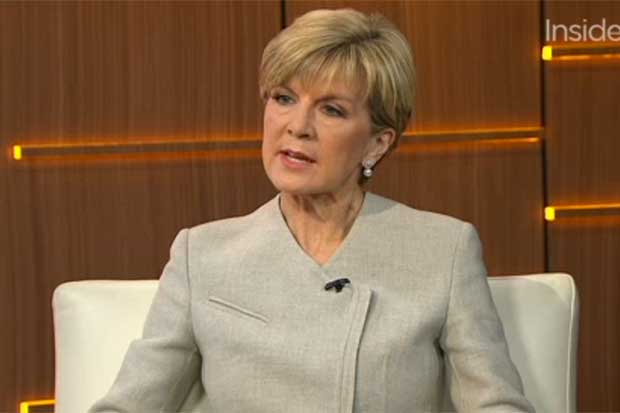 4. The Julie Bishop 'Here We Go Again' Apology To Indonesia
In February 2015, after Tony Abbott linked the provision of aid to Indonesia to the pending executions of convicted drug traffickers Myruan Sukumaran and Andrew Chan, Julie Bishop had to swan back over to Jakarta and try and patch things up… again.
According to ABC reports the Indonesia foreign ministry reacted angrily to the PM's "threats", although a meeting with Bishop, acknowledged the Australian Government had explained the comments and "expressed regret in regards to the misunderstanding".
The Indonesians executed Chan and Sukumaran regardless… and a month later Australia cut their foreign aid by half.
---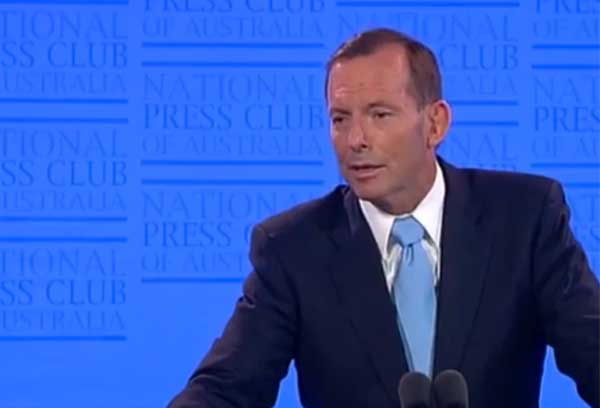 5. The Tony Abbott 'A Sorry Worthy Of A Knighthood' Apology
What could be more Australian than using Australia Day to hand out Knighthoods to British Monarchs. So goes the thinking of Prime Minister Tony Abbott, a Royalist's royalist and a man of the people.
After awarding Prince Philip the gong, Abbott drew widespread derision including from his own ranks.
He responded with this: "I think that in the media, you make a big mistake to pay too much attention to social media. You wouldn't report what's sprayed up on the walls of buildings and look, as I said, social media has its place, but it's anonymous. It's often very abusive and in a sense, it has about as much authority and credibility as graffiti that happens to be put forward by means of IT."
Eventually, Abbott offered an apology of sorts – a mea culpa noting that future decisions would be less 'Captain's Call' and more 'consultative'.
Which of course was followed by many more stupid Captain's Calls. Another listicle for another day.
---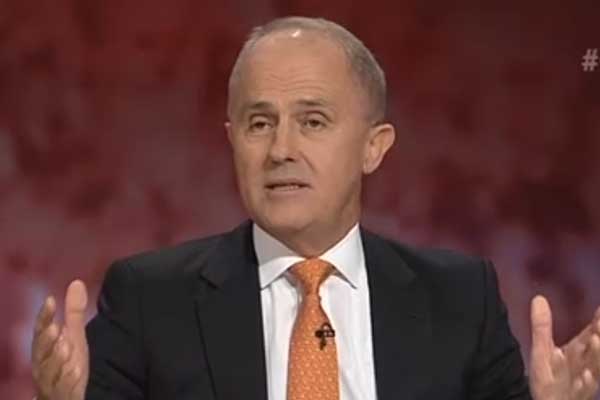 6. The Malcolm Turnbull 'Charming, Overly Verbose' Apology
In August 2013, when a Malcolm Turnbull staffer told a blogger to "get f*cked" and "have a nice life", the Opposition Communications spokesman was quick to hose down the controversy.
And in Turnbull's inimitable style, it was verbose and over the top… and not actually an apology.
Turnbull tweeted: "Regret my staffer's lapse into vulgar anglo-saxon in an email to a blogger. Charm remediation has been administered and equanimity restored."
The staffer in question was Stephen Ellis, Turnbull's chief adviser on the National Broadband Network.
Turnbull was quite a bit less forthcoming in May this year when Ellis was charged with drug possession and committing an act of indecency at the Canberra airport.
"Look, it's a personal matter, it's a private matter and I don't propose to comment on something which is almost certainly coming before the courts," Turnbull told reporters.
---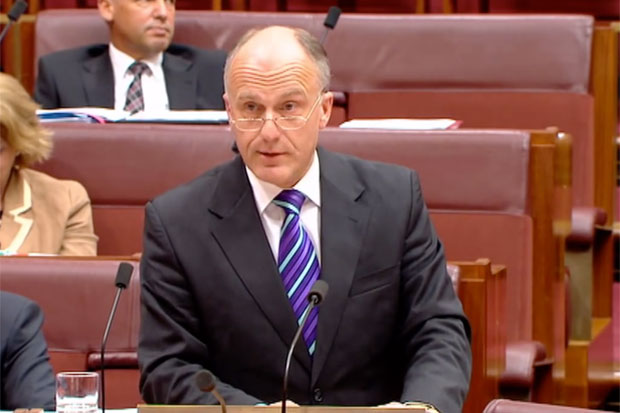 7. The Eric Abetz 'I'm Sorry, But…' Apology
Admittedly, this one occurred while the Libs were in Opposition (and Turnbull was the leader), but it's a cracker and should make any apology list now and anytime over the next 2,000 years.
Eric Abetz – possibly the only man in parliament with less charm than Peter Dutton – was eye-ball deep in the 'Godwin Grech scandal'. You remember that one… when a public servant tried to fit up Prime Minister Kevin Rudd, over false allegations he gave preference to a car dealer in a ComCar contract in return for the use of a taxpayer-funded ute during an election campaign.
Abetz was the one who put Grech forward, trashing Turnbull's leadership in the process. But the apology Abetz delivered was straight out of the 'I'm apologizing even though I did nothing wrong' playbook.
"I would like to take this opportunity to repeat my apology to the Australian people and the Prime Minister on this matter," Abetz remarked.
But…
"At no stage did I script the evidence, coach the witness or suggest what the answers might be. I would point out to the Senate that talking to witnesses before they give their evidence is common practice."
An 'I'm sorry, but I did nothing wrong' apology was still better than the approach Abetz took in August 2014, after publicly linking abortion to breast cancer.
After telling Channel 10, "I think the studies, and I think they date back from the 1950s, assert that there is a link between abortion and breast cancer," Abetz refused to apologise, and then responded to the furore with this: "Let me make this point very, very clear: at no stage have I made a link between abortion and breast cancer."
---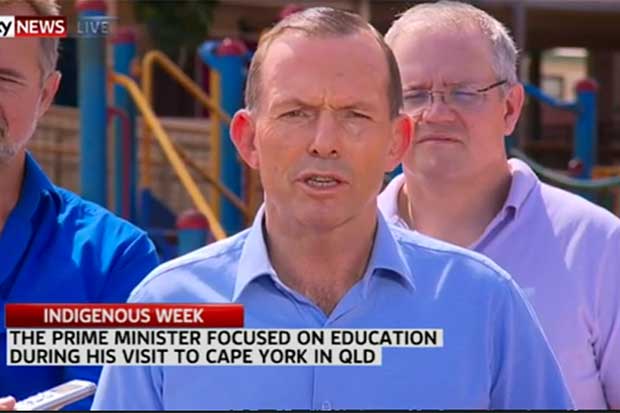 8. The Tony Abbott 'Rip It Off Like A Band Aid' Apology
When you put your foot in your mouth, the best defence is a quick apology, before the issue gathers too much steam.
And who better to learn from than Tony Abbott, who spends more time with his feet in his mouth than any other Australian politician… in our nation's history.
Earlier this year, Abbott – excited by the cut and thrust of a parliamentary Question Time – decided to jettison the convention of dignified commentary from the Prime Minister, and attack the opposition over jobs.
"Under members opposite Defence jobs in this country declined by 10 per cent. There was a holocaust of jobs in Defence industries under members opposite."
Cue the howls of outrage, and journalists rushing to their keyboards everywhere to churn out yet another 'Abbott gaffe'.
Abbott, obviously mindful that there was no defending this one, returned to the dispatch box a short time later, with a quick apology.
"In answering one of numerous questions about submarines, I should not have used the term holocaust. I shouldn't have used it. I did withdraw it, I do apologise for it."
This, of course, is the opposite approach Abbott took to his 'lifestlye choices' comment earlier this year; his comment about the housewives of Australia; his 'nothing but bush gaffe'; his 'sex appeal' comment about Fiona Scott; and any myriad of other cock-ups that Abbott has let slip and refused to apologise for.
In his defence, he did sort of apologise for his creepy wink on ABC radio after a sex worker phoned in to discuss doing it tough, later telling TV host Karl Stefanovic, "I shouldn't have done it".
---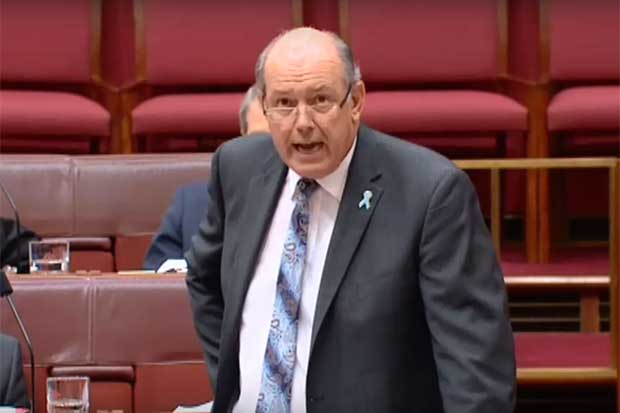 9. The David Johnston 'Up Sh*t Creek In A Canoe' Apology
Speaking of submarines, Abbott's 'holocaust' gaffe was related to an earlier one from Minister for Defence, David Johnston who was charged with the none-too-small task of choosing a tenderer to build some kick-arse weaponry for the Navy.
With many billions of dollars stake, which obviously brings with it a lot of pressure, Johnstone lost it during a Senate debate and described the Australian Submarine Corporation as a company he "wouldn't trust to build a canoe".
Which, if you know anything about the problems that have plagued the Collins Class submarines built by ASC, is actually not that unreasonable a comment.
Johnston, however, was quick to back down.
"Regrettably, in a rhetorical flourish, I did express my frustrations in the past performance of ASC. In these comments I never intended to cause offence and I regret that offence may have been taken. And I, of course, was directing my remarks at a legacy of issues and not the workers in ASC, whom I consider to be world class."
A reasonably heart-felt apology, although it wasn't enough to save his job – Johnston was dumped from the frontbench a few months later.
---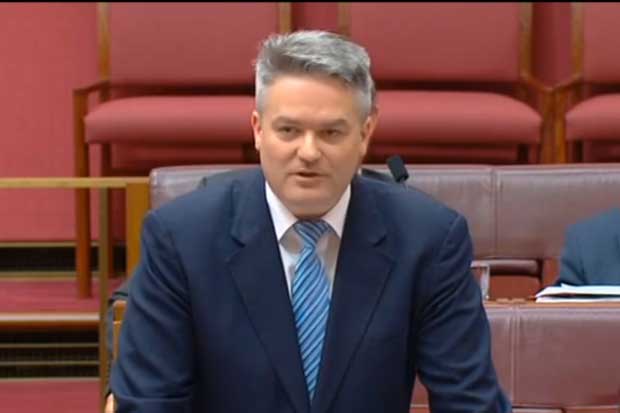 10. The Mathias Cormann 'Watch Me Get Away With It Again While Apologising' Apology
Mathias Cormann, in case you didn't know, comes from Bavaria. Or somewhere like that. The point being, he sounds exactly like Arnold Schwarzenegger, which is how it came to pass that, while attacking Opposition leader Bill Shorten over the budget, he referred to him as an "economic girlie man".
Some people laughed. Some people winced. And others, including Labor Senator Penny Wong demanded an apology. Cormann obliged… sort of.
"By now you may have read or heard that over the weekend I described the leader of the Opposition Bill Shorten as an 'economic girlie man'," he wrote.
"Last night, however, as I rested my head on the pillow I delved a little deeper into my psyche. I am not sexist, of course, but did Penny Wong have a point? If I wanted to call Shorten weak why didn't I just call him weak? Why did the phrase 'girlie-man' spring to mind? Why do we equate 'weakness' with girlie-ness? Is that the message we want to send boys or girls?
"I think not. As such I would like to take the opportunity to apologise unreservedly for the language I used. I am the minister for finance, a position which carries power, and perpetuating the notion that girls are weak – even inadvertently – is not a legacy I am interested in creating with that power."
Which sounds very sincere, until you read this line, also in the apology: "My intention was not to be derogatory towards girls or girlie men…."
---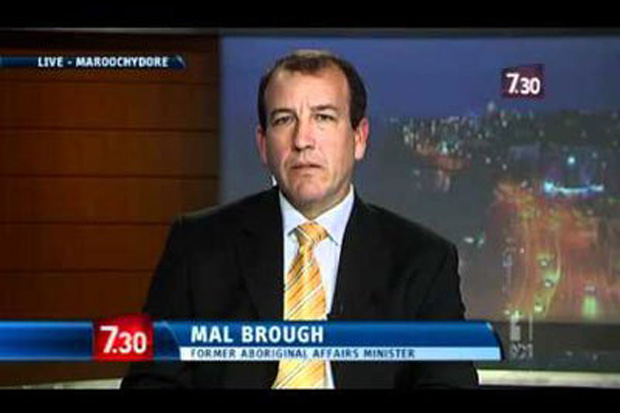 11. The Mal Brough 'Stop Talking Now… No Really Stop Talking' Apology
This one also falls outside the Abbott Government reign, but only just, and it's sufficiently infamous (and disgusting) to warrant inclusion in this list.
In March 2013, in the shadow of the upcoming election, Mal Brough – of Ashbygate and Northern Territory intervention infamy – was staging a little fundraiser to help his campaign for the seat of Fisher.
On the menu: "Julia Gillard Kentucky Fried Quail – Small Breasts, Huge Thighs & A Big Red Box."
Joe Hockey was a guest at the fundraiser, but like Brough, says he can't recall the menu (which was reportedly the subject of much conservative guffawing).
Obviously, Brough had no option but to apologise… but as with so many things Mal, he just didn't know when to stop talking.
After saying sorry, Brough went on to explain that the menu was drawn up by a "non-party member" who thought it would be "humorous" and "didn't mean any harm by it," but is now "deeply apologetic".
He added: "I didn't condone the menu nor did I authorise it… it should never have been written."
Just apologise Mal, then stop talking. Period.
---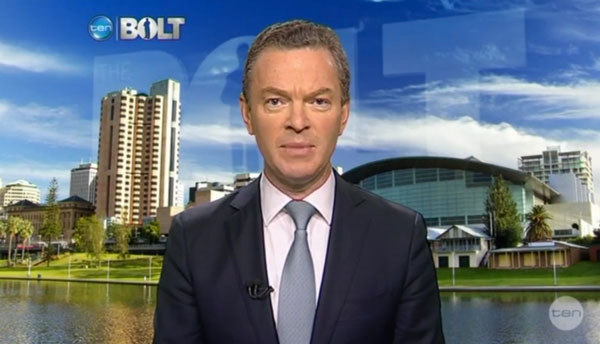 12. The Christopher Pyne 'With The Benefit Of Hindsight That Was A Stupid Idea' Apology
Unless we've missed something, Pyne appears not to have had to issue a groveling personal apology during the term of the Abbott Government. Which is a feat at least as remarkable as his election to office, given how thoroughly unlikeable he is.
But as with the average instincts of a Pyne, Christopher let the politics get the better of him in February last year, by delivering an apology on behalf of all of his side of the house over the 'disgraceful' speech delivered by fallen MP Craig Thompson a year earlier.
Pyne wanted to set the record straight, and in particular apologise for the brave union whistleblowers smeared by Thompson during his speech.
"The former member for Dobell used parliamentary privilege to defame individual members of this House and also individuals outside the Parliament and to mislead the Parliament with a fantastic story that he then did not repeat in court when he had the opportunity to stand by it," Pyne told the House.
Two of those brave whistleblowers, of course, were Kathy Jackson and Michael Williamson, who are now being pursued over their massive thefts of huge quantities of union dues.
When you're Christopher Pyne, sometimes the politics just causes too much blood to rush to the head.
---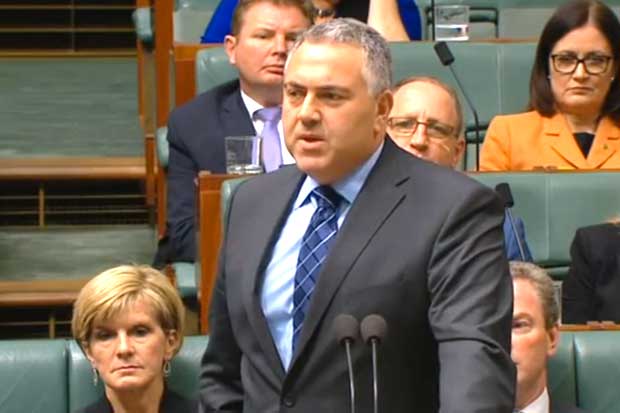 13. The Joe Hockey 'This Is Actually How You Apologise' Apology
Speaking of Joe Hockey, the Treasurer has provided the template for how you should apologise when you make an absolute twit of yourself.
After theorizing in 2014 that poor people would be less impacted by a rise in fuel prices "because they don't drive cars", Hockey was the subject of an onslaught of outrage from across the land.
When it became clear the storm would not die down without a heartfelt apology, Hockey actually delivered one.
"I'm sorry about the interpretation, I am sorry about the words," he said. "All of my life I have fought for and tried to help the most disadvantaged people in the community.
"For there to be some suggestion that I have evil in my heart when it comes to the most disadvantaged people in the community is upsetting.
"But it's more upsetting for those people in the community. So I want to make it perfectly clear to the community that if there's any suggestion that I don't care about you or that I have evil intent toward you, I want to say that couldn't be further from the truth and I'm sorry for the hurt."
That's actually how you're supposed to apologise – be sincere, and don't proffer any excuse.
Which makes it all the harder to explain Hockey's response months later, when there were widespread calls for him to apologise for his remark that first home buyers should "get a better job" if they wanted to get into the property market.
Hockey obviously felt all 'apologied out' from his earlier gaffe, so he dug in his heels, and told the ABC, that there would be no 'sorry'. "You're playing the man," he complained.
---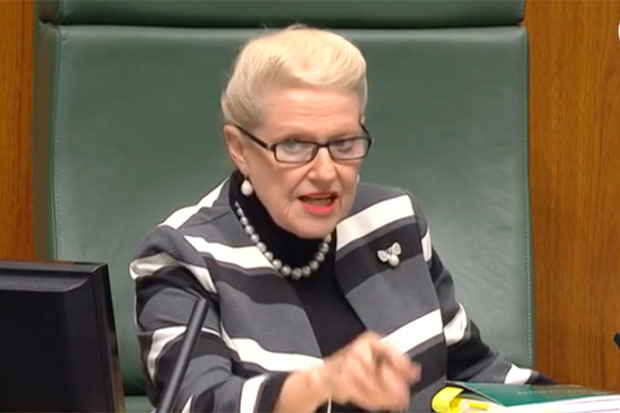 14. The Bronwyn Bishop 'What Price Can You Put On An Apology, Really' Apology
This one is the mother of them all, and is capable of being pulled off only by those with the most refined sense of privilege and entitlement.
Introducing Bronwyn Bishop, a woman who believes that saying sorry should not come with a price tag. Particularly if you pinched a sh*t-tonne of money from the Australian taxpayer and don't really want to pay it back.
After a two-week long media storm over her charging taxpayers more than $5,000 for chartering a helicopter to fly to a Liberal party fundraiser in Victoria, Bishop finally emerged with an apology… which just stoked the flames of outrage.
"I am so apologetic to the Australian people for letting them down and I will be working very hard to make sure things are right," she told a gathering of journalists.
But no, she wouldn't be resigning… and no she wouldn't be paying back the other taxpayer funds she pinched, such as the cost to attend Liberal colleague Sophie Mirabella's wedding a few years earlier.
Bishop, of course, eventually had to resign her position as Speaker of the House anyway, after precisely no-one accepted her original apology, and not before dragging her government to new lows in the polls.
If we've forgotten any great Abbott Government Apologies, please list them in the comments section below.
Donate To New Matilda
New Matilda is a small, independent media outlet. We survive through reader contributions, and never losing a lawsuit. If you got something from this article, giving something back helps us to continue speaking truth to power. Every little bit counts.