Nearly 200 protestors gathered outside AGL Energy's Sydney headquarters for the hundredth consecutive week of demonstrations this morning to demand the energy giant drop its controversial coal seam gas projects, which the demonstrators say are more trouble than they're worth.
AGL has coal seam gas projects on its books in the northern Hunter Vally, at Gloucester, and at Camden on Sydney's south western edge, and both have been plagued by protests and allegations of breaches of approval conditions.
This morning's colourful demonstration outside the company's North Sydney offices was something of a tour de force for the anti-coal seam gas movement, boasting speakers from The Greens, the famous 'knitting nannas against coal seam gas', the Sunrise Project, 350.org, GetUp! and former Gloucester mayor Julie Lyford.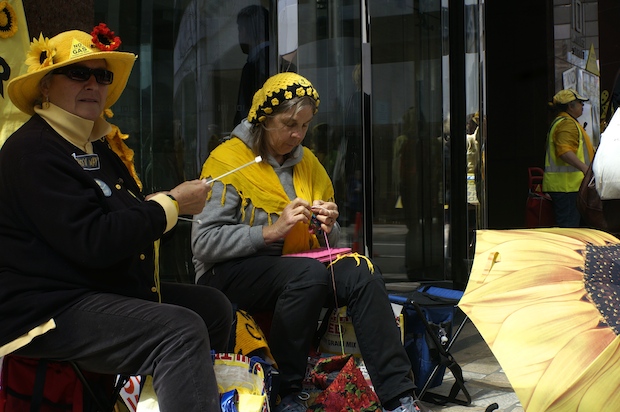 Lyford travelled to Sydney with a busload of 50 Gloucester locals and said the protest was "really about people standing up against injustice and the truth of what's going on, and the collusion and culpability".
"We have to use the word culpability in every single thing we say because the government and AGL are culpable for the decisions that they make which put at risk our land our water, our health and our future," she said.
Lyford claimed that "over 80 per cent of the people in Gloucester do not want AGL" and described coal seam gas as a "festering sore that will not go away until it has no place in our energy mix in Australia".
The woman who sparked the first protest 100 weeks ago, Jennifer Schoelpple, said that she was "sickened" when she first heard that the government had given AGL the green light to use controversial hydraulic fracturing techniques near her home in the Gloucester valley.
"I was shaking, I was so angry, and a friend of mine actually said 'well go and do something about it'…and so I marched off with my 11-year-old daughter and turned up here the very next day," Schoelpple said.
"I think the pertinent point is that I turned up here as a really, really angry mother, and if you look around this audience the unprecedented involvement of women in this movement, I think, suggests that CSG strikes at the fundamentals of what we need to survive, and I think that really strikes a chord in the hearts of mothers…"
The New South Wales Greens' Spokesperson on Mining, Jeremy Buckingham, said he wanted to "start by saying you are winning, we are winning, we have stopped this industry in its tracks".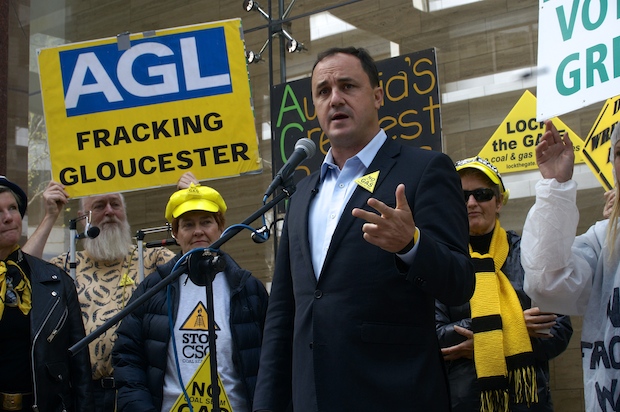 The party's advocacy has been welcomed by community groups trying to halt the industry's advance in New South Wales, and was important in building the pressure which led to a decision last year from the Liberal state government to peel back the area of the New South Wales covered by gas exploration licences from 60 to 11 per cent.
At the recent state election the major parties retreated from their support for the controversial industry, and Buckingham is pushing legislation to hamstring the polarising industry.
"Two weeks ago The Greens, Labor, and the Animal Justice party went very close to passing a Bill that would have banned coal seam gas in most of the state and really pulled the industry up in its tracks," he said.
"But shamefully the Liberals, The Nationals, and most importantly the Shooters Party voted down that Bill.
"I've been talking with my Labor colleagues and we will be bringing another Bill back and we will go on and on and on until we win," he said.
Any such legislation is almost certain to fail in the NSW Parliament given the dominance of the Liberal and National parties in the Legislative Assembly.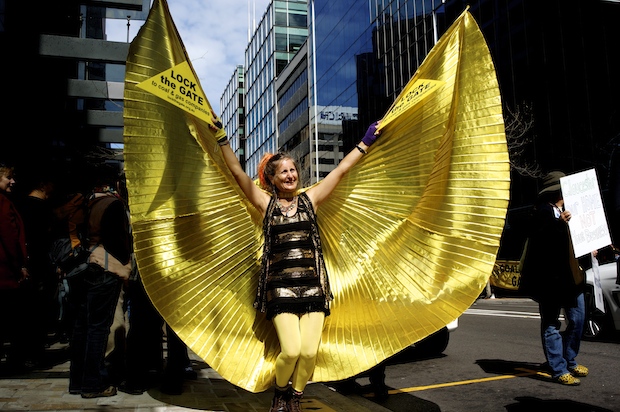 As AGL seeks to enhance its green image under new Chief Executive Officer Andy Vesey it's likely to also feel the influence of customers, irrespective of legislative set backs, as progressive groups like GetUp! encourage consumers to divest.
GetUp's Better Power Campaign Director, Lily Dempster, told the crowd that the a campaign calling on members to switch to the Powershop energy company, which does not invest in coal seam gas or coal, had resulted in 12,000 people "taking their money away from some of the dirtiest energy companies in the country".
She said AGL have written down their gas assets "by over $600 million, [and]$275 million of that is from the Gloucester project alone".
"So coal seam gas is not just risky business for our communities, it's also risky business for AGL's investors," Dempster said.
"They're reviewing their coal seam gas investments at the moment, and if we can put pressure on their retail brand, and take money away from their bottom line, it's going to impact their decision to get out."
A spokesperson for 350.org said Gloucester Shire Council had made the decision to pull its $7 million investment portfolio from fossil fuels, a theme which Buckingham picked up in his address to the crowd.
"AGL has got a choice to make; they can destroy their corporate reputation, they can destroy their business chasing after a few years of gas, or they can embrace renewable energy," the Greens MLC said.
"They are at a fork in the road, today's the day they need to make that decision, and we will hold them to account."
AGL has been contacted for comment.
*Update*
"AGL Energy Limited (AGL) supports any individual's or group's right to protest peacefully," a spokesperson for AGL has told New Matilda.
"While there are some people who will be opposed to our activities, there also are many who support the work we do and the local investments we make, in safely and responsibly providing secure energy to communities across Australia."
Images: Thom Mitchell.

Donate To New Matilda
New Matilda is a small, independent media outlet. We survive through reader contributions, and never losing a lawsuit. If you got something from this article, giving something back helps us to continue speaking truth to power. Every little bit counts.