The New South Wales government's decision to ban schools playing a film about the experiences of four children growing up with gay parents has been dismissed as "kind of backward" by its producer, who said she's upset the kids are "having their families attacked more than ever".
Charlotte Mars produced the film, titled Gayby Baby, and said she is "quite upset about the way our film has been turned into a platform for homophobia" after Sydney tabloid The Daily Telegraph ran a front page splash claiming a planned screening had triggered a "gay class uproar".
The film was scheduled to be screened at schools around the state on Friday as part of 'wear it purple' day, which aims to build understanding and acceptance of LGBTQI people and their families.
Screenings are expected to go ahead as planned in Victoria, but amidst yesterday's uproar New South Wales Education Minister Andrew Piccoli banned the film being screened during class times north of the border.
"I think it is a real shame the Minister for Education has made this decision," Mars said.
"The whole basis of Wear It Purple day is about saying 'you have the right to be who you are' and by choosing to take this stance they have actually politicised what is really about making our communities safe and inclusive places.
"We made the film available to schools to help contribute to the dialogue they're building around tolerance and diversity.
"My understating is that [Piccoli] was particularly resistant to it being viewed during school hours…[but]as some students from Burwood High School said they do have time taken out to do religious studies and other kind of non curricular events," Mars said.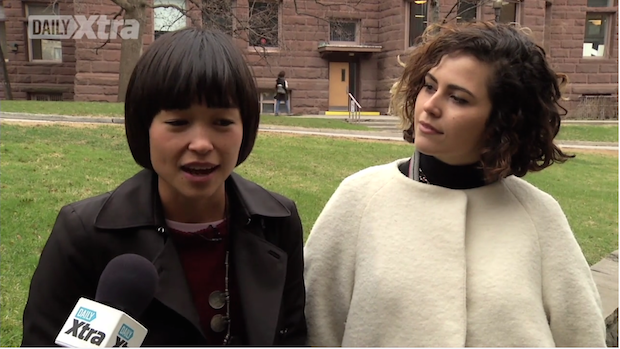 Burwood Girls High School was at the centre of the yesterday's drama, with The Daily Telegraph editorialising that "children in their most impressionable years [should not be]brainwashed with propaganda, nor taught opinion as fact" and suggesting, perhaps falsely, that the school had been inundated with complaints.
News Limited columnist Piers Akerman even went as far as to directly address one of the children featured in the film, Ebony, to inform her "normality is the state of being usual, typical, or expected according to the Oxford Dictionary …."
"Same-sex couples represented about one per cent of all couples in Australia, which would indicate they do not meet the definition 'normal'," Akerman wrote.
Speaking to New Matilda this morning, Mars said Akerman needed to reevaluate his conception of normalcy and that she "[doesn't] think there is anyone who can define what is normal in 2015 [because]it doesn't exist anymore".
"People who try and argue there is a normal are probably trapped in a bygone decade," Mars said.
"There's no reason anyone should have to prove they're normal anymore; probably the only thing that unites all families is that they are all abnormal and they are all imperfect."
Mars said that the uproar over the planned school screenings had "been quite an unexpected turn of events" and that, despite the PG-rated film having already shown at international and national film festivals, its makers had received nothing but positive feedback.
"On Tuesday night we actually had a screening in New South Wales Parliament to launch the cross party friends of the LGBTQI community parliament group and that was an incredible, really wonderful, screening," she said.
Labor member Penny Sharpe attended that event and in a speech to Parliament on Wednesday said the Telegraph's "splash, with added nasty commentary…delivered ill-informed commentary about this film and went too far".
"[It] targeted the courageous young people in the families featured in the film and pointed the public finger at them to say that they are not normal and their families are not normal," Sharpe said.
Sharpe is raising three children with her female partner of 22 years, who she has also fostered three other children with, and she said the attacks on the film touched her personally.
"It is time for this to stop. I am normal. My kids are normal," she said.
With the prospect of a plebiscite on marriage equality looming, and the issues being conflated despite the fact gay parents have long had the right to start a family, Mars said she's concerned the film will be "used as ammunition against marriage equality in the debate that may ensue".
"As we've already seen the right is willing to use children as an argument against marriage equality and that's a real shame, something to be worried about," Mars said.
"When I saw those headlines, my heart sank, mostly because Gus, Ebony, Matt and Graham are the kids who are going to have to go to school and hear that stuff about their images being taken out of context.
"Their aggressors in the school yard have been sort of validated," she said.

Donate To New Matilda
New Matilda is a small, independent media outlet. We survive through reader contributions, and never losing a lawsuit. If you got something from this article, giving something back helps us to continue speaking truth to power. Every little bit counts.