The persistent pressure on HESTA to divest from Transfield Services Pty Ltd has landed a huge blow against the biggest contractor in the Australian detention industry.
The divestment by HESTA, the industry superannuation fund for health and community services workers and one of Australia's largest super funds, represents a significant loss of confidence in the value of the Transfield Services brand and an increase in downside risk for investors.
As entrenched bipartisan support for mandatory detention continues to frustrate those seeking an electoral path to change, the impact of HESTA's response to a sustained campaign demonstrates the powerful ability of boycott and divestment tactics to disrupt the political economy of the detention industry.
HESTA's links to mandatory detention were first raised by Cross Border Operational Matters in January 2014 when the fund was revealed to be one of many superannuation funds that employed Allan Gray, Transfield Services' largest shareholder, as an investment manager.
As the boycott campaign to end Transfield's sponsorship of the Biennale of Sydney was drawing unwanted attention to the company's detention contracts on Nauru and Manus Island, public calls for divestment emerged from HESTA members and branches of the Australian Services Union (ASU).
By mid-March 2014, a week after the Biennale of Sydney announced plans to cut its ties to Transfield, the national executive of the ASU adopted a resolution calling for HESTA to divest from Transfield Services.
Momentum stalled, however, as other union and employer groups represented on the HESTA board remained silent over the fund's investments in detention.
In the period following the ASU resolution, HESTA continued to increase its investment in Transfield Services, reaching the threshold of a substantial shareholder status (a more than 5 per cent stake) in December 2014.
HESTA's increased investments helped the troubled company recoup some of the losses sustained after the Belgiorno-Nettis family sold its stake, but these increases drew no further public response from the ASU.
Earlier this year, HESTA Divest was launched to galvanise opposition to HESTA's links to the detention industry. The campaign team, which comprised of health and community sector workers and anti-detention advocates, came together through the work of Cross Border Operational Matters, the same collective that was instrumental to the success of the Biennale boycott.
Armed with bright green shirts, leaflets and hashtags, HESTA Divest spread the call for HESTA to divest across social media (#HESTAdivest) and at events and rallies.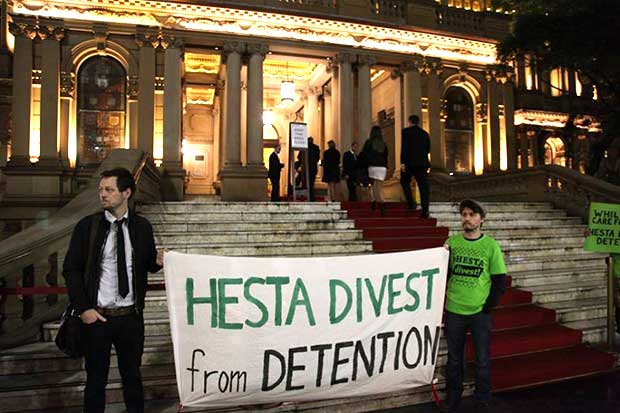 Many HESTA members were shocked to learn that their retirement savings were financing the detention system through companies like Transfield Services.
HESTA Divest played a key role in highlighting that super funds already have the tools, such as Environmental, Social and Governance policy, to screen out industries where there is no question of "best practice" such as tobacco, thermal coal – and mandatory detention.
The information shared through HESTA Divest supported many fund and union members to contact the HESTA board to express their strong opposition to detention investment.
Members of unions on the HESTA board began to pass motions at a workplace and branch level.
In June 2015, the Australian Nursing & Midwifery Federation (Victorian Branch) Delegates' Conference passed a motion requesting their Union Branch to lobby HESTA and First State Super to divest from organisations "whose business interests directly or indirectly breach the human rights of those seeking asylum".
Last week the revamped call for divestment paid off.
While HESTA CEO Debby Blakey attempted to play down the role of the public campaign, Sally McManus, who championed the ASU resolutions, acknowledged the indispensable role of sustained activism in bringing about the result.
HESTA's divestment has also provoked other super funds and Transfield Services shareholders to make public statements regarding their own investments in Transfield. Transfield Services' largest shareholder Allan Gray – a multibillion dollar funds management firm with an almost 19 per cent stake in Transfield worth roughly $107 million – has stated that it will continue to review the governance risks associated with its investment in Transfield.
A number of other super funds have also announced that they are reviewing their investments in Transfield Services including Cbus, the directors of which include Australian Council of Trade Unions president Ged Kearney, and REST Industry Super, which recently became a substantial shareholder in Transfield Services.
NGS Super has acknowledged its stake in Transfield, and the National Tertiary Education Union has announced intentions to clarify UniSuper's policy on detention investments.
The result has also attracted a satisfyingly bizarre rant from the editors of the Australian Financial Review.
As the few remaining protections for detained asylum seekers look set to deteriorate with the introduction of the Border Force Act and the potential passage of the 'Use of Force' bill, the need for viable strategies for ending detention has become ever more urgent.
The success of the Biennale boycott and HESTA Divest points to a proven strategy for change that is well within the reach of coordinated grassroots movements.
Pressure on super funds to divest from detention contractors has never been higher, but sustained public demands will remain a vital part of ensuring that decision makers break their links to the detention industry.
Beyond superannuation funds, a campaign is being built against detention contractor sponsorship of the Fremantle Dockers.
Questions are also being raised about the connections between mental health organisations and the detention industry: REST is a corporate partner with headspace, the National Youth Mental Health Foundation.
Although a critical part of the government's policy of "deterrence", the detention industry is not as "offshore" or as secure as many may imagine. The supply chains of the detention system can be traced back to everyday economic decisions.
Through coordinated action, it is possible to block the financial, cultural and philanthropic supply chains of the detention industry.
Along with Transfield Services, major profiteers in the detention system include Serco, IHMS (International Health and Medical Services), Wilson's Security and Decmil. Boycott and divestment tactics have the demonstrated potential to render the detention system inoperable.

Donate To New Matilda
New Matilda is a small, independent media outlet. We survive through reader contributions, and never losing a lawsuit. If you got something from this article, giving something back helps us to continue speaking truth to power. Every little bit counts.