The forgotten victim of the Dyson Heydon scandal is the New South Wales Liberal Party who are now without a speaker for the Sir Garfield Barwick address.
New Matilda has received a tip George Brandis is considering stepping in. We've received a completely genuine advanced copy of Brandis' remarks (Note: When we say 'completely genuine' we mean 'completely made up').
It is a pleasure to attend this non-partisan event.
I am aware of whispers this is a fundraiser. I can guarantee if it were a Liberal fundraiser entry would not be $80 a head.
[PAUSE FOR CHORTLES]
Maybe it's a Greens fundraiser.
[PAUSE FOR LAUGHTER]
Today I want to talk for what Sir Garfield Barwick and I stand for – the rule of law.
The rule of law is under threat from enemies on the left: terrorists, environmentalists, trade unions, and Penny Wong. Especially Penny Wong.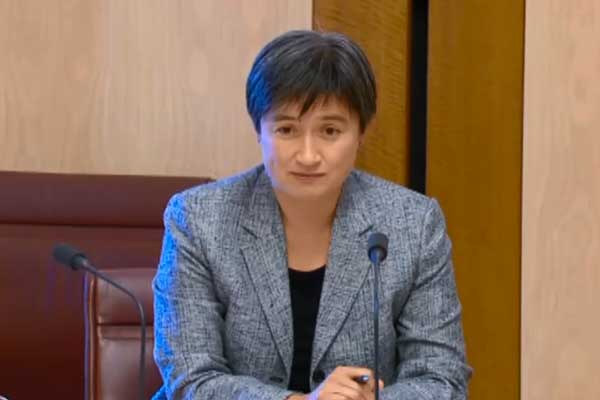 The greatest threat is the environmentalists. Last decade they frequently threatened coal power plans with menacing protests.
These protests featured music, and what I am told is performance "art".
Such "art" invariably escalates to activists trespassing in the power plant, placing workers in fear and Australia's energy supply in peril.
Law enforcement kept a close eye on these thespian-terrorists.
In 2013 we sent an officer under cover as a Burmese woman who had fled the junta because of her counter-cultural performance art. He was able to infiltrate the no-coal movement. Yes, he was a male officer disguised as a woman. He was the best man for the job. Law enforcement selects on merit, not gender. National security cannot be hostage to Penny Wong's political correctness.
[PAUSE FOR MASCULINE APPLAUSE]
The officer became creative director of the terror-theatre sabotaging the "art" at anti-coal rallies by making it tedious, and incomprehensible. Also he tipped off police.
However, in 2013 some startling intelligence came across my desk. The eco-fascists had given up on theatrical-terror. They had taken up lawfare.
First target: the Carmichael mine.
I warned Greg Hunt, but it was too late. Unlike myself, Greg lacks the legal skills honed at Oxford to repel such attacks.
We had a plan to send an operative in as an undercover paralegal. However, legal advice said this would violate lawyer/client privilege, and this is not East Timor.
Lawyer/Client privilege was never meant to protect environmental treason.
These hippies are not real clients; they are soldiers in a war doing the bidding of their autocratic general-priestess, Penny Wong.
They are not local residents of the Carmichael area. Some may not even be Australian citizens. Thus, stripping citizenship for destroying Commonwealth property would not assist, although Peter Dutton still offered.
[ROLL EYES]
The Federal Court held that the yakka lizard and ornamental snake had not been given due process by the Environment Minister.

That's right – the Court destroyed a mine for a snake that is purely ornamental.
[THIS IS A CLEVER LINE, YOU KNOW IT, ADJUST GLASSES]
A mine that would have created 10,000 plus jobs. Possibly even 100,000. A mine that would have ended poverty in India. A mine that would have turned the budget deficit around.
[IF YOU YOU BELIEVE IT, IT IS NOT A LIE]
What about due process for the victims of this legal-vigilantal-gation. Who gave the 10,000 workers a chance to be heard? How many poor Indians will die because they do not get this precious coal? Where are their human rights Gillian Triggs? Will Penny Wong not speak for them?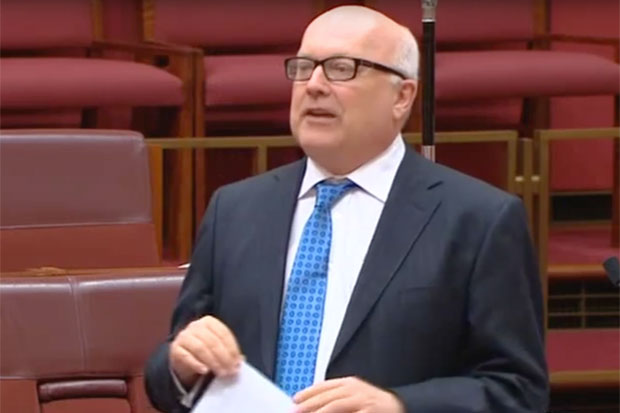 Nature does not afford humans due process. The sharks in our oceans do not grant surfers a fair hearing.
Due process is a right for people, and corporations, who are legally people, and are also made up of shareholders, who are people, or holding corporations, who are also legal persons. Penny Wong would not understand this.
I am afraid using law for lawlessness is not confined to environmentalists.
At the Royal Commission, today's original speaker Dyson Heydon has been the victim of legal-bullying from Penny Wong's union allies.
The Unions claim that Mr Dyson Heydon's agreement to speak at this non-partisan event gives the appearance of bias. As a Queens Counsel I can assure you it does not. The law has not stopped union thugs from proceeding with their vicious legal application.
[YOU ARE A REAL QC GEORGE, DON'T LISTEN TO THE DOUBTERS, BELIEVE IN YOURSELF]
Dyson Hedon agreeing to speak at an event in Sir Garfriled Barwick's honor, reveals only that he is biased in favour of the rule of law, and biased against lawlessness and thuggery. I suppose that does makes him biased against the unions.
[POUND FIST, SMIRK, PAUSE FOR LAUGHTER AND/OR APPLAUSE].
Today's vigilante is not a man that dons a mask, and brandishes an iron bar in the middle of the night. Today's vigilante walks through the front door of Court accompanied by his QC. A QC paid for by money extorted through standover tactics, such as donning a mask and brandishing an iron bar.
The days of the rule of law being used by vigilantes is numbered. Before this Parliament is out, I shall defund their art, buy-back their iron bars, and turn them away from our Courts. The rule of law demands no less, whatever Penny Wong has to say.
[SOAK UP STANDING OVATION]
* Notice to NM's insurers. Mathew Kenneally is also a lawyer, and legalled this piece before publication.
Donate To New Matilda
New Matilda is a small, independent media outlet. We survive through reader contributions, and never losing a lawsuit. If you got something from this article, giving something back helps us to continue speaking truth to power. Every little bit counts.