As sure as taxes, one day you're going to die. But the good news is, statistically speaking, it's probably not going to be in the jaws of a Great White Shark.
Even so, over the weekend, a bodyboarder was seriously injured in a shark attack near Port Macquarie. It's the latest in a string of shark attacks on the NSW coast, with five reported in the Ballina-Evans Head region in the past year.
After a fatal attack in Perth in 2013, Premier Colin Barnett ordered the destruction of Great Whites which came within a kilometre of the West Australian coastline. Barnett successfully killed hundreds of sharks, although most of them were not Great Whites.
Despite the attacks in NSW, cooler heads appear to have prevailed, so far. Although inevitably there's been increased media reporting, and calls this week for shark nets to be installed in regional areas to keep swimmers and surfers safe.
Great theory, but one big problem: there's not really much evidence that shark nets do anything other than kill marine life, and occasionally people.
Currently, beaches all the way from Newcastle to Wollongong are netted. If you're swimming in those regions and the nets are making you feel safer, here's some news that will ruin your day. Shark nets don't cover the length of the beach, and they don't cover the depth of the water. Sharks can swim over and around the nets, and frequently do.
That explains why around 40 per cent of the sharks removed from NSW nets are caught on the beach side of the net.
Even so, your odds of being attacked by a shark in the Greater Sydney region are still miniscule.
According to the Department of Primary Industries, since 2009-10, there have been about 23,286,769 beach visits in Sydney, Newcastle, Central Coast and the Illawarra.
Over the same period, despite the shark nets, there's been nine reported shark attacks.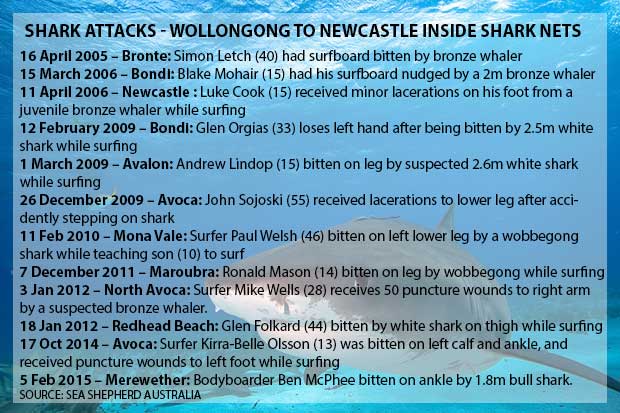 So you have about a one in 2,587,419 chance of being attacked by a shark at a Greater Sydney beach. That's about the same odds of winning Oz Lotto if you buy a standard 18-game ticket.
As for your chances of being killed by a shark in the Greater Sydney region? Based on the 2009 to 2015 figures, it's zero, because none of the attacks have been fatal.
So why do we mesh beaches, and what do we actually achieve in doing it?
The NSW Department of Primary Industries reports: "The shark meshing program has caught and killed many thousands of sharks in the 65 years since its introduction. In the first 12 months of meshing in 1937, approximately 1,000 sharks were taken off Sydney beaches.
"In the 52 years from 1950 to 2002, more than 11,500 sharks were caught and killed in the nets, with annual shark deaths during this period ranging from 648 to 69 sharks."
For the most recent 'netting season' the NSW DPI notes that in 2014-15 there were "189 marine life interactions" with the nets. Which is a coy way of saying, we caught 189 unsuspecting marine animals.
Of those, just 44 of them – 23 per cent – were "target sharks", the ones that are more likely to kill you, such as great whites, tigers, bulls, makos and bronze whalers.
And that means that more than 3 out of every 4 animals caught in the nets are probably (or definitely) not going to kill you. This year they included 42 Smooth Hammerheads (all but one of which were killed by the nets), plus three dolphins, three turtles and dozens of stingrays.
Long story short, nets don't really stop shark attacks, but they do kill quite a lot of marine life.
So where do I go swimming?
In terms of the safest places to swim around the nation, the ACT obviously leads the pack, with the lowest number of recorded fatal sharks attacks – zero. You get that with a land-locked territory.
Technically, Northern Territory comes in second – there hasn't been a recorded fatal shark attack since 1937, when a pearl diver was killed off Elcho Island. That said, if you do go swimming in the Top End, it's really only a matter of when, not if, you get eaten (by a crocodile, more likely).
Victoria comes in third – there hasn't been a fatal shark attack in the Garden State since 1956.
So if sharks aren't killing us, then who is?
Well, we are. Obviously, disease is the biggest killer of Australians, with heart disease topping the list in 2010, at 21,708 deaths. That government war on junk food is surely coming some day soon? But what about 'accidental deaths' that cut short an otherwise healthy life?
The ABS refers to these deaths as 'external deaths' – as in "cases where the underlying cause of death is determined to be one of a group of causes external to the body".
Following are the top five 'external causes of death' (and you can access the original data from the ABS here).
1. By Your Own Hand
The most likely way to die an 'external death' is at your own hand. Of the 8,918 'external deaths' registered in 2010, suicide accounted for more than 1 in 4 of them – 2,361, to be precise. More broadly, suicide accounted for 1.6 per cent of all registered deaths in Australia in 2010. Males were more than three times as likely to die at their own hand as females.
2. Slipped And Fell
The next most likely way to die is by falling over. Literally. It accounted for 1,648 deaths in 2010 – about 1.1 per cent of 'external deaths'. Most notably, 'death by falls' has increased 28 per cent over the last five years, although strangely, media and government are yet to declare war on height, steps and falling off stuff.
Notably, the median age at death for people who died in a fall was 85.9 years, and of deaths due to falls 1,440 of them were people aged over 69.
3. On The Road
The next most likely external death is in a car accident – ie. you're far more likely to die on the way to the beach, than at the beach.
Transport accidents (predominantly by car and motorbike) accounted for 1,503 registered deaths in 2010. That's 1 percent of all Australian deaths for the year. Of these deaths, 706 of them were occupants in a car; 236 were motorcycle riders or passengers; and 227 were pedestrians.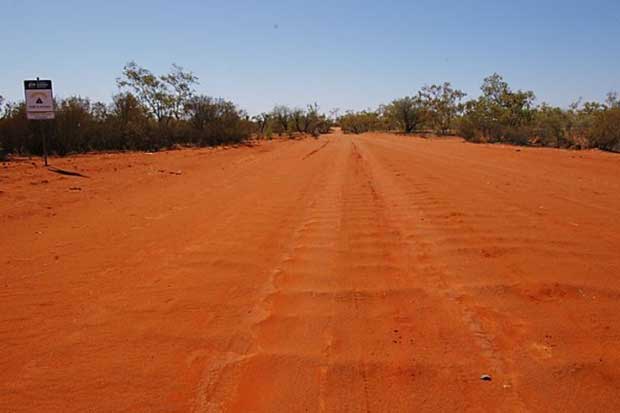 Interestingly, according to the Australian Institute of Health and Welfare, "the mortality rate (in transport accidents) for those who resided in very remote areas was 4 times the national rate".
In other words, blackfellas living in remote regions, especially in the Territory, are far more likely to die in road accidents than the rest of us.
And to put it another way, despite the fact substantially more black people are dying on regional roads than non-Aboriginal people being eaten by sharks, there's yet to be any national debate demanding simple improvements to remote road infrastructure. Food for thought.
4. Poisonings
Accidental poisoning killed 864 people in Australia 2010, which is about 0.6 per cent of all deaths.
5. Assaults
Assault accounted for 217 deaths in 2010. The median age for those who died as a result of an assault was 40.6 years. (40.5 for males and 41 for females).
Other deaths
In 2010-11, 220 people died at work – of those, 203 were men. Road and rail drivers were the most likely to be killed (44 in total).
Shark attacks
One person was killed by a shark in 2010 – Nicholas Edwards, aged 31, was killed by a Great White while surfing at Cowaramup Bay, south of Perth. As a comparison, during 2010-11 six people were fatally shot by police; 44 people died of tuberculosis; 40 died from meningococcal; 45 cyclists were killed, including five without involving other vehicles; and 18 people died falling out of bed.
Another long story short, sharks are the least of your worries. If you want to avoid death by shark entirely, then you should probably restrict your swimming to the ACT, although while you're there, avoid picking mushrooms – Death Cap mushrooms killed two people in Canberra in 2012.
But if you're still freaked out by them, then there's probably no convincing you, so you may as well watch this video.
Donate To New Matilda
New Matilda is a small, independent media outlet. We survive through reader contributions, and never losing a lawsuit. If you got something from this article, giving something back helps us to continue speaking truth to power. Every little bit counts.