Australian immigration detention centres on Nauru and Manus Island have become breeding grounds for abuse. In addition to men and young boys, female refugees are increasingly targeted by verbal, physical and sexual violence. Additionally, systems of degradation including the withholding of necessary sanitary items are widespread in these facilities.
A letter written by Ben Pynt from the Darwin Asylum Seeker Support and Advocacy Network (DASSAN) to the Select Senate Inquiry into Nauru earlier this year contained harrowing quotes from women telling of physical and sexual abuse, including several cases of unwanted advances, threats, indecent exposure and assault carried out by staff.
Some women reported offers of cigarettes by guards in exchange for sexual favours, while many others, as young as 16-years-old, have told of physical contact ranging from inappropriate touching to rape.
In a recent article for The Guardian, former prisoner and author Chandra Bozelko noted, "To ask a macho guard for a tampon is humiliating. But it's more than that: it's an acknowledgement of the fact that, ultimately, the prison controls your cleanliness, your health and your feelings of self-esteem." In facilities intentionally constructed to obliterate any shred of self-worth — whether for correction or deterrence – the tactic undoubtedly works.
From prisons to Australia's own 'tampon tax' to immigration detention centres, denying women the right to look after themselves is a key method of dehumanisation.
IHMS consultants to the Nauru and Manus Island facilities provided accounts of a 13-year-old female detainee who had only two pairs of underwear and was required to wash and hang them each day while menstruating, as necessary supplies were not provided.
In another case, a mother menstruating for two months was forced to use clothing and ripped pieces of her tent to manage the bleeding.
It has been well-documented that refugees in Australia's offshore processing centres are left indefinitely without adequate sanitary products and in unhygienic conditions, with limited access to clean water, toilets and basic health care, often prevented from washing clothes or showering.
Frequent incidents of exploitation have occurred in Australian immigration detention centres, with women forced to exchange sexual favors or strip in front of guards to access showers.
"The extent of reported sexual abuse and inappropriate behaviour by staff against asylum seekers is shocking and suggests that existing protections are ineffective or virtually non-existent," Amnesty International commented, and aptly so – submissions from the senate inquiry into Nauru revealed a disturbing extent of neglect within the offshore processing facilities, bringing further accounts of sexual assault and rape to light.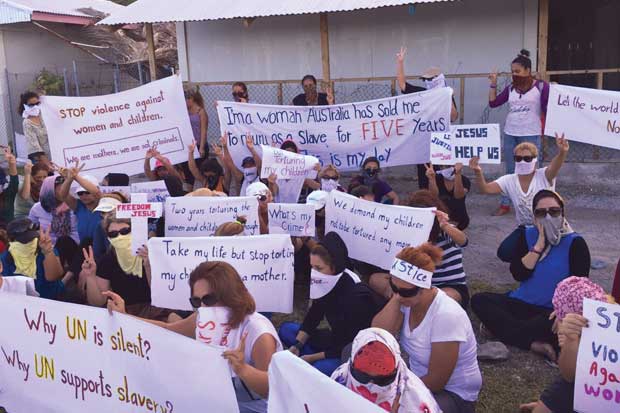 Youth Recreation Worker Tobias Gunn was situated on Nauru while working for Save the Children. In an independent submission to the inquiry, Gunn stated he was "shocked to see that male guards were stationed at the female shower blocks" and that "with no criminal checks, this posed a threat to the safety of young girls and women," adding that his concerns were later proven accurate by the Moss report.
During his time at the facility, Gunn witnessed "guards making sexual advances on under aged girls, subjecting them to verbalised sexual abuse," the effects of which he reported as "inappropriate sexualised behaviour" of children as young as five.
In a separate submission, Alanna Maycock, a registered nurse with specialised experience in refugee health and invited by IHMS to consult on the island, wrote that these conditions "endanger the physical and psychological health of children."
Evidence of this is seen clearly in the high rates of self-harm, night terrors, bedwetting, emotional detachment and hopelessness found consistently throughout the Human Rights Commission Review into Children in Detention, the Phillip Moss review, and the Nauru Inquiry.
Reports of a five year-old girl on Nauru attempting suicide in fear of returning to the unsafe camp (earlier, a 16-year-old girl had also attempted suicide after alleged sexual assault) have become 'unsurprising'. Australia's Department of Immigration began investigating over 44 cases of sexual assault in offshore processing centres at the start of 2015, many of them involving children.
Maycock's submission detailed the inadequacy of the Nauru facility's provision for women and children, describing that "the shower blocks have no doors, all that is provided is a flimsy curtain that hangs in the doorway," which "often blows open allowing the male guards to see [the women]." She went on to add, "Women also have to wash their babies in these showers and find it difficult to hold their child and the curtain closed at the same time."
Australia's shameful treatment of impoverished refugee women rehashes old colonial violence, expanding the same historically pervasive subjugation experienced by women of colour when our respective lands were taken over.
A significant portion of asylum seekers arriving on Australian shores have fled areas of South and Southeast Asia, where rape and sexual exploitation have long-existed as documented weapons of war.
Imprints of power both from a universal patriarchy, and remnants of the very British imperialism which pillaged their countries to begin with, have left female asylum seekers at the hands of a particular racialised misogyny. Where detention centre contractors hire guards with clear-cut anti-immigrant sentiment, exemplified by a case of male staff posing with xenophobia-paragon Pauline Hanson earlier this year, is it any surprise that detainees are horrifically mistreated? A former Mission Worker for The Salvation Army commented, "The work culture in Nauru discouraged people from taking the side of the asylum seekers."
Among refugees seeking asylum in Australia are the Rohingya people, an ethnic Muslim minority of Myanmar, considered to be one of the most persecuted groups in the world. Rohingya women face particular violence; stories of rape and assault in refugee camps and along the journey to our shores are surfaced frequently. Female refugees find no respite even after seeking asylum.
Last week, police on Papua New Guinea confirmed that an attempted rape of yet another woman on Manus Island had occurred, at the hands of three Australian guards.
Women of colour have been abused by hegemony for centuries, our bodies turned into political symbology. From Indigenous Australian to East Asian to covered Muslim women, we are still fighting for self-determination in different, yet parallel struggles.
Perceptions of brown and Black women in this country are riddled with prejudice and backed by unfavourable oppression; the abuse of female asylum seekers is arguably, then, simply a continuation of tradition. Women and young girls in detention centres are violated, abused and degraded to the point of attempting suicide or frequently engaging in self-harm; a legacy forged by decades of white nationalist mindset.
Meanwhile, artificial concerns for women's rights, touted by far-right groups such as Reclaim Australia, are often used to justify blind and blanket Islamophobic criticism of Muslim-majority countries, from where many asylum seekers originate.
The issue of women's rights, however, rarely rears its head in the context of human rights abuses within our own detention centres. Xenophobic government policy fuels the direct oppression of women (and men) in Australia's figurative 'backyard', yet attracts no such attention from people looking to save women of colour. Both of these issues are bred from the same orientalism; female refugees are turned into an object of politics, the simultaneous subject both of pseudo-sympathy and blatant disregard.
"Turning back the boats", as policy, masks itself under the guise of humanitarianism by purporting to seek an end to deaths at sea; in the same way, the twisted white male saviourism which so vehemently hates societies supposedly oppressing brown women, only hates those women too.
The silence surrounding violations on Nauru and Manus Island is the clearest indicator regarding the collective lack of morality in this nation.
Less than a fortnight ago, a female Iranian asylum seeker and victim of alleged rape was denied medical treatment in Australia and left on Nauru despite a subsequent suicide attempt. Rampant xenophobia has become a mere fact of asylum seeker legislation, framed as an effort to protect our borders; somehow, still, people made vulnerable are perceived as threat.
While Australia has generally seen a surge in racist sentiment across the country, human rights violations in immigration detention centres are perpetuated to an alarming extent.
Our government perpetrates systemic abuse of people seeking asylum for the futile aim of deterrence, to the profit of private contractors, and at a cost of significantly more lives than have been resettled.
This degradation of women, men and children seeking asylum on our shores is nothing less than archaic and violent; abuse that can only end with the abolition of offshore processing facilities, and current policies of mandatory detention.

Donate To New Matilda
New Matilda is a small, independent media outlet. We survive through reader contributions, and never losing a lawsuit. If you got something from this article, giving something back helps us to continue speaking truth to power. Every little bit counts.