All of a sudden, industrial relations is back on the political agenda.
The reasons are various: the unfortunate speaking engagements of the Trade Union Royal Commission's Dyson Heydon; the sacking of a group of dock workers in Sydney by text message; and the stagnating wages of ordinary Australians have all played a part.
Last night and this morning, there was further movement on the industrial front. The Senate voted down two important Abbott government bills. Both were about cracking down on organised labour.
One of the bills was called the Fair Work (Registered Organisations) Amendment Bill 2014 [No. 2]. It would have set up a new regulator for trade unions (or "registered organisations" in the language of the bill). The regulator was envisaged as an ASIC-style cop on the beat to more heavily police trade unions – though presumably the Abbott government hoped the new agency would be rather more effective than ASIC. Trade union officials would also have been liable for criminal penalties and higher civil penalties if found guilty of breaching their obligations.
The registered organisations law failed in a 33-all tie, after three of the cross-bench senators – Jacqui Lambie, Glenn Lazarus and Ricky Muir – voted against it. Crucially, Palmer United's Dio Wang abstained.
It was yet another failure in the Senate for an Abbott government that has consistently failed to effectively negotiate with the cross-bench.
The second defeated bill was an old one, the Australian Building and Construction Commission bill from 2013. The ABCC was a Howard-era regulator for the building and construction industry. As a regulator, it had a decidedly poor strike-rate. Its main claim to fame turned out to be its botched arrest of union organiser Ark Tribe. Kevin Rudd abolished the ABCC in his first term, but the Coalition wanted to bring it back.
The bill has now been voted down twice, providing a double-dissolution trigger the Abbott government will never use. It's a mark of this government's threadbare first-term agenda that one of its only efforts at industrial relations reform is the recycling of a failed Howard-era policy.
It must have been tough for Employment Minister Eric Abetz watching both bills going down in flames from the government Senate benches. Abetz's response was to attack, as it normally is.
"It is regrettable that the hundreds of thousands of union members who pay union dues will not have the peace of mind that their registered organisations are free of the kinds of rorts, rackets and rip-offs that have been shown to be systemic in some trade unions," he told journalists.
"Why should a corrupt union official who has ripped off hundreds of thousands of dollars from a union only be liable for a fine of $10,800 when, for the same corrupt conduct, a company director would be liable for five years' imprisonment or a fine of $360,000?"
The failure of plan A seems to have left Abetz without a contingency plan. He's pushing ahead, again, with Plan A, vowing to "re-engage" with the cross-benchers in an attempt to get his bill passed again.
Unfortunately, there is something that Eric Abetz has no policy for: the flat-lining real wages of ordinary Australians. Stagnant wages are manifestly holding the Australian economy back. Indeed, the Reserve Bank is quite worried about them.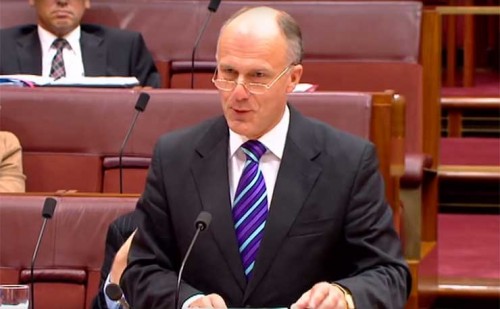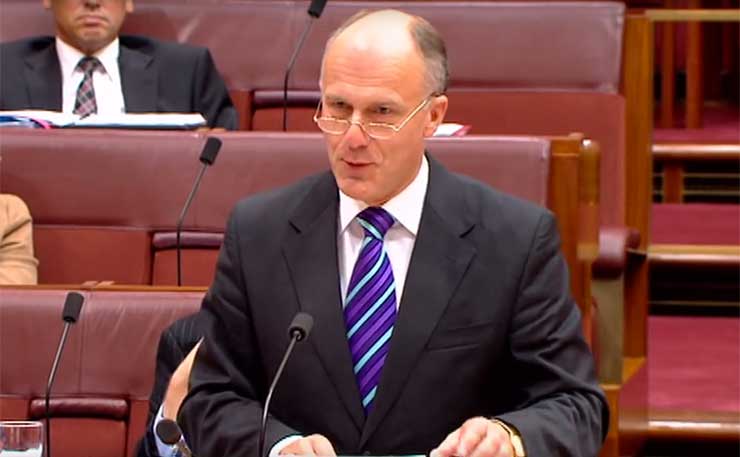 Stagnant real wages may help to explain why Australia's economic growth feels so sluggish, and why Aussie consumers have been so prudent in recent times (well, except when buying houses). Some say that domestic consumption is re-awakening. If it is, it's coming off a low base. For instance, consumer confidence remained in the negative last month, despite a healthy improvement.
While we're talking employment, let us remind ourselves that unemployment is at 6.1 per cent, with more than 770,000 Australians unemployed. There was a small decline in monthly hours worked in all jobs last month. The unemployment rate is at the same level as it was a year ago, and the recent trend is up.
It's obvious what would improve matters: higher economic growth. But that's not really happening. Growth is bumping along at sub-par rates, and as a result, unemployment is mired in the six per cent range.
But we've heard little from the Employment Minister about how to address this. The government's fiscal plans are for modest fiscal contraction, as much as they can get away with without alienating voters further. Any growth bonuses from various free trade deals are years away, if they ever happen at all. Interest rates can't go any lower without throwing petrol on the raging inferno of Sydney's property market.
What is the Abbott government's economic strategy? The best you could point to is its small business package in the budget. The hope was it would give the economy a consumption sugar hit. If it has, it has so far been of the low carb variety.
Meanwhile, Joe Hockey was today announcing a Productivity Commission review into intellectual property. It seems unlikely to capture the public's imagination.
The Abbott government's political strategy on industrial relations was to deny it was reintroducing WorkChoices, and then pursue the unions for corruption with new laws and a royal commission. Both offensives have now run out of steam. The Royal Commission is in serious trouble, owing to the fundraising controversy of Commissioner Dyson Heydon. Abetz has seen the cherished registered organisations bill go down as well.
Of course, you could argue that the Senate has done Eric Abetz and Tony Abbott a favour. Does the Coalition really want to fight a double-dissolution election on industrial relations? With the Royal Commission in tatters and Abetz's reforms struck down again, the best industrial relations policy for the Coalition might just be no policy at all.
Donate To New Matilda
New Matilda is a small, independent media outlet. We survive through reader contributions, and never losing a lawsuit. If you got something from this article, giving something back helps us to continue speaking truth to power. Every little bit counts.