Imagine if Gillian Triggs, the Abbott government's bête noire, had accepted an invitation to address a Labor Party fundraiser.
The backlash would be swift. Howls of outrage would issue across the land. Triggs would be assailed from pillar to post. Hostile speeches would be delivered in Parliament. The Australian would no doubt devote several weeks to the coverage, including a series of bizarre thought bubbles from Chris Kenny on the counter-factual history of Burke and Wills.
Actually, we don't have to imagine. This is precisely what has happened to Triggs this past year.
Not that Triggs has ever addressed a Labor Party fundraiser, mind you. No, the most she could be accused of was authoring a report about the abuse of children in immigration detention. Senator Ian Macdonald didn't even need to read the report to declare it biased.
So it's not surprising that there are equally strenuous howls of outrage from Labor and the trade union movement over the news that Trades Union Royal Commissioner Dyson Heydon had agreed to give a speech to a Liberal Party fundraiser.
Heydon is in charge of a wide-ranging and forensic examination of Australia's trade union movement. He has already presided over the questioning of former prime minister Julia Gillard and current Labor leader Bill Shorten.
The Trade Union Royal Commission has uncovered significant, if isolated, examples of malfeasance in the labour movement. Charges against at least one trade union official have already been laid. When Shorten gave evidence, Heydon appeared to question his credibility as a witness.
Needless to say, the Royal Commission is an intensely political exercise.
It was an election promise of the Abbott opposition, and the government has made much of it since taking office.
So the revelation of Heydon's Liberal Party fundraiser connection was big news this morning.
The invitation to the Sir Garfield Barwick Address, to be delivered by Heydon, helpfully featured Liberal Party logos. It also stated, all too explicitly, that "all proceeds from this event will be applied to State election campaigning" and that  "cheques should be made payable to: Liberal Party of Australia (NSW Division)." Fairfax's Latika Bourke plastered it all over the Sydney Morning Herald and Age websites.
UPDATE: Dyson Heydon cancels appearance at NSW Liberal party fundraiser: pic.twitter.com/zYWk6HQue5

— Latika M Bourke (@latikambourke) August 13, 2015
Cue outrage in the Twittersphere, as journalists and social media types rushed to their keyboards.
Wags wasted no time in digging up old judgments by the eminent jurist. In 2011, for instance, he wrote that "the appearance of departure from neutrality is a ground of disqualification" for a judge. "It is fundamental to the administration of justice that the judge be neutral." Oh dear.
The ALP has always viewed the Trades Union Royal Commission as a politically-motivated inquiry, perhaps even a kangaroo court. The Abbott government's decision to extend the Commission's funding and remit, and the Commission's investigation into the activities of Bill Shorten in his time as secretary of the Australian Workers Union, has only hardened that enmity.
Not surprisingly, it didn't take long for Labor to call for Heydon to stand down.
"It's clear that as a result of the acceptance by Dyson Heydon of an invitation to speak at a Liberal Party fundraising event that he disqualifies himself as a commissioner of this royal commission," Labor's Brendan O'Connor said this morning.
Shadow Attorney-General Mark Dreyfus – a working barrister in his former life – was equally scathing.
"It's something we've said from the outset that this handpicked royal Commissioner and the way in which the commission has been conducted has shown the political nature of the royal commission," Dreyfus said. "And now we have, if more were needed, absolutely clear, clear proof of the association between this royal commissioner and the Liberal Party of Australia."
The government's reaction to the revelation has been to try and minimise the significance of the Liberal Party link, and to insist on Heydon's impeccable reputation.
Attorney-General George Brandis – himself a former presenter of the Sir Garfield Barwick Address – fronted the media this morning to insist that the speech wasn't really a Liberal fundraiser.
"It is a very common thing for eminent public figures to speak at political occasions," Brandis told journalists. "It was hosted by what I understand to be legal practitioners branch of the Liberal party but this was a public oration."
The government's tactic had already begun to unravel by Question Time.
New South Wales Liberal warlord Tony Nutt put out a statement admitting that it was a fundraiser, while trying to pretend it wasn't a big deal. Unfortunately, he also stated that the now-notorious invitation included fundraising information in order "to meet the obligations of electoral disclosure laws."
By the time Tony Abbott rose to respond to Labor in Question Time this afternoon, the government was tacitly admitting it was a fundraiser, but arguing that Heydon's position was still tenable.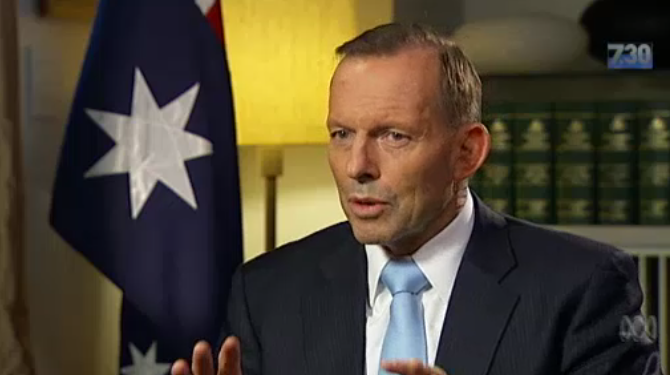 As so often occurs in controversies of this nature, the very fact that Parliament was debating it showed that Heydon's fundraiser was indeed a big deal. Now under attack from both Labor and the Greens, Heydon's position looks shakier by the minute.
As we saw with the Bronwyn Bishop controversy, this government struggles when crises need to be managed.
While public disgust at a royal commissioner turning up to a party political fundraiser is unlikely to match the ire directed against the high-flying former speaker of the House of Representatives, it's also true that many in the public view the Royal Commission as a partisan affair.
Those who hold that view will find their inclinations confirmed by today's news. Those who think Heydon has done nothing wrong will find it difficult to mount a defence of such a foolish oversight.
In his media conference today, Labor's Mark Dreyfus clearly foreshadowed court action that might force Heydon to stand down. He called on the commissioner to quit before being dragged through the Federal Court.
"He should not wait for a formal application to be made to him in the hearings of the royal commission, still less should he wait for the Federal Court of Australia to deal with this matter," Dreyfus said.
The problem for the Abbott government with Dyson Heydon is the same one it has faced many times before. After ruthlessly politicising so many aspects of public life, it now finds itself defending something largely indefensible, and with little public trust in its motivations.
Calls for Labor to respect the dignity of a public official are pretty rich coming from a government that has attacked enemies in the public service at every opportunity.
Now one of the Abbott government's most useful weapons has backfired.
Almost inevitably, it will be seen as another of Abbott's ill-fated "captain's calls." Leadership speculation continues to snowball.
Donate To New Matilda
New Matilda is a small, independent media outlet. We survive through reader contributions, and never losing a lawsuit. If you got something from this article, giving something back helps us to continue speaking truth to power. Every little bit counts.