A recent petition to help four dolphins trapped in a tiny pool in Bali has gathered more than 400,000 signatures, and the facility responsible has been heavily criticised.
Yet dolphin captivity and other animal abuse in Australia often gets overlooked.
The Bali petition was started by an Aussie surfer. Within a few weeks, it had gone viral, the story attracted a huge amount of media attention and the conditions the dolphins are kept in were heavily criticised.
Yes, the pool is tiny, and yes, the water is chlorinated and the dolphins are made to give members of the public "kisses". This is all absolutely terrible. But is it an issue unique to Bali?
No. In fact, the same abuses occur in our very own backyard, almost completely under the radar.
Unfortunately, dolphins all over the world are kept in very similar conditions. While it's good to see the issue of dolphin captivity gaining attention, it's a case of the pot calling the kettle black, and reveals an uncomfortable truth: Australians are racist when it comes to animal welfare.
This is not to say that there shouldn't be public outcry when animal cruelty cases are brought to light. There should. But if we're laying blame then we should also be prepared to consider our own track record.
Of the Bali attraction, one Sydney-sider on TripAdvisor states: "Coming from australia where we have the pleasure to see dolphins in the wild this just broke my heart to see. Please do not pay money to support this cruel place. Even the water has chlorine in it, do they not realise how bad that is for their eyes. Left crying…."
Meanwhile in Coffs Harbour, one tourist park has six dolphins in a chlorinated pool that is too small to meet even minimum animal welfare standards. The park advertises dolphin kisses, (its phone number is actually "1300KISSES"), offers dolphin rides, and has a circus style show.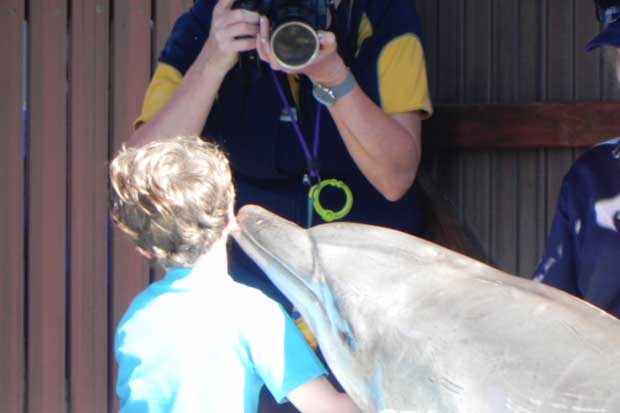 Despite this, Dolphin Marine Magic has a Trip Advisor rating of 4.5 stars.
In a similar example of double standards, there was national outcry when it was discovered that cattle were mistreated in Indonesian and Israeli abattoirs. Yet when animal abuse was discovered in a New South Wales abattoir, it was swept under the carpet.
Footage shows pigs in gas chambers gasping for air in a "humane" accredited piggery. One pig was kicked, dragged and repeatedly shocked with an electric prod. While two staff members were sacked, no other formal charges were laid.
Similarly, when brutal handling of Australian cattle in Vietnam was exposed, the abattoirs were forced to install CCTV cameras. This is, of course, a positive move, but requests to do the same in Australia have come up against staunch opposition. Despite overwhelming evidence of widespread cruelty, the Department of Agriculture doesn't see a problem. "The department sees no need to impose additional costs on those operators where there is no issue to be addressed", their spokesperson said.
So, why do we have a double standard when it comes to issues of animal abuse? Perhaps – despite abundant evidence to the contrary – we like to think that Aussies respect animals across the board. We get so worked up over Japanese whaling, yet are responsible for conducting the largest commercial slaughter of land-based wildlife on the planet.
In the past 20 years, 90 million kangaroos have been killed under the guise of "pest management". Interestingly, and much to our disgust, this is the same excuse Taiji fishermen apply to justify the brutal slaughter of dolphins in Japan.
If Australians want other countries to take us seriously when we preach about animal welfare, we have to be prepared to take a long hard look at ourselves. The Bali dolphin example strikes a particularly hypocritical chord because we tolerate a very similar situation here.
Thirty years ago a Senate Committee on Animal Welfare recommended that dolphin captivity be phased out in Australia. The UK, Switzerland and India have done this.
If there's anything the documentary Blackfish teaches, it's that keeping intelligent, social and migratory animals like whales and dolphins in a captive environment is inherently cruel.
Thankfully we don't have any orcas in captivity in Australia. But we do have dolphins, which share many similar attributes. And we also have pigs. And chickens. And many other animals that are subject to abuse.
While it's encouraging that overseas cases of animal cruelty are being revealed and rightfully criticised, let's make sure we don't turn a blind eye to what's happening in our own back yard – or pool, for that matter.
* You can sign New Matilda's petition to phase out dolphin captivity in Australia here.

Donate To New Matilda
New Matilda is a small, independent media outlet. We survive through reader contributions, and never losing a lawsuit. If you got something from this article, giving something back helps us to continue speaking truth to power. Every little bit counts.