It's been a tough few weeks for the Reclaim Australia movement and its more menacing offshoots who appear to be in need of a bit of a laugh to bolster their spirits.
The anti-Islamic movement may have boasted Federal MP George Christensen among the speakers at its most recent rallies, but attendance was generally lacklustre, and the crowds of Southern Cross waving 'patriots' were often outnumbered by anti-racist protesters.
In the wake of the most recent round of rallies the United Patriots Front – a coalition of hardcore anti-Islamic bloggers and campaigners (including this guy) – tried but failed to organise a rally in Cronulla, where hordes of white Australians randomly attacked people of Arabic appearance in 2005.
Shermon Burgess, formerly an organiser for the Reclaim movement who split to form the United Patriots Front, told his followers this week the rally had been prevented from going ahead by the Sutherland Shire mayor, though police told News.com the rally had never been registered with them.
But if you thought Burgess and his far-right pals didn't have a sense of humour just because they spend all day posting videos vilifying Muslims, yelling at anti-fascist groups, and denouncing the 'communist media', think again.
Here's the latest effort from Burgess, who posts it to his 23,000 followers from his 'Great Aussie Patriot' Facebook page.
Evidently not content with his profile as one of the country's foremost racists, Burgess has tried his hand at comedy. It goes to show that being a member of the far right who makes videos doesn't automatically mean you're Leni Riefenstahl.
The video, which comes with a strong language warning, strikes a somewhat different tone to Burgess' previous output, which includes regular outbursts against Muslims as well as the all time classic 'Aboriginals are Dickheads' clip, which he tried to delete but resurfaced before the first Reclaim rally.
In this offering, Burgess dramatises an encounter between himself and his father. This is the result (and again, there's a big old language warning on it).
While we're sure the complex portrait of contemporary masculinity in crisis will earn Burgess at the very least a Palme d'Or, the people drawn to his regular anti-Muslim rants were left a little confused.

Apparently, the film cut through to the heart of the Australian country ethos.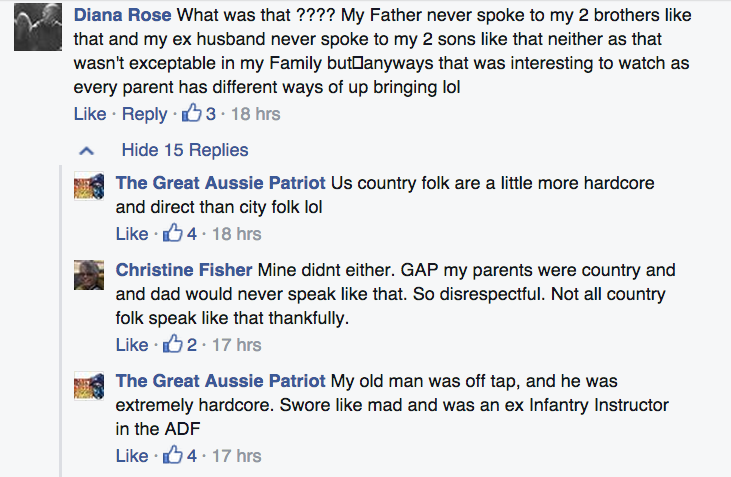 The conversation this sparked on the page even came up with this exchange, which is either the lest self-conscious thing ever said on social media, or a nicely timed zinger referencing Burgess and co's tendency to grossly generalise about people of the Islamic faith.

Whatever the case, we hope Burgess has better copyright advice than he was getting previously to help protect his artistic achievement.
In May, the self-proclaimed patriot received a legal warning from Australian Geographic Magazine after he pinched one of their images which, he apparently failed to notice, celebrated a train named after some of Australia's first Muslim immigrants.
Donate To New Matilda
New Matilda is a small, independent media outlet. We survive through reader contributions, and never losing a lawsuit. If you got something from this article, giving something back helps us to continue speaking truth to power. Every little bit counts.