The New South Wales government's Whip in the Legislative Council really loves coal, and he's hatching a plan to "make the left lose their collective mind in impotent rage".
The Liberal MP Dr Peter Phelps will be hosting a 'Carnival of Coal' at New South Wales Parliament next month "to declare support for coal and associated industries and to send a loud and clear message that action is needed now to protect a secure, inexpensive energy future".
"The event was inspired by a lunch with a couple of mates from my federal staffer days in Canberra," said Phelps, who assured New Matilda he is "always happy to assist the fourth estate where [he]can".
"The question came up: what could we do that would make the left lose their collective mind in impotent rage?
"Naturally, there is nothing the green/left hates more than coal, so I thought it would be a nice way of trolling the eco-lunatics and their fellow-travellers, especially those in the left-wing media who are always the first to hit the 'hysterical outrage' button whenever anyone challenges the efficacy of their pet pieties."
The event appears to be a parody of an earlier invite, to another 'party with a purpose', from Greens MP John Kaye.
"I will be hosting a Solar Shindig at NSW Parliament House to declare support for solar and other renewable technologies and to send a loud and clear message that action is needed now to protect the clean energy future," Kaye said in an email to parliamentarians.
Just a few hours later Phelps followed suit, managing an impressive turnaround speed to offer "I liked carbon before it was coal" stickers for parliamentarians who can't make it.
Himself an avid distributor of stickers – only, with a slightly different message – Greens MP Jeremy Buckingham slammed the New South Wales Libs for their "complete disregard for all those who want to see our food bowl in the Liverpool Plains saved from coal mining".
Buckingham, former Independent MP Tony Windsor, the New South Wales Farmers Association and a host of others have unleashed a blitzkrieg of criticism against the Agriculture Minister Barnaby Joyce over the federal government's approval of the Shenhua Watermark coal mine in the food bowl of north west New South Wales.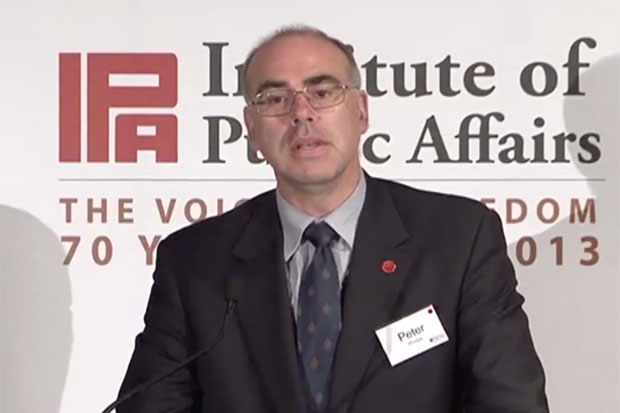 Having declared "the world has gone mad" because of an approval his government issued, Joyce is unlikely to attend. But state Liberal MP Scott MacDonald will be there – he *accidentally* sent an email ostensibly aimed at a staffer to all of Parliament within six minutes.
"Accept and put in calendar".
MacDonald will likely be rubbing shoulders with the big boys of big coal at Phelps' 'carnival', which will be held at Parliaments' Waratah Room on August 11.
Phelps tells New Matilda there'll "probably [be]drinks, nibbles, unremitting mockery of green/left lunacy and their hatred of human achievement," too.
"I also hope that there will be free samples of coal for MPs to be able to take away and place in their office for a display of solidarity," he said.
"As for industry people, I hope they all come, but I don't have any confirmations from them yet – perhaps because I haven't asked any of them yet. Which I should get around to doing, now that I think of it. Thanks for the reminder."
Phelps said coal needs mates "because it has been demonised by the extreme green movement, despite it being the safest, cheapest and most reliable source of power in Australia and around the world". (Ed's note: In 2008, the World Health Organisation estimated that coal is responsible for about one million deaths annually – about one-third of all premature deaths related to air pollution).
The coal-loving Coalition member said he does not want to see the industry scaled back in New South Wales, which is a view shared by the Premier Mike Baird.
"I reject the quasi-religious mysticism of anthropogenic global warming, and the increasingly fascistic tendencies of its disciples," Phelps said.
And yes, he does worry about "what lunatic Socialist governments will do in an attempt to appease the extreme green agenda".
He said that the response to his event has been "pretty good, so far".
"But the really interesting thing will be to see how many ALP people turn up, given their putative support for blue collar workers (remember what the 'M' in CFMEU stands for!), especially those that purport to represent miners in the Hunter Valley and Illawarra."
Phelps is a former staffer to Howard-era Special Minister of State, Gary Nairn. And while his views on coal might fairly 'out there', he's no 'George Christensen'. New Matilda readers – and even "eco-lunatics" – might find more common ground with Phelps' views on the Iraq war.
He made headlines in 2007 while serving as Nairn's chief-of-staff, after crashing a public talk by Nairn's opponent (and ultimately his successor), former soldier and ALP candidate Mike Kelly.
Kelly served in Iraq, and was telling the audience about his experiences, when he was heckled by Phelps (who attended as a 'private citizen'), who asked him if he had served there willingly.
"No. I was a soldier and I did what I was ordered to," Kelly replied.
Phelps: "Oh, like the guards at Belsen, perhaps. Are you using the Nuremberg defence?"
Donate To New Matilda
New Matilda is a small, independent media outlet. We survive through reader contributions, and never losing a lawsuit. If you got something from this article, giving something back helps us to continue speaking truth to power. Every little bit counts.