Former Greens leader Bob Brown has warned the Abbott government – which he said is "effectively aiming to have an environmental movement that's silenced" – that its attacks on conservationists are only "leading to greater foment and civil disobedience about the environment".
Brown spoke to New Matilda ahead of his appearance today at a House of Representatives inquiry into the Register of Environmental Organisations, a group of NGOs and community groups that are not taxed on donations.
Brown said the inquiry is a "kangaroo-court" which will "actually increase public support for more direct action and overt demonstration about the environment".
"I think it'll have the exact opposite affect to what the government's aimed at," Brown said.
"The House of Representatives Environment Committee, which is set up to research Australia's environmental problems and hopefully get them better, has only had two inquiries under the Abbott government," he said.
"The first was to get rid of 'green tape' and the second is this one, to get rid of tax-deductibility for environment groups.
"In other words it's been completely abused in its original mission – which was to protect the environment – and turned around to aid and abet those harming the environment, and people are compliant about it."
The inquiry was spurred on by a mining lobby campaign against civil disobedience, advocacy and education work by conservation groups.
As you might imagine from a man who lead the Greens until 2012, Brown emphasised that "there's a question mark over every Australian who can walk to the ballot box".
"Are you going to keep voting for the destruction of your grandchildren's future, and put yourself first, or are you going to reverse that order?"
But the retired Tasmanian Senator and leading figure in the campaign to save the Franklin River, which saw more than a thousand protestors arrested in the 1980s, said that a broad-based effort was needed to "stand up for the planet, [because]the red lights are all flashing".
"We didn't sit around and wait for people to change their voting habits in the Franklin campaign," Brown said. "Tasmania would've been lost; in fact, the people voted in at the most crucial election, Robin Gray, the 'whispering bulldozer'.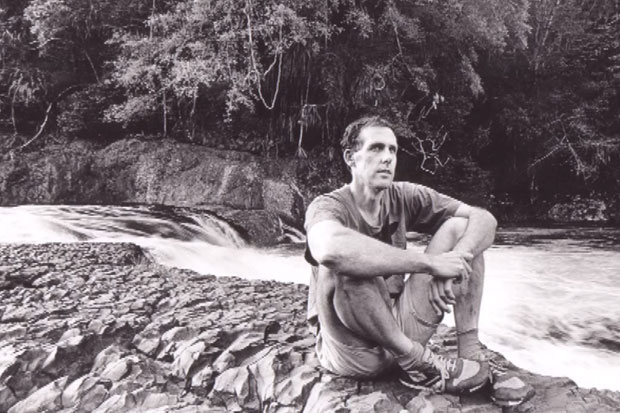 "But all these things need to work together and it was only much less than one per cent of Australians who went to the Franklin Blockade. Much, much less. Sure it had bigger numbers, and 20,000 turned out in the streets of Hobart, but that was after seven years campaigning and people getting to know about it.
"Everybody needs to find their own level of action and be encouraged to take it."
Direct action protests have attracted scorn from a number of government members on the inquiry into green groups' tax status, including committee chair, Alex Hawke, Andrew Nikolic, who pushed for the inquiry's establishment, and National Party Deputy Whip George Christensen.
In the context of the inquiry, elements of the government have expressed a preference for 'on-ground' type regeneration activities, rather than advocacy, education, or protest.
Christensen was mired in controversy last week after he took to Twitter to warn environmental groups who'd appeared at a public hearing that day that it was it was "time to get the donations in" before the inquiry recommended stripping their tax exempt status.
"I can't see them continuing after we report," he said, appearing to pre-empt the outcome of the inquiry.
Christensen has previously attracted attention for referring to environmentalists as "gutless green grubs" and "eco-terrorists".
Brown said the episode showed the inquiry was "a kangaroo court".
"The chair now says he apologises to the inquiry, where's the apology to the three environmentalists [Christensen] tweeted?" Brown said.
"This current house inquiry is to ratchet up opposition, or to ratchet up the difficulties for the public to support an increasingly vital environmental movement that's got teeth, that's action oriented [and]that's going to really stand in the way of environmental destruction," Brown said.
Given the threats to biodiversity, the climate, and pressure on resources from a growing population, Brown said, the protestors who established the nation's first blockade of a coal mine at Maules Creek in north west New South Wales "ought to be getting an Order of Australia" rather than the increasingly punitive anti-protest laws sweeping the country.
The non-violent direct action campaigners at Maules Creek spent years trying to prevent Whitehaven Coal and Idemitsu Resources from excavating the critically endangered Leard forest and disturbing the Gomeroi custodians' sacred sites.
"You know, to me the 350 people [arrested]up at Leard Forest and Maules Creek, they may have lost on the coal mining going ahead but they're holding the flame alive for saving this planet and [are]a critical part of our community in a very reckless age," Brown said.
"The one thing we've got to stop being fearful of is taking peaceful direct action," he said, "and it should always be peaceful and dignified".
"Those things are really important, but they are our right. They're what stopped slavery, they're what gave women a vote, they're what got children out of mines and put them into schools…"
Donate To New Matilda
New Matilda is a small, independent media outlet. We survive through reader contributions, and never losing a lawsuit. If you got something from this article, giving something back helps us to continue speaking truth to power. Every little bit counts.