Is Bill Shorten finished? That's the inescapable question raised by his appearance at the Royal Commission into Trade Union Governance and Corruption raises.
The Opposition Leader's many enemies in the media certainly hope so. Today's front pages splashed on Shorten in a negative light. "Shorten battered and bruised," declared The Age, as that newspaper continues its strange campaign against the leader of the party that most of its readers vote for.
The short answer, I think, is no: Shorten is not finished. He may even emerge from the Royal Commission with his reputation enhanced.
That's a strange assertion for a journalist to make, given what we know about the allegations raised against Shorten. The most important, so far, are that he failed to declare a $40,000 donation to his electoral campaign, and that a labour hire firm paid for a campaign worker for his 2007 election campaign.
These are serious allegations, which Shorten admits. It turns out he only got around to disclosing the $40,000 donation on Monday.
On any analysis, that was sloppy. It's also opaque, in a federal system of disclosures which is already far from transparent. But it's almost certainly not criminal. Politicians forget to declare things all the time, and far bigger donations have bee concealed for far longer by both major parties, with no legal sanction.
The broader question raised is whether Shorten nurtured a conflict of interest by receiving money for his own campaign from a company which his union was negotiating with.
That's a trickier one for him to answer, and echoes the other questions raised in recent months about his time as an AWU leader.
The Royal Commission's counsel, Jeremy Stoljar, put it to Shorten in no uncertain terms.
Stoljar: "What's the national secretary of the union doing in discussions which may or may not have involved renewal of an EBA, discussing a donation to the head of the union's campaign? Let me put this to you. Isn't that a situation where you're using your position as national secretary to gain an advantage to yourself?"

Shorten: "Absolutely not."
As Guardian Australia's Gay Alcorn writes today, "Shorten couldn't explain why Wilson was described on his employment contract as a 'research officer' for Unibuilt, when he was nothing of the sort – he was working fulltime for Shorten. He didn't know, either, why several months into the contract there was a sudden change, and Wilson became an employee of the AWU, which invoiced Unibuilt for his pay."
Is this evidence of malfeasance? Or simply an uncomfortable glimpse inside the sausage factory of politics? Either way, it's hardly a good look for the federal Labor leader.
But nor is it a smoking gun that will destroy Shorten's career.
In part, this is because the Royal Commission itself has been mostly discredited. For this, the government only has itself to blame.
The Trades Union Royal Commission is a blatantly partisan witch-hunt. It has pursued three different Labor leaders, on largely spurious grounds. The pursuit of Julia Gillard, on the flimsiest evidence, long after she had left politics, was a particularly foolish own goal.
As a result, even if the allegations to emerge about Shorten are serious, many voters will not take them seriously, because of the Royal Commission's obvious skew.
Indeed, there's another view of Bill Shorten's two days on the stand at the Royal Commission – a view that argues it shows Shorten in quite a positive light.
On this view, the intense interrogation of Shorten's career as a union leader has mostly shown that Shorten acted in the best interest of his members. Shorten's various deal with various negotiators might seem, on the face of it, to be a little too cosy and a little too close.
But let's zoom out and look at what those deals achieved: higher pay and better conditions for workers. As even big business boss Tony Shepherd conceded, when asked about Shorten's deal for workers on the EastLink toll road, the bargain was good for everybody, delivering high wages, industrial peace and a project that ran early.
This is what union leaders are meant to do. It's the very premise of collective bargaining. It appears Shorten was very good at it, even if he was also rather good at arranging factional power-plays and manoeuvring himself into a safe seat.
As Shorten said in testimony today, "you talk about conflict of interest. I want to go to the general principle and a couple of the specifics you've said."
"Why is it some people assume that negotiating with a union in terms of improving the union's ability to deliver services that there is a conflict of interest? The truth of the matter is I don't start my negotiations with a company assuming that we have diverse irreconcilable differences. My interest is in making sure members do well."
It's hard to argue with this sentiment from a Labor leader. And the historical record backs Shorten up: in most of the AWU's various enterprise bargains, he did deliver higher pay and better conditions for members.
As the second day of his testimony wore on, Shorten seemed to sense that.
He was relaxed, well-spoken and gave detailed, sometimes even over-long answers to Stoljar's questioning. Instead of looking harried or nervous, he looked like a man about to vindicated.
Indeed, if you were brave, you might even predict that the fiery trial of the last two days will produce a better and more assured opposition leader.
Earlier this week, grainy mobile phone footage surfaced of a very different Bill Shorten. Speaking to a rowdy crowd of Labor faithful at Sydney's Covent Garden hotel last Sunday night, a visibly animated Shorten gave a rousing speech defending Labor's core values.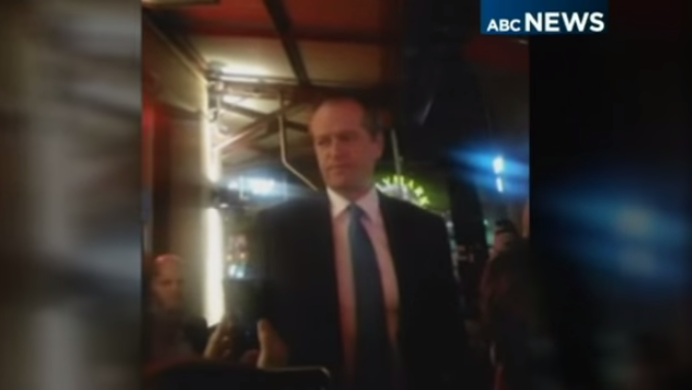 Same-sex marriage, Indigenous recognition, affordable health and education, and "an Australia where people can organise to have a strong minimum wage and they will not be subject to a royal commission" were the key points.
Most observers watching it have pinched themselves in wonder: can this be the same Bill Shorten that struggles woodenly through a Canberra press conference? Here was an utterly transformed Shorten, speaking to real issues as though he really meant it.
In that short video clip, Labor's long-suffering faithful were offered a tantalising glimpse of an electable opposition leader. If Shorten can rediscover that passion and transmit it to the wider electorate, politics in 2016 will look very different.
UPDATE: By the end of the day the Commission had degenerated into the partisanship that its highly loaded terms of references always implied.
Shorten emerged from the Royal Commission to a media scrum in fighting form, defending his record as a union leader.
"There was no evidence demonstrated of any conflict," he maintained. "The truth of the matter is, that every day I was a union rep I was standing up for our members."
After a sharp remark by Commissioner Dyson Heydon for Shorten to be more succinct with his answers was reported by many sections of the media as calling into question Shorten's credibility, Shorten responded by saying the Commissioner was doing the job Tony Abbott had given him.
In answer to a question about his credibility being questioned, Shorten said "he has a job to do, I get that, it's Tony Abbott's Royal Commission."
The Commissioner himself has therefore now become embroiled in the swirling controversy, as perhaps was inevitable.
* This comment thread has been deleted and closed for legal reasons. Readers are reminded that they may be held legally responsible for their comments, and that defamatory comments may result in legal action against the individuals who post them.
Donate To New Matilda
New Matilda is a small, independent media outlet. We survive through reader contributions, and never losing a lawsuit. If you got something from this article, giving something back helps us to continue speaking truth to power. Every little bit counts.