The clean-up bill for South Pacific island nations could be as high as $21.9 billion because low-lying coastal countries are particularly vulnerable to climate change, according to a new study.
The research, published in international science journal 'Nature', looked at the costal proximity of infrastructure among a group of 12 nations, and explored how intensifying storm surges, cyclones and rising seas contributes to their "acute vulnerability to climate change".
Kiribati, the Marshall Islands and Tuvalu were deemed particularly at-risk, with the researchers from the University of New England finding that more than 95 per cent of their built infrastructure is located within 500 metres of the coast.
The study notes that low-lying nations in the South Pacific are "profoundly vulnerable" to the "changes in air temperature, precipitation rates, sea levels, frequency and intensity of tropical cyclones and wind and wave action patterns" being induced by rising emissions.
Amazingly, the median landmass of the 1,628 islands that make up the 12 nations is just 1.3 square kilometres, and the islands cover a combined land area of only 50, 212 kilometres, less than 40 per cent of Queensland.
The smaller the island's land mass, the more vulnerable it is, and of the twelve studied, Niue and Samoa are the only countries that have more than 50 per cent of built infrastructure, by value, beyond 500 metres of the coastline.
"In terms of replacement value at the country level," the study said, "Kiribati, Marshall Islands and Tuvalu have 95 per cent, 98 per cent and 99 per cent, respectively, of built infrastructure by value within 500 metres of the coast".
Much of the built infrastructure of the sinking islands of Kiribati (67 per cent), the Marshall Islands (72 per cent) and Tuvalu (66 per cent) falls within the length of two Olympic swimming pools from the coast.
Adding to the exposure risk for infrastructure is the fact that, on the three most vulnerable islands, 90 per cent of the infrastructure is built on "soft sandy soil".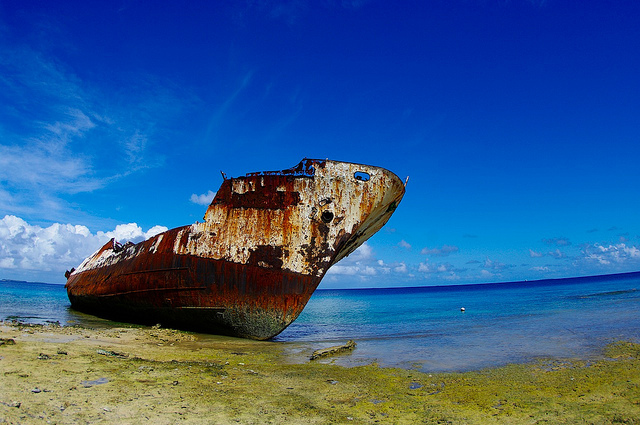 This pattern of building along the coastline is not only dictated by the islands' small land areas, but also the fact that "high-value infrastructure such as ports and refineries is always located close to the coast to facilitate transportation".
It's a situation that, for the South Pacific islands studied, poses "considerable threats to their economies", although the grim reality is that many may have to be abandoned as sea levels rise.
More than half of Kiribati's main island Tarawa, for example, is predicted by the World Bank to be submerged by mid-century.
Its booming population has surpassed 50,000 people, but Tarawa has all the characteristics – "such as small land area and widespread low elevations" – jeopardising the developing region's future.
Despite being among the most vulnerable in the world to the effects of a changing climate, however, South Pacific nations are unlikely to be able to finance a proportionate response to the challenges it will present.
Kiribati, for example, has a GDP of just $166.8 million and a population of 104,000.
The international community has established some mechanisms, such as the UN-backed Green Climate Fund, for rich and industrialised nations to compensate developing nations and assist them to deal with the impacts of climate change, but results so far have been underwhelming.
The Green Climate Fund, which is probably the most credible mechanism established to date, has attracted just US$5.8 billion in signed funds, with another US$4.4 billion pledged but not signed off on.
It's a quandary that has left some, including the University of New South Wales' Kaldor Centre for International Refugee Law, to speculate that much of the South Pacific population may have to be relocated as oceans rise and extreme weather events intensify.
In fact, some residents from islands like Tuvalu have already applied for, and in some cases been granted, refugee status because of their homes' vulnerability to climate change. But the leaders of these small island states believe, as Kiribati's President Anote Tong said recently at a United Nations summit in the wake of Cyclone Pam, that there is still "time to act".
"Let us match the rhetoric of these international gatherings with pledges and commitments as leaders to do our best to improve conditions and lives of those who need it most," Tong said.
Donate To New Matilda
New Matilda is a small, independent media outlet. We survive through reader contributions, and never losing a lawsuit. If you got something from this article, giving something back helps us to continue speaking truth to power. Every little bit counts.