When ridiculing the Federal government, which I normally do out of a disempowered sense of outrage and sadness, I like to start with the Federal Member for Dawson, George Christensen.
So naturally, George was the first member of the Abbott government that I noticed saying something incredibly offensive about other people's happiness and enthusiasm for marriage equality in the wake of a recent Supreme Court decision to allow gay marriage in America.
About a week ago, Christensen reached out into the twittersphere and linked Australians' desire to follow the American precedent on gay marriage to the right to bear arms.
The picture on Christensen's tweet was an AK47 with a rainbow trigger, which was cute, but not all that clever in the absence of any logical link between gun-fuelled Armageddon and equality.
He's since apologised, because the Tweet "sadly, caused offence" in his Queensland electorate, but he still believes in "retaining the definition of marriage as it is currently defined in the Marriage Act".
Perhaps fearing a usurpation of his position as the most abrasive opponent of marriage equality, Cory Bernardi entered the fray: "It didn't take long. Welcome to the unequal world of so-called 'equality'," he tweeted.
It didn't take long. Welcome to the unequal world of so-called 'equality'. #SlipperySlope http://t.co/sRBUIbaMXR

— Cory Bernardi (@corybernardi) July 1, 2015
"Now that [America's] defined that love and devotion and family isn't driven by gender alone, why should it be limited to just two individuals?" an article linked to his Tweet challenged.
At this point, it's worth revisiting the fact that Bernardi was shunted to the backbench in 2012 for suggesting that if the state recognises queer peoples' love equally, we'd all somehow be suddenly okay with beastiality.
Updated to include a #slipperyslope hash tag, Bernardi was advancing a familiar, illogical, extrapolation.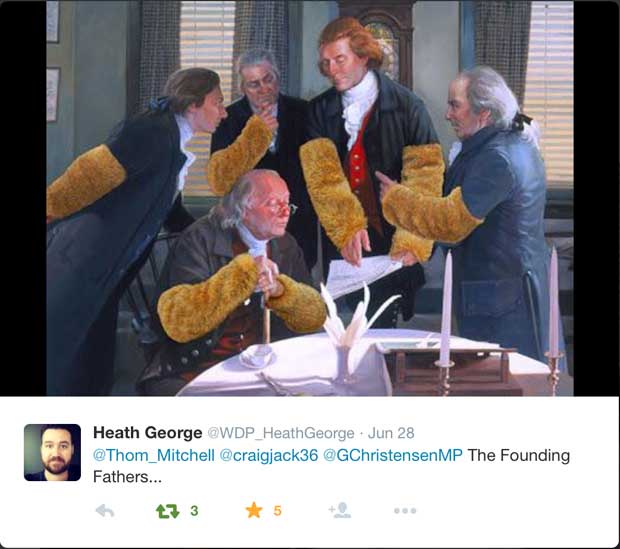 Writing in Politico magazine, Fredrik Doeboer did make a serious argument for polygamous marriage. And yes, he also drew on a dissenting opinion from one of the US judges that recently legalised gay marriage in all 50 US states to suggest the decision's logic should be taken further.
But what makes Bernardi's point a total non-sequitur had already been suggested in Christensen's apology tweet.
"Everyone should have a say on marriage, not just the politicians. After all, marriage is a cultural institution and people make up the culture."
An apology I extend to constituents of Dawson on Twitter. pic.twitter.com/Y6zqTidKp1

— George Christensen (@GChristensenMP) June 29, 2015
But of course, it's also a legal institution. And that's where Eric Abetz, the Employment Minister, picked things up on Wednesday.
Writing in the Fairfax press, Abetz cited his own dissenting US Supreme Court Justice, Antonin Scalia: "To allow the policy question of same-sex marriage to be considered and resolved by a select, patrician, highly unrepresentative panel of nine [i.e. the judiciary] is to violate a principle even more fundamental than no taxation without representation: no social transformation without representation."


But the social transformation part is actually where the government's anti-marriage equality arguments fall down most disgracefully. In Australia, it's already happened.
Ironically enough, Christensen's "people make up the culture" apology actually had its genesis in the cultural outrage at how out of touch he is.
The polls show that something like 70 per cent of Australians support marriage equality.
Leaving aside the very legitimate arguments that can be made in favour of more widespread changes to the Marriage Act, the more general debate to be had over the value of marriage as an institution, and questions of whether marriage is really the most pressing battle to be faced down by the queer community, the reality is that the partial win of marriage equality is pretty much in the bag.
But it's not just Abetz, Bernardi and Christensen who have a big problem with this little reform. The government, which is of course led by a man "threatened" by queers, has a long and unbecoming history of obstructionism.
In all the hubbub surrounding gay marriage in the wake of the US decision, the question that no-one in the government has yet answered is just who do these clowns claim to be representing?
Donate To New Matilda
New Matilda is a small, independent media outlet. We survive through reader contributions, and never losing a lawsuit. If you got something from this article, giving something back helps us to continue speaking truth to power. Every little bit counts.