Yesterday, a group of doctors, nurses, teachers and social workers released a remarkable open letter. It was addressed to the Australian government.
"Today the Border Force Act comes into force. It includes provision for a two-year jail sentence for 'entrusted persons' such as ourselves if we continue to speak out about the deplorable state of human rights in immigration detention without the express permission of the minister for immigration and border protection. This strengthens the wall of secrecy which prevents proper public scrutiny."
By now you may have heard about the Australian Border Force Act, passed by the government with Labor's support.
The law makes it illegal for any so-called "entrusted person" to disclose information about Australia's brutal immigration jails in the tropical islands to our north. An "entrusted person" means just about anyone working on or involved in immigration detention. The penalty is two years imprisonment.
The law is very broad and there are few exemptions. Disturbingly, the law also states that the evidentiary burden falls on the defendant.
As a result, the new law effectively makes it illegal to disclose evidence of some of the shocking crimes we know are being committed in our immigration jails, such as the sexual abuse of children.
The law also creates an absurd contradiction. As the signatories to the open letter write, "if we witness child abuse in Australia we are legally obliged to report it to child protection authorities". In contrast, "if we witness child abuse in detention centres, we can go to prison for attempting to advocate for them effectively."
In case you missed it, the new law makes certain types of speech a crime. As the government's bete noire, Human Rights Commission President Gillian Triggs, said today, "for the government to try to prevent the consultants – and many of them medical officers – from speaking out is very worrying in a modern democracy."
Of course, we know what he government thinks about Gillian Triggs. It has repeatedly bullied her, in an attempt to get her to resign.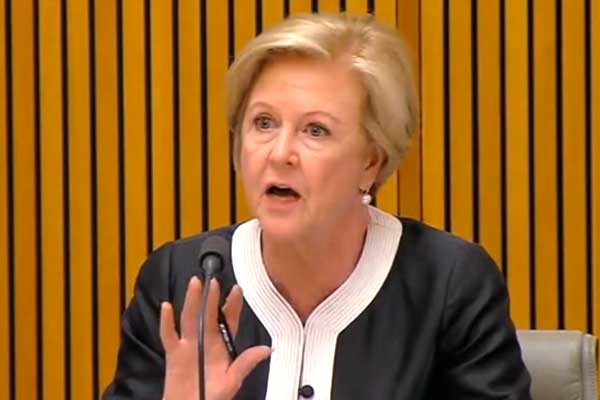 We shouldn't be surprised. Bullying public officials, cloaks of secrecy and onerous new restrictions on free speech have become a hallmark of the Abbott government.
Ever since taking office, the Abbott government has attempted to control the information flow about the punitive and perhaps illegal operations against asylum seekers in the waters to our north.
The new policy ushered in by then-Immigration Minister Scott Morrison was to refuse to discuss anything to do with "on-water matters", which meant pretty much anything the government was doing in Operation Sovereign Borders.
Another hallmark of the Abbott government has been its increasingly shrill embrace of paramilitary symbolism, especially when it comes to anything to do with national borders. One of Morrison's first moves was to appoint a general, Angus Campbell, to head the border security operation. Police officers and spies have also been favoured appointees: the head of the Border Force is a former top Australian Federal Police officer, while George Brandis' top advisor is a former spook-in-chief of ASIO.
The new Border Force Act is part and parcel of this. It amounts to one of the Abbott government's most significant, but least discussed, reforms: the militarisation of Australia's Immigration Department. In just 21 months since taking office, the Abbott government has completely transformed the role and functions of the Immigration Department, from a civilian government department into a para-military outfit complete with its own ships, planes and uniforms.
There was even a sinister new logo, which resembles nothing so much as a storm trooper from George Lucas' Star Wars.
The Border Force is strong in this one #auspol pic.twitter.com/b168SHonfz

— Tattered Remnant (@TatteredRemnant) July 3, 2014
This government seems ever more preoccupied with secrecy. The Border Force Act is just the latest in a long string of laws passed since 2013 that criminalise speech and outlaw whistleblowing.
For instance, it is now illegal to disclose any information about so-called "special intelligence operations" conducted by ASIO. Under Section 35P of the National Security Legislation Amendment Act (No. 1), anyone who discloses information about a special intelligence operation can go to jail for five years. There are no protections for journalists, and the law applies even to someone who inadvertently discloses information that they hadn't realised was sensitive.
The Abbott government has also been busy weakening Freedom of Information laws. It has shut down funding to the office of the Information Commissioner. In a farcical scenario, the recently-departed Commissioner, John McMillan, was forced to work from home for the final months in his role, after the government turfed him out of Commonwealth office space.
As former Victorian Supreme Court judges Tim Smith, David Harper and Stephen Charles wrote in May, "the Office of the Australian Information Commissioner remains in existence; but, without funds, that office cannot give effect to the responsibilities imposed upon it by the very legislation the government has not persuaded the Senate to repeal."
Transparency has declined across the government. Staffers and public servants have had onerous new standards of social media use imposed. In foreign aid, Julie Bishop's Department of Foreign Affairs has stopped publishing crucial information about overseas aid funding in its so-called "Blue Book".
The secrecy extends even to the arts. Arts Minister George Brandis has just announced new guidelines for his hugely controversial National Program for Excellence in the Arts. One of the clauses in the guidelines allows the Arts Minister to distribute arts funding in secret. Brandis has already disbursed one secret arts grant: $275,000 to the classical music record label Melba Recordings, quietly handed out with no public announcement in 2014.
"This government is building a multi-level approach to stifle the ability for people to know what is really going on," the president of the NSW Council for Civil Liberties, Stephen Blanks, told The Saturday Paper's Sophie Morris last month.
But that's the Australian government under Tony Abbott: secretive, militaristic and, as I argued last week, increasingly paranoid.
Donate To New Matilda
New Matilda is a small, independent media outlet. We survive through reader contributions, and never losing a lawsuit. If you got something from this article, giving something back helps us to continue speaking truth to power. Every little bit counts.