Leaked documents from immigration detention contractor Transfield Services have confirmed refugees on Manus island are being deprived of services for refusing to leave the centre, outlined disturbing new allegations of sexual assault and self-harm, and revealed the company monitors a range of social media users including popular musicians, journalists, and refugee lawyers.
The documents were obtained by refugee activist Shane Bazzi from a Transfield insider, and have been seen by New Matilda.
Limitations Placed On Refugees Who Refuse To Leave Centre
One of the documents, a 'DAILY SITREP' report covering a 24-hour period from May 28 to 29 this year, confirms previous reports that refugees refusing to leave the detention centre have had their access to basic services limited, in what appears to be an effort to force them to go.
Asylum seekers held in the detention centre are supposed to move to the Australian funded East Lorengau Transit Centre once their claims have been processed, but some are refusing.
39 men were being held in the transit centre at the time the Transfield report was prepared.
The document notes that "limitations to some services apply for Transferees who, despite being found to be refugees, refuse to relocate to [East Lorengau Transit Centre]." It refers to these limitations as 'Comparable Measures', and says 78 people are subject to the protocols.
A letter sent to refugees by the Papua New Guinea Immigration and Citizenship Service Authority in early May, and seen by New Matilda, outlines what these 'comparable measures' are.
They include reducing phone and internet sessions from three to one per week; limiting access to the medical clinic to one day per week; and the ceasing of "IAP" points, which allow men held in the centre to buy amenities.
Refugees can have the IAP points restored if they attend language classes, according to the letter.

Disturbing Incident Of Self-Harm Documented, And Allegation Of Sexual Assault
The 'sitrep' report also reveals that in the 24-hour period it covered, an asylum seeker held in the Manus Island detention centre had to be pulled down from a makeshift noose after fastening it to a support beam and jumping off the top of a building.
Transfield Safety and Security Advisors were unable to talk the man out of jumping, and were forced to support his weight and assist him to the ground, before removing the noose.
Following the incident Transfield staff used force on the man after he became "non-compliant".
The report described the incident as "a Self-Harm Actual incident".
A separate Transfield document, dated March 9, 2015, outlines allegations by an asylum seeker that they were sexually assaulted by a Transfield employee in January.
The asylum seeker told one of the company's Safety and Security Advisors the staff member ran a water bottle over their mouth and said words to the effect of "do you like this". They later allegedly pushed the asylum seeker to the ground, and said "you'd be nice to fuck" and "I will fuck you later".
Transfield staff reported the incident, but the asylum seeker told an investigator they did not want to make a formal complaint, despite standing by the accuracy of the claims.
Bazzi, who originally obtained the documents, told New Matilda he is in regular contact with asylum seekers held in the detention centre.
"There's a lot of depression and a sense of hopelessness and despair," he said. "The guys tell me that they're tired – they mean depressed as well. They say they're not sure how much longer they can cope with this."
Bazzi said despite this, some of those found to be refugees are refusing to leave out of continuing hope they may still be transferred to Australia. Others are fearful about how they will be treated once released into the community.
A man transferred to the East Lorengau Transit Centre was in court today after he was allegedly bashed by security guards for missing curfew.
Keeping An Eye Online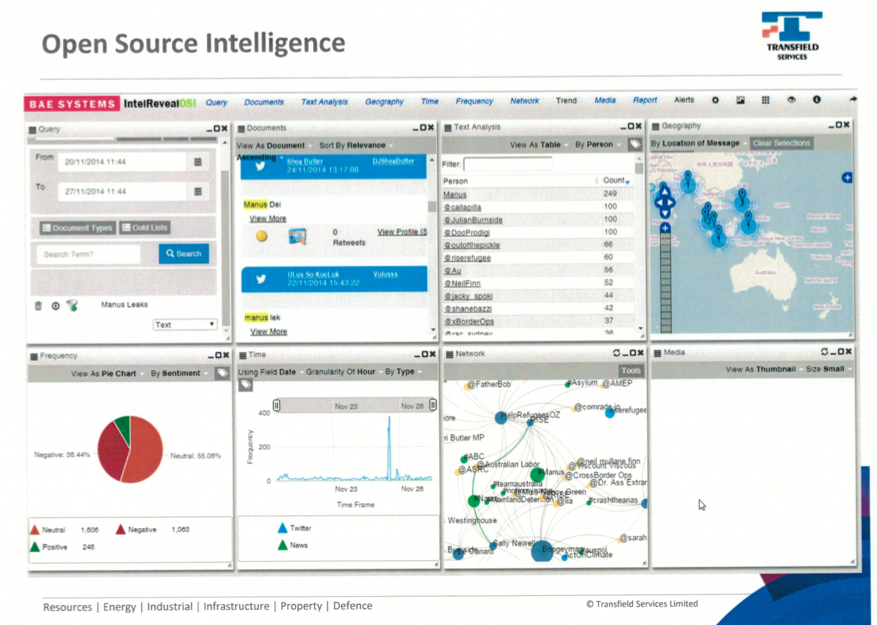 A third Transfield document reveals the company uses open source intelligence gathering to monitor social media, keeping tabs on twitter users including refugee lawyer Julian Burnside QC, Guardian Australia journalist Calla Wahlquist, Crowded House frontman Neil Finn, and none other than Shane Bazzi.
The company uses a program produced by Bae Systems to monitor social media and visualise flows of information.
Leaked transcripts from the Moss Review obtained by New Matilda earlier this year revealed Wilson Security – a subcontractor used by Transfield Services to provide security in detention centres – monitors social media users from a base in Brisbane, and uses the information when filing intelligence reports.
The new Transfield leaks come on the same day laws threatening staff working for detention centre contractors with two years jail come into effect.
Lawyers, doctors, teachers and social workers have warned the laws will prevent whistleblowers speaking out about what they see in detention centres, and that Australia's current legal protections for whistleblowers are insufficient.
Transfield Services has been contacted for comment.
Donate To New Matilda
New Matilda is a small, independent media outlet. We survive through reader contributions, and never losing a lawsuit. If you got something from this article, giving something back helps us to continue speaking truth to power. Every little bit counts.