The casual observer of Metgasco's coal seam gas ambitions in the Northern Rivers of New South Wales could be forgiven for thinking the struggle is over, a rare example of community triumphing over unwelcome developers.
But unfortunately for advocates of a 'gasfield free' Northern Rivers, the hoo-ha of the 2015 NSW state election has been replaced by the hubris of a government that looks confused and deeply divided.
In this shitfight – and it literally did come to that, as we'll see – there are no clear winners.
Last year thousands of people from the Northern Rivers community blockaded an exploration well which coal seam gas company Metgasco was attempting to drill near Bentley, making it virtually impossible for work to proceed.
Things escalated, the government considered sending hundreds of police to enforce Metgasco's legal right to drill, then decided against it and suspended the company's exploration license on the grounds of inadequate community consultation.
That decision has since been ruled unlawful by the New South Wales Supreme Court, and the government is back to its initial conundrum: Forced to either give affect to Metgasco's legal rights as a licence holder by deploying huge amounts of police against peaceful protestors, or find some new way to stymie the company.
The Energy and Resources Minister, Anthony Roberts, is considering his options, and has left the door open to pay out up to $80 million in compensation to make the problem go away.
But the government's troubles go much deeper than that. Metgasco holds two other Petroleum Exploration Licenses (PEL) in the area and a fourth and much larger PEL, held by Dart Energy, is also still in the offing.
The community has made it crystal clear it's not having a bar of it. Ideally, they want a legislative ban on coal seam gas in the Northern Rivers. And it's a demand the government is loathe to ignore, given that one of the incumbent Nationals, in the electorate of Ballina, was unseated by opposition to coal seam gas at the election and a number of others came very close.
One of those near casualties was Thomas George, the member for Lismore. PEL 445 — by far the biggest and potentially most worrisome for the community — takes in much of his electorate.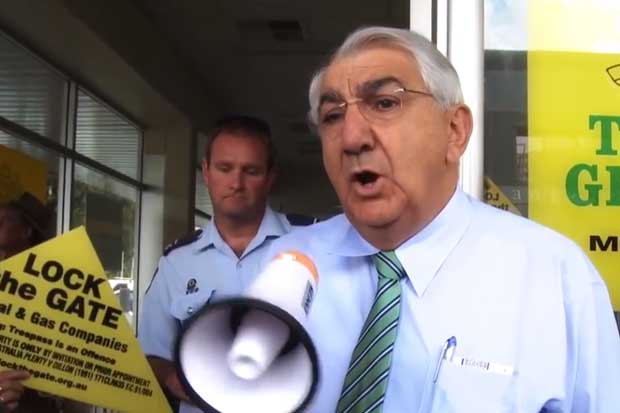 He pegged his re-election pitch on the fact that, after the government's court case with Metgasco and a plan to buy back PEL 445, the Coalition government was getting on with the job of deconstructing a network of PELS issued by the previous Labor government which covered 45 per cent of the state.
Of course, now that the court case has flopped, and the June 30 deadline the government set itself for the PEL 445 buy-back passed without any signs of a deal, he's in a tight spot.
New Matilda called to ask where plans to honour the community's wish to be 'gasfield free' are at, but George quickly hung up.
No doubt it would have been an awkward conversation, anyway.
Not only has George failed to enact his plan, which seemed so brilliant in the week before the election, he actually blocked a motion to make the Northern Rivers CSG free at the recent National Party state conference, reportedly because the Nationals' policy was already working to that end.
Earlier today Greens MP Jeremy Buckingham called George out, demanding he resign for failing to meet his commitments. We put that to George, but he said Buckingham had his facts wrong and the comments "don't warrant a response".
George might be able to avoid explaining himself to New Matilda, but his colleagues who had spoken out in support of the motion may be less easily eschewed.
In the lead up to the election, a powerful cabal of Nationals had come out in support of the Northern Rivers community.
"I support the views of regional communities and it has been made very clear that the Northern Rivers community does not want CSG," party leader Troy Grant said in the lead up to the conference.
"Through the NSW Government's gas plan, CSG licenses in the region are being bought back or cancelled," he said.
Other MPs, including Ben Franklin and Chris Gulaptis, whose electorate takes in the site of Metgasco's blockaded gas well, had joined him in backing the community.
Like George, Grant refused to answer questions after the party conference as to why the motion, which echoed the sentiments Nationals had been so unequivocally expressing, had been quashed.
A media spokesperson for Franklin, however, did direct New Matilda shortly after the party conference to comments made by Grant in the build up to the motion as the most accurate reflection of party policy.
So in a circuitous way, we've arrived back to the original question of why plans to effectively make the region gasfield free (albeit not, it seems, through legislation) are making such slow and secretive progress.
The answer to that question lies, presumably, with the Minister for Energy and Resources. New Matilda is awaiting a response, but any comments will come against a backdrop of a party keen to roll out CSG around the state.
While the Liberal National government has done much to reverse Labor's wholesale hand-out of coal seam gas licenses and lax regulation, their 'NSW Gas Plan' makes it abundantly clear that, while the Northern Rivers may present a particularly hairy proposition for the government, they are determined to ensure a gas industry is established in New South Wales.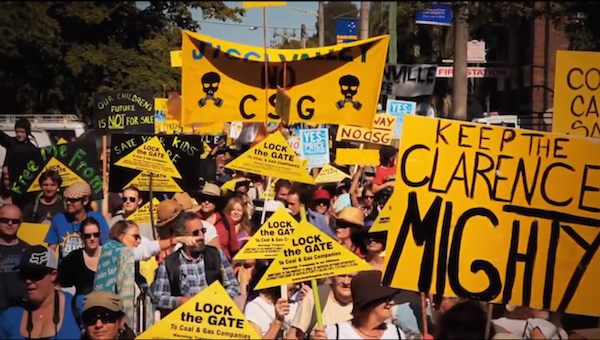 In fact, a new Gas Community Benefits Fund actually proposes that taxpayers chuck in $1 (in the form of foregone royalties) for every $2 a company contributes. Its purpose, unabashedly, is to convince communities that gas is good, while sharing any benefits derived from a local gas industry amongst those affected.
In these circumstances it's not hard to envisage that Grant's Liberal Party boss, Premier Mike Baird, was unimpressed by his uppity rhetoric about 'listening to the community'.
And his boss, Tony Abbott, released a 'Domestic Gas Strategy' earlier this year which portrays coal seam, tight and shale gas as the next mining boom.
It chides state governments for implementing moratoriums against the new industries, because they "effectively block the development of new supply".
However, state governments are the ones having to cop the fallout, since they ultimately issue the licenses, and the recent New South Wales election showed how the bark of community concerns can result in a bite.
No party seemed able to flee fast enough, with the Libs blaming Labor for the initial licenses, Labor trying to out-do the Libs by declaring more than one area a CSG no-go zone, and the Nationals desperately trying to figure out how to avoid breaking ranks with the Libs without losing long-held seats to an insurgent Greens.
The minor partner in the New South Wales Coalition government did lose one seat — Ballina, to the Greens' Tamara Smith — and suffered enormous swings in others affected by the fledging industry, including Lismore, Barwon, and the Upper Hunter.
All of them swung substantially, and often almost wholly, to the Greens who ran almost single-issue campaigns against coal seam gas.
It's a tactic that some, including George, criticised them for, but many in the community were grateful of their company at on-the-ground protests against the industry.
A short time before the election local farmers dumped bags of cow shit in front of George's office door, and that's a pretty good metaphor for what's likely to happen to the Nationals if the New South Wales government doesn't start to show people in the Northern Rivers some results.
**Update**
The Minister for Energy and Resources, Anthony Roberts, said that "the [PEL] buy-back scheme remains open and we have been encouraged by its success".
"Discussions with titleholders, including Metgasco, remain ongoing."
New Matilda will bring you more detail tomorrow, when the minister will be making further comment.
Donate To New Matilda
New Matilda is a small, independent media outlet. We survive through reader contributions, and never losing a lawsuit. If you got something from this article, giving something back helps us to continue speaking truth to power. Every little bit counts.