A number of children in the Nauru detention centre have started to identify more readily with their boat identification number than their name, signing off school tasks and artworks with the six-digit code as guards decline to refer to them and other asylum seekers by name.
That's just one of the observations made in newly published submissions to a Senate Inquiry by staff who formerly worked in the centre.
The submissions, either made anonymously or by former Save the Children staff, reveal the tensions in the centre between different contractors over the treatment of those being held, with the appropriate way to refer to asylum seekers just one point of difference.
In one of the submissions an anonymous former Save the Children worker gave examples of incidents in which Wilson staff had either been insufficiently trained or were "deliberately being inhumane and cruel".
The submission criticised the response of Wilson staff to incidents of self-harm and suicide, and claimed two security staff charged with looking after a woman who witnessed her friend attempt suicide refused to refer to her by anything other than her Boat ID.
"The client became disengaged and visibly upset," according to the submission.
"It is my belief that Welfare support staff from Wilson Security often caused more harm than good in stressful or difficult situations, due to lack of understanding and training in respect of the issues faced by asylum seekers."
Once taken into detention, each asylum seeker is given a unique six-digit code for identification purposes, with three numbers and three letters.
"Boat IDs were even used when the employee talking to an asylum seeker had a piece of paper in front of him/her which specified the asylum seeker's name," the submission said.
"I know of children that appeared to identify with their ID more than their name, in that some children would sign artwork or schoolwork with their Boat ID and not their name."
Natasha Blucher, another former Save the Children staff member, raised similar concerns in a separate submission to the inquiry.
The Human Rights Commission found during its inquiry into children in onshore detention that the practice of calling asylum seekers by their boat number was common, and caused distress.
In a response to the complaints relating to Nauru, Wilson Security said staff are instructed to call asylum seekers by their regular name, not their number.
"We regret any instance in which this has occurred," it said.
The company also responded to complaints that the military background of some of its staff was intimidating to asylum seekers, especially given some had fled conflict zones where Australian forces have served.
"As there may be staff who have been deployed in the home countries of a number of asylum seekers, we acknowledge that this may cause distress to some asylum seekers," it said.
"If a concern of this kind was raised, we would do everything possible to address that concern."
The company confirmed a significant number of staff had served in the armed forces or with the police, but said this was normal for employees at a security firm.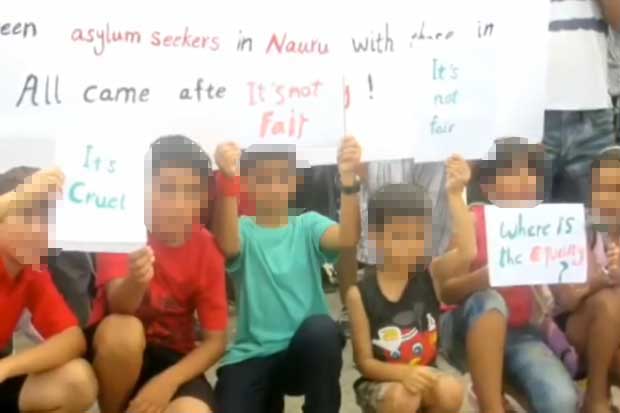 Another former Save the Children staffer who left Nauru in April 2015 outlined a disturbing incident in which a mother took her 3-year old daughter to the bathroom and a guard "shone their torch up the child's genitals".
In a response to the allegation, chief contractor Transfield Services said the incident had been investigated by Wilson, who found the actions of their staff member were "fair and reasonable". They then referred the mother of the child who made the complaint to the Nauruan police, for allegedly assaulting the guard.
Previous submissions to the inquiry have outlined serious allegations against staff working in the centre, including that some paid refugees for sex then filmed the encounters and shared the footage.
Among the many other concerns expressed by the former workers, inadequate footwear for asylum seekers, the extreme heat on the island, and the low quality of food in detention were regular themes.
According to Samantha Betts, a former Save the Children Youth and Recreation Worker, children would sometimes simply faint as a result of the heat.
Her submission opened with a pointed clarification.
"NB: 'Detainees' are herein referred to as 'people'," she said.
The Senate Inquiry continues.
If are experiencing issues with mental health, please contact Lifeline or Beyond Blue.
Donate To New Matilda
New Matilda is a small, independent media outlet. We survive through reader contributions, and never losing a lawsuit. If you got something from this article, giving something back helps us to continue speaking truth to power. Every little bit counts.