There's a well-worn theory in the media that if both sides of a debate hate you, then you're probably doing something right.
Last month, we banned reader 'Kevin Charles Herbert' from our site after he posted comments on a story which promoted Holocaust denial (NM has very strict rules on this… you can read them here).
Mr Herbert subsequently threatened to sue us for defamation… and you can read that romping tale, including the correspondence, here.
But that was way back in 'May'. Now it's 'June'. And what month in independent media would be complete without another legal threat from another angry reader.
Introducing 'Geofffff', also known as Geoff Pahoff, a regular and enthusiastic New Matilda commenter. Or at least he was.
'Geoffff' is well known on our site for taking on Holocaust deniers. That's the part about him we like. In particular, he was an occasional sword crosser with Mr Herbert, and was particularly pleased when Mr Herbert's account was deleted.
Which is why this next bit is so ridiculously ironic.
Last week, Geoffff accomplished the same feat after posting an abusive comment at the bottom of a Michael Brull article, in which he called our beloved columnist an "ignorant creep", a "dickhead" and a "brain dead coward" (and yes, more irony, it was a Brull piece which provoked the response from Kevin Charles Herbert as well).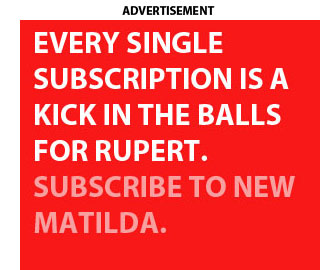 As a result, we edited Mr Pahoff's comment, and replaced it with this: "ED'S NOTE: This comment has been deleted because, to quote the courts, it constituted nothing more than 'mere vulgar abuse'."
Unfortunately, 'Geoffff' logged back into the comment and re-edited it… which is guaranteed to get your account deleted (along with a permanent ban from New Matilda).
There's a simple reason for that: when we edit a reader's comment, nine times out of 10 it's because of legal concerns. And our legal bills are already high enough (last year, for example, a number of regular posters grossly defamed several people, and we're still paying off that bill).
Long story short, the account formerly known as 'Geoffff' has been deleted, and a permanent ban from the site instituted.
In addition to that, as a result of the 'Kevin Charles Herbert' threats to sue, we recently promised to publish legal threats made against New Matilda. And so, with that in we mind, we bring you our recent correspondence Mr Pahoff.
---
From: Geoff Pahoff
To: Chris Graham
Date: Tue, June 16, 2015
Subject: Defamation
Chris,
A commenter on Michael Brull's latest thread has just accused me of making "semi veiled death threats."
I of course did no such thing and this deeply offensive allegation is highly defamatory.
I'm a big boy with a thick skin and I don't often do this but I am going to insist you take this filthy lie down. You will have many readers who know who I am and there is no way I can allow this to stand. A retraction pointing out the truth would also be an excellent idea.
Antisemitic slanders are one thing and have become mainstream in the modern left but this is way beyond the pale.
Geoff Pahoff
---
From: Chris Graham
To: Geoff Pahoff
Date: Tue, June 16, 2015
Subject: Defamation
Geoff,
The comment is not defamatory. This is a waste of your time and mine. Having said that, many [comments]before it written by you were [defamatory], including one which I deleted, and which you subsequently re-edited.
As the forum rules clearly state, and I quote, "Readers may edit their own comments, however if a reader seeks to edit an 'Ed's Note' it will result in an immediate and permanent ban from the site."
In addition to that, it is the stated policy of this website that we publish all threats of defamation against us (printed here: https://newmatilda.com/about-us).
I'm not sure where that all leaves us Geoff… other than to suggest that I'm rather sick of receiving your regular abusive emails (I think in the last one you called me a "bloody coward" and a "sissy").
Maybe you should go and get some legal advice? And in the meantime, consider finding another news site that doesn't make you so angry?
Regards
Chris Graham
---
From: Geoff Pahoff
To: Chris Graham
Date: Wed, June 17, 2015
Subject: Defamation
Chris
If you think that I called you a "bloody coward" and a "sissy" then you have either got me badly confused with some one or this is a case of stolen identity.
Either way you need to check this out. I do recall making a reference to "cowardice" but only in the sense of intellectual cowardice.
"Sissy?". I don't recall calling a man that in my life time. So either I have a serious problem here or you do.
Nor do I have any memory at all of editing anything you wrote. None at all.
I think I've sent you three emails since you took over this site none of which were abusive. At least not as I would define it. I'm sure you cop a lot of crap but not from me. So do I.
I qualified as a lawyer in 1978. My first job was with the Aboriginal and Torres Strait Islanders Legal Service in Qld. I'm not about to seek legal advice from anyone.
Geoff
---
From: Chris Graham
To: Geoff Pahoff
Date: Thur, Jun 18, 2015
Subject: Defamation
Geoff,
Attached is a screenshot of you recently calling me a "sissy" in an email.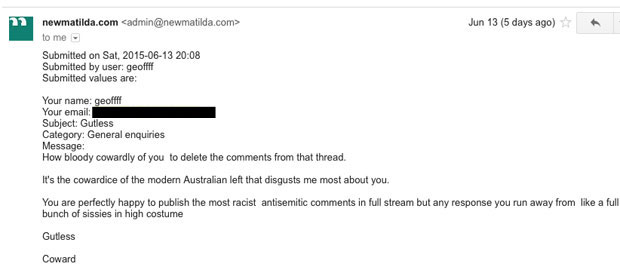 Attached is a screenshot of you editing a comment after the Ed's Note.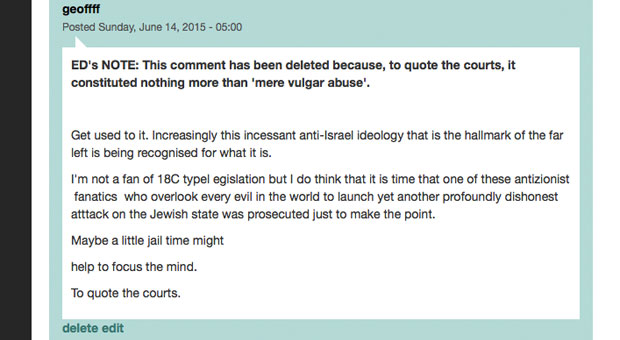 Attached is just one of the screen shots of you sending abusive emails, where you call me a "sleazy filthy racist".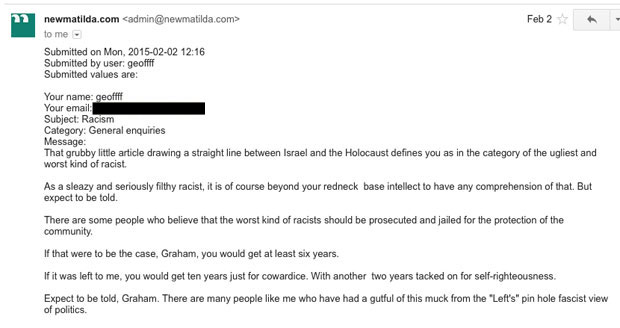 And just for good measure, here's your [original]comment that I edited (which you re-edited) in which you call Michael Brull an "ignorant creep" and a "dickhead".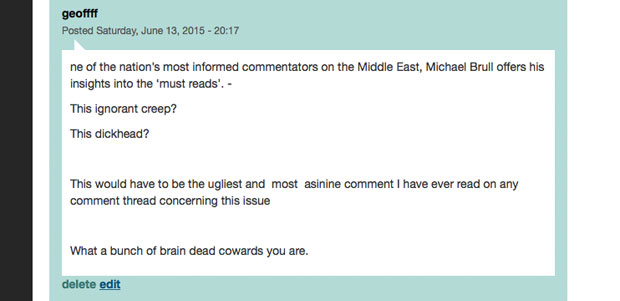 Good luck with your legal action. You account will be deleted tomorrow, and your threats against me and New Matilda will also be published.
Regards
Chris Graham
---
From: Geoff Pahoff
To: Chris Graham
Date: Fri, June 19, 2015
Subject: Defamation
I did not call you or any other individual a sissy. My comments about the modern Left stand and I'm happy for you to publish them notwithstanding this was private correspondence, provided you do not misrepresent what I said.
It is after all just the truth.
Take it personally if you like but you are just saying more about you than me.
The Left's obsession with the Holocaust, and its sad and ugly determination to link it to the "treatment" of the Palestinians, is of course sleazy filthy racism at its worst. I have always maintained that there is a filthy racist streak in the Left. We all know it. We have all seen it. I will keep on saying it. That too is the simple truth.
I have no memory of editing anything you wrote. I still don't. I didn't even know it was possible.
As for Brull. I will not say again here what I think of antisemitic Jews and the use that is made of them. I will keep on saying that as well.
Don't bother with the account. I think you will find that has already been dealt with.
Geoff
PS. My observation about defamation was confined to a single commenter who claimed that I made a "semi veiled death threat". I of course did no such thing.
I have never made a death threat in my life. I've received a few but it has never so much as entered my mind to make one. I asked you to take it down. You took down the whole thread.
To make a death threat, "semi veiled" or not, is a crime. In my opinion a particularly cowardly and obnoxious crime at that. To falsely allege a crime against any identifiable individual is defamation.
I suggest you get legal advice.
---
From: Chris Graham
To: Geoff Pahoff
Date: Thur, Jun 25, 2015
Subject: Defamation
Geoff,
I got legal advice. While I was happy with it, I don't think you will be.
Your account has now been deleted.
Regards
Chris Graham
Donate To New Matilda
New Matilda is a small, independent media outlet. We survive through reader contributions, and never losing a lawsuit. If you got something from this article, giving something back helps us to continue speaking truth to power. Every little bit counts.