Tony Abbott promised that under his government there would be "a prime minister for Aboriginal Affairs". He has given himself the Indigenous affairs portfolio – but what does it all mean when it comes to frontline services?
In its disastrous first budget, the Abbott Government cut $1 billion from the social and community services sector, including for specific Aboriginal services and for general services. Aboriginal Australians are over represented as clients in this sector.
These cuts mean hundreds of jobs for social and community services workers are gone, and services are cut so far to the bone that programmes and whole organisations are being forced to shut down. Ultimately clients are falling through the gap.
The Indigenous Advancement Strategy (IAS) is the new, glossy social and community services funding stream for Aboriginal people, with $4.8 billion in funding attached to it. This is the largest chunk of funding for Aboriginal people in the Federal Government's budgets.
But a closer look at the detail of this program reveals the cold, hard truth.
At the Australian Services Union – SA + NT Branch, we dug beneath the surface of this funding to properly understand what it all means for Aboriginal-led services, not-for-profit services generally, and for the jobs of our members.
What we uncovered was frightening. The information is all publicly available but purposely presented in such a way that is hard to piece together. It was so ideological. It felt like we were peeling layers off an onion which was more rotten the closer we got to the core.
Here's a snapshot from our analysis of the funding and how it affects just South Australian services and jobs.
Who gets the money
The big winners are the for-profit and commercial sectors – receiving an extraordinary 65 per cent of the IAS funding.
In comparison, community led (ie Aboriginal-led) not-for-profits received less than 21 per cent. A further 8 per cent went to other not-for-profits. Even when put together, that's less than half of what the for-profit and commercial sectors received.
What sort of programmes get the money?
The introduction of IAS has shifted from the funding of 150 different activities and programmes to five broad programme areas:
• Jobs, Land and Economy
• Children and Schooling
• Safety and Wellbeing
• Culture and Capability
• Remote Australia Strategies
In South Australia, more than 60 per cent has been directed to 'Jobs, Land and Economy'. The Indigenous Wage Subsidies within that programme are extraordinary.
Wage subsidies effectively "incentivise" an employer to employ an Aboriginal worker. Over a six-month period, the employer receives $7,150.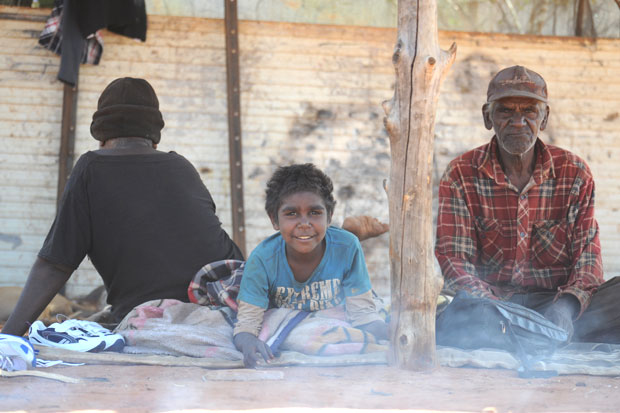 Aboriginal people deserve the dignity of safe and secure work, like all Australians. If wage subsidies can shift Aboriginal people out of unemployment into secure employment, than by all means let's have a discussion.
But can't employers, you know, just employ an Aboriginal person? Because they are a person, who can do a job? Do employers have to be subsidised for that?
A whopping 65 per cent of the Indigenous Wage Subsidies went to commercial or for-profit operations in South Australia, including some well-known organisations.
Port Adelaide Football Club, which prides itself on its relationship with the Aboriginal community, receives wage subsidies.
And how about Assaggio Café, an upmarket Italian café and small goods store, which also receives government money for a wage subsidy.
Further, Government itself received 22 per cent of these subsidies.
All the while, Aboriginal-led not-for-profits received subsidy funding for a grand total of six jobs across the state.
To be fair, we don't know the stories behind these organisations, the wage subsidies and the recipients yet. If we were to give them the total benefit of the doubt, it could be said that the employers are creating jobs for people who simply cannot and would not win employment due to low-level skills or experience.
But when the Federal Government is only directing 21 per cent of the major Indigenous budget measures to Aboriginal-led not-for-profit services, and are pouring 65 per cent of the funding into for-profits; spending $1 million on wage subsidies in South Australia for these kinds of organisations is interesting, to say the least.
THE Indigenous Advancement Strategy is a disgrace. It lets down all Aboriginal and Torres Strait Islander people by undermining the services they need access to and by slashing the jobs for Aboriginal people to work with Aboriginal communities. This small snapshot from one state illustrates that.
Unions have a long history of standing shoulder to shoulder with the Aboriginal and Torres Strait Islander people of Australia in their struggles. But more than that, unions must represent their Aboriginal and Torres Strait Islander members' interests aggressively.

That is why the ASU will continue to work with Aboriginal workers, community organisations and advocacy groups, as well as participate in events like the Stop the Forced Closure of Aboriginal Communities rallies across Australia.
It is why in our whole of social and community service sector campaign, 'Save our Community Services', one of our focuses is on ensuring community-led Aboriginal services are fully-funded and for-profits do not get government money in this industry.
These are industrial, social and cultural challenges being forced on Australia by a so-called Prime Minister for Aboriginal Australia.
We can win if we keep informed, bring these facts and the stories of those they impact out to the whole of our country – and ultimately, demand better funding models and a better deal for Aboriginal and Torres Strait Islander people.
Donate To New Matilda
New Matilda is a small, independent media outlet. We survive through reader contributions, and never losing a lawsuit. If you got something from this article, giving something back helps us to continue speaking truth to power. Every little bit counts.