Members of the Tasmanian Aboriginal community may boycott a new Aboriginal legal body set up in the state after the Abbott government's "political decision" to strip funding from the 40-year-old community-controlled service and hand it to Victorian Aboriginal legal aid.
Although only making up around four per cent of the population, Aboriginal people make up 17 per cent of those incarcerated in Tasmania. But despite the statistics, the Tasmanian Aboriginal Centre (TAC) was the only state legal service required to tender for the Indigenous Legal Assistance Program.
TAC lost its $11.5 million contract to deliver legal aid services to the Victorian Aboriginal Legal Service (VALS), which will set up a new entity to deliver services to Aboriginal people in the state.
Tasmanian Attorney-General Dr Vanessa Goodwin told the state Parliament that the federal government had approached VALS and Legal Aid in Tasmania, as well as the TAC, to tender for the contract.
The TAC's Sara Maynard told New Matilda the TAC had only been notified about the decision last Wednesday and had not been fully informed about the reasoning, although the media had been briefed.
A spokesperson for the Federal Attorney-General's Department told New Matilda it had "ongoing concerns about the service provided by TAC and its compliance with the Indigenous Legal Assistance Programme requirements, including the high cost of services, types of law they direct their resources to, and limited recognition of Aboriginal people".
It's understood the Attorney-General's Department was concerned that the TAC provided only 46 per cent of its work on civil matters, while other states devoted up to 80 per cent of its workload to criminal cases.
Another factor in the decision was complaints made to the Department that TAC had refused services to some Aboriginal people who could not prove their heritage.
It's also understood the Department was concerned about non-compliance. The Tasmanian Aboriginal Legal Service currently provides legal services through the private firm Beeton and Mansell, formerly founded by high-profile Aboriginal lawyer Michael Mansell.
The firm doesn't have a bank account or trust account.
Those concerns were knocked back by Mr Mansell yesterday, since retired, who told the ABC the arrangement had been in place since the 70s.
"No one has complained in the 40-odd years since then, except the Attorney-General's (Department), three weeks before the end of the financial year," Mr Mansell told the ABC.
He said the firm didn't take money from its clients and just supplied legal services for the TAC.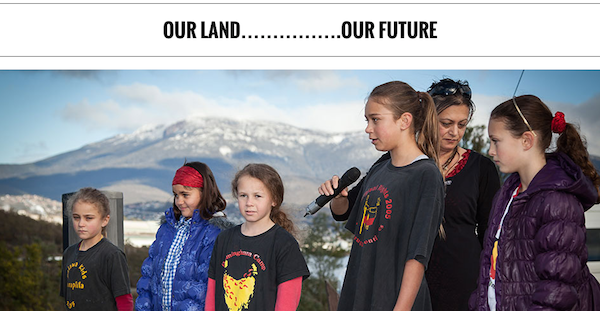 Ms Maynard told New Matilda the Attorney-General's decision was a political one which would have dire consequences for vulnerable Aboriginal people who need to access Aboriginal legal aid services.
She said a Victorian Aboriginal legal aid service, who are understood to be employing six junior lawyers, would not be able to deliver the services provided by a Tasmanian community-controlled organisation.
"They want to shut us down and provide junior lawyers right out of law school to represent vulnerable Aboriginal people on complex issues," Ms Maynard told New Matilda.
"To me, that doesn't make sense. It's counterproductive. There will be a lot of hold-up within the courts, the ongoing issues with police, and people in the Aboriginal community are now prepared to boycott VALS. They don't want junior lawyers representing them and another outside organisation representing us."
Ms Maynard said she doesn't know where the Attorney-General's Department got the figures of a 46 per cent focus on civil cases.
"We'd like to see how they work out their statistics. Because our caseload is that we do more criminal case matters than we do civil. We would be curious to see how they determine their statistics because what they're saying and what is happening are two very different things."
The Tasmanian Aboriginal Centre has a long history of political advocacy, from pushing for stronger cultural heritage protection, to negotiations around compensation for the Stolen Generations.
Tasmania is the only state in Australia to have compensated members of the Stolen Generations.
"Obviously we are a politically active community and clearly this is a politically motivated decision on their behalf," Ms Maynard says.
"The level of culturally appropriate assistance and services we provide to the Aboriginal community is unbelievable. The legal fraternity here in Tasmania are outraged, they support the work we do….
"The history of our organisation, the fact we've been around for 42 years plus, an impeccable financial record…. It says this is a politically motived decision not to fund us."
Donate To New Matilda
New Matilda is a small, independent media outlet. We survive through reader contributions, and never losing a lawsuit. If you got something from this article, giving something back helps us to continue speaking truth to power. Every little bit counts.