Four giant native animals descended on the ANZ bank's North Sydney branch this morning, asking for loans for new homes after theirs were 'destroyed' by an ANZ funded coal mine.
Activist group Beyond Green organised the protest to highlight the bank's role in financing Whitehaven Coal's contentious Maules Creek Mine in the critically endangered Leard State Forest, and to put pressure on the bank not to fund more mines in Queensland's Galilee Basin.
The Leard State Forest was one of the most unique environments in Australia, housing the largest stand of an ecological community that had already been reduced to just one per cent of its natural extent. Because of its Box-Gum Woodland habitat, more than 30 endangered animals had called Leard Forest home.
Beyond Green spokesperson Ben Pennings was among around 20 activists who visited the bank today, angry that this environment had been destroyed for "an unnecessary coal mine".
"A koala, a possum, a kangaroo and a parrot all walked into the bank in full business suits to ask for a home loan and remind ANZ what it has done," Pennings said.
But the manager of the North Sydney branch of ANZ refused their applications.
One of the animals, 'Cranky Koala', told New Matilda that he was "lucky to survive" the excavation of the Leard, which has left him homeless.
"Many of my friends died when our home was destroyed for a dirty coal mine," he said.
"Since ANZ funded this destruction we wanted them to take a punt on us by giving us a loan. A State Forest can't be worth that much can it?"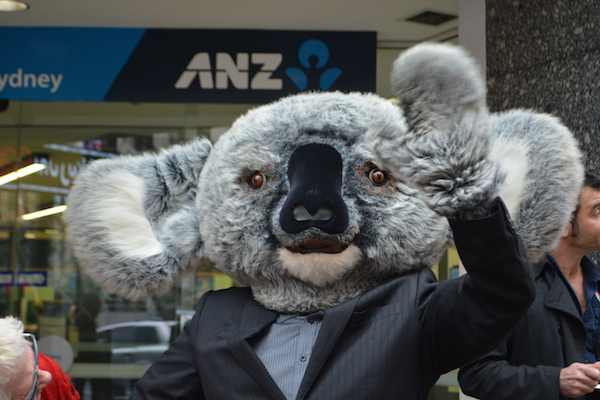 For environmentalists, the Leard Forest was priceless, and over 350 people were arrested protesting against Whitehaven Coal's mine.
Earlier this year New Matilda revealed that the minutes of a key community consultation committee had also been botched. Despite the Planning Minister warning Whitehaven it needed to ensure an environmental group was on the committee, to give input on biodiversity impacts, it operated for more than a year without one.
The green group Whitehaven claimed was part of the committee said it didn't even know it existed.
Now that large tracts of the forest have been destroyed, conservationists fear ANZ will move on to finance more environmental destruction.
Organisers said the protest would draw ANZ customers' attention to the bank's role in the destruction of biodiversity, the climate, and Aboriginal peoples' sacred sites.
"It's part of a wider campaign, so there's been focus on shareholders and investors and that sort of activism, but physically being there and associating their brand with dead native animals, which is what they've done, is important," Pennings said.
"These animals will continue to remind ANZ of how damaging coal is until they commit to never finance Galilee Basin coal mining projects.
"Not only because they are marginal economically, but because they risk the Great Barrier Reef, the Great Artesian Basin, endangered woodlands and runaway climate change."
While 11 major international banks have ruled out financing coal developments in the Galilee Basin, around 300 kilometres inland of the Queensland coast, Australia's 'big four' are yet to declare their hands.
If the mines are approved they will create more carbon emissions than entire nations like the United Kingdom, Italy and South Africa.
Hundreds of millions of tonnes of coal would be shipped through the Great Barrier Reef, mostly from the proposed Abbott Point Port expansion which, if approved, would be the largest coal terminal in the world.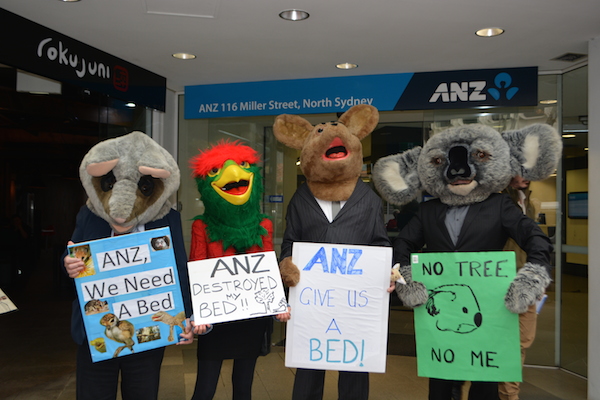 Pennings pointed to a recent Essential Research poll which found that more than 80 per cent of respondents believe banks should consider the social and environmental impacts of projects they fund as evidence that "ANZ should respect their customers' wishes and commit to never risk the reef through financing another unnecessary coal mining project".
A spokesperson for ANZ told New Matilda that the bank will not comment on specific projects or proposals and that "any involvement from ANZ would depend on all government approvals required being granted, as well as our own social and environmental policies and standards being met".
The largest of the mines proposed for the Galilee, Adani's Carmichael mine, has been seeking funds for financial close but it is yet to gain state approval after a court case slowed its development applications down. Carmichael mine is key to facilitating the nine mines, analysts say, because the Adani group of companies are most likely to be able to finance the expensive infrastructure to transport and export the coal.
Adani holds the leases to develop the massive Abbott Point Port but the Essential Poll found that more than 60 per cent of respondents opposed their banks helping to finance coal port expansion on the Great Barrier Reef, which is in poor and deteriorating health having lost half of its coral cover in the past 30 years.
Around 20 per cent were unsure, and Pennings said the growing number of actions like Beyond Greens' would help shine a light on banks that don't take sustainability seriously.
"At the moment we're doing fun, friendly media stunts but over time we will be ramping up the actions to be doing direct actions and the like," he said.
Donate To New Matilda
New Matilda is a small, independent media outlet. We survive through reader contributions, and never losing a lawsuit. If you got something from this article, giving something back helps us to continue speaking truth to power. Every little bit counts.