Coal seam gas company Metgasco is seeking police backing and compensation as it prepares to return to its controversial exploration well at Bentley, in New South Wales' Northern Rivers region.
The company's Managing Director, Peter Henderson, wants "a promise that when we bring our drilling rig on-site in a few months time, the police will be there" to assist them.
Metgasco was forced out of the region after a staunch community-run blockade pushed the NSW government to suspend its exploration license in May last year, amidst allegations it failed to properly consult with locals.
Last month, the Supreme Court rejected that argument, ruling that the government's suspension of the license was unlawful.
While the thousands who blockaded the company's site near Casino may not have liked the outcome of that consultation, Justice Button ruled, the consultation had been adequate.
Campaigners have warned they're ready to resume frustrating Metgasco's operations, leaving the company wedged between a state government not backing down, and an angry local community.
Metgasco is keen to resume exploratory drilling at its Rosella well, which will search for conventional gas, in spite of the opposition.
"If your reason for being was to explore for gas, why would you not do it," a Metgasco spokesperson told New Matilda shortly after the court decision.
"They've paid money for a licence, they're legally allowed to do it, so why would you not do it?" said the spokesperson, who works for Citadel public relations.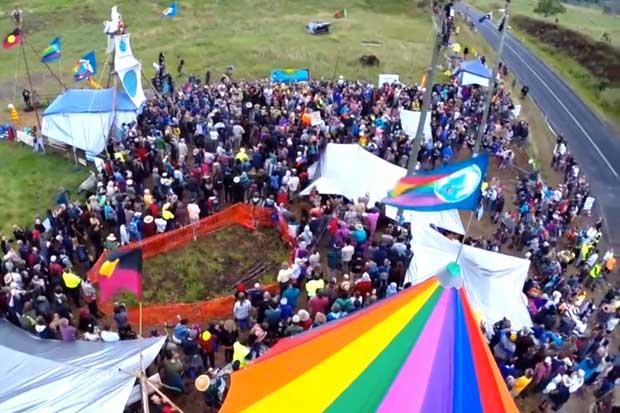 But in comments aired on ABC news last night, CEO Peter Henderson appeared open to negotiating Metgasco's exit from the Northern Rivers, which Labor, the Greens, and the sitting Nationals member agree should be 'CSG free'.
"If the government wants us to walk away from our three license areas, I think most of our shareholders would expect the $120 million to be paid back," Henderson said.
While Premier Mike Baird said the government's "not backing down in any way" from its view that Metgasco failed to consult adequately with the community, it is "happy to negotiate directly with them".
"You need to bring the community with you and they failed on every front in that," Baird said.
The government is accepting its suspension of Metgasco's license was unlawful, though according to a statement released by Metgasco yesterday the Supreme Court ruling will go unchallenged.
"We are pleased that the NSW Government appears to have recognised this and has avoided the damage it would have done to investor confidence in NSW and the waste of taxpayer funds had it appealed the decision," Henderson said in a statement.
"NSW needs a gas industry and the NSW Government needs to show the investment community that businesses will be encouraged and licence rights honoured."
Northern Rivers locals disagree, and are pushing for legislation to rule out any gas industry in the area.
"Up to a few months before the Bentley blockade there was a section in the Petroleum (Onshore) Act that basically gave the government a power to cancel a gas licence on the basis of public interest," said Aiden Ricketts, a spokesperson for Gasfield Free Northern Rivers who lectures in law at Southern Cross University.
Ricketts said that there had been no legal test for 'public interest', and that in scrapping the clause the government effectively relinquished its mechanism for cancelling licenses without risking a court challenge.
Now, the community is calling for specific legislation to prevent coal seam gas operations in the Northern Rivers.
The government is yet to comment on whether it will support this legislation, but recent history suggests it may simply move to buy back Metgasco's license.
As the mood towards the coal seam gas industry soured in the government's first term, and Labor – which gave out the license in the first place – positioned itself against the industry, the Baird government bought back multiple gas licenses covering much of the state.
Now that Metgasco has played its hand, the ball is once again in the government's court. It's unclear how it will react to these latest developments, but the pressure from the local community which caused the license cancellation is, they say, as strong as ever.
Donate To New Matilda
New Matilda is a small, independent media outlet. We survive through reader contributions, and never losing a lawsuit. If you got something from this article, giving something back helps us to continue speaking truth to power. Every little bit counts.