If the sheer size of Mardi Gras is enough to go by, gays know how to party. Homophobic detractors (straights rights activists perhaps?) ask why they don't get a parade on their own. The simple answer? You don't know how to party as well as us.
So when Ireland resoundingly voted yes to marriage equality this weekend, it warmed the cockles of my cold, anti-marriage heart, because of the sheer party potential.
I was in San Francisco on June 26, 2013, the day Proposition 8 was overturned by the U.S Supreme Court and marriage equality became legal in California again. A long anti-marriage cynic, I had assumed this decision would elicit no more than a "meh" from me.
But driving across the Bay Bridge beside cars flapping rainbow flags from their windows, wandering toward Dolores park as people shouted "WE'RE GETTING MARRIED!" from their apartment windows, to ending up in the park with $1.80 Budweisers, watching queers literally dancing in celebration, somehow I became a huge marriage supporter and queer patriot (what I call the fierce rainbow flag wavers).
I'm not against marriage equality. I'm against the term "same-sex marriage" because it tends to conflate sex with gender, and I'm against marriage as an institution because I think it's an outdated excuse for the state to intervene in matters of the bedroom.
But the joy it brings others is absolutely undeniable, and as cynical as I can try to be, the #hometovote hashtag still moved me to tears.
Came #hometovote all the way from London and found my mum had made some subtle changes to my room for me #VoteYes pic.twitter.com/BOdxqXhJoN

— Kevin Beirne (@KevBeirne) May 21, 2015
The atmosphere in Ireland on Saturday night, by all accounts, was not that dissimilar to the atmosphere in Dolores Park on June 26, 2013. Parties raged long into the evening, and now Ireland's party potential has increased substantially.
The best thing about marriage equality – apart from, you know, the recognition of LGBT people as being equal to their heterosexual peers and citizens deserving of rights – is the potential for more invitations to more weddings. And as I said before, gays know how to party, so you just know our weddings will be the most fun.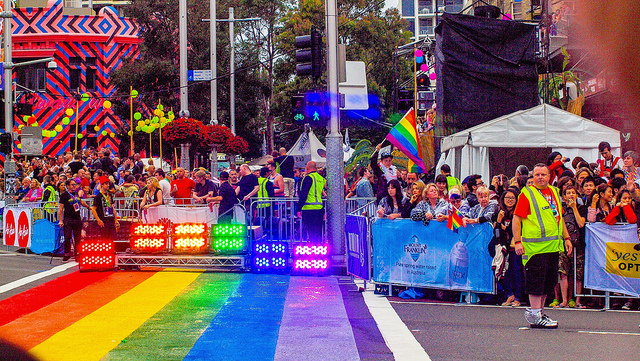 As many have noted, Australia is now the only developed, English speaking nation to not have marriage equality. It's a pretty embarrassing factoid. I'm not often patriotic, and I'm not usually one to diss on other countries, but how did Australia suddenly become the worst (white, English speaking, rich) place to be gay?!
On top of all the awful things Tony Abbott has done to this country, denying his party a conscience vote, and by extension denying the country a bloody good party, can be added to the list.
Marriage equality will happen in Australia. It's inevitable. As much as I'd push for it, we're not going to abolish the institution of marriage entirely anytime soon.
But how long we have to wait for our time to party is up to the major parties. It remains to be seen if the overwhelming result in Ireland will affect the Liberal party's position on a conscience vote, or whether it can compel Labor to bind their supposedly progressive party to support the issue.
The fact Ireland backed the measure with a whopping 62 per cent support will turn some heads. And so it should.
The day Australia passes marriage equality I'll be there, dancing down Oxford St, proudly waving my rainbow flag, joining the party like the good gay I am.
The day after marriage equality is passed, I'll no doubt be here, writing to remind you that despite big gains, we still have a long way to go in claiming full recognition of rights for LGBT people. The fight doesn't stop at marriage, and neither does the party. But it's a bloody good start.
Donate To New Matilda
New Matilda is a small, independent media outlet. We survive through reader contributions, and never losing a lawsuit. If you got something from this article, giving something back helps us to continue speaking truth to power. Every little bit counts.