The Abbott government has suffered many misfortunes in its short life, lots of them self-inflicted. But one of this government's most surprising ailments has been a certain tendency towards policy on the run.
Coming into office, this is not something we would have predicted. The Coalition gave voters a detailed list of promises and policies before the 2013 election, set down in glossy type on the pages of its Our Plan brochure.
Like so many pre-election brochures, Our Plan hasn't been very useful as a guide to the government's intentions. You can find dozens of broken promises already.
One of the Coalition's biggest pre-election promises was broken just a fortnight ago: Tony Abbott's rolled-gold paid parental leave scheme. The gold-plated scheme has already been abandoned once, back in February, generating plenty of negative coverage. Now the government has gone one worse, announcing it will kick some parents off the existing scheme.
In its place, the government has rolled out an amazingly inept attack on working parents as "double dippers."
This government doesn't just break promises: it breaks them repeatedly, slowly alienating voters again and again.
Abbott's paid parental leave scheme was never popular inside his own party, and often questioned outside it. But there was no doubt it was a more generous and equitable entitlement than Labor's legislation, which gives working parents 18 weeks of paid leave at the minimum wage.
Abbott's scheme, established with many flourishes about his will to win over female voters, was styled as a workplace entitlement: the full wage of a working parent for six months, up to a cap of $75,000. Yes, it was extremely generous. But it also appeared to be a sincere effort to write parental leave into the employment conditions of parents.
As the Coalition's Our Plan stated:
Australia is one of only two countries where parental leave isn't based on a mother's actual wage. If people receive their actual wage while sick or on holiday, they should also receive their actual wage while on parental leave. Parental leave is supposed to be a workplace entitlement, not a welfare payment.
Read that paragraph carefully, and you see why the Coalition is in so much trouble over parental leave. Before the election, the Coalition made it crystal clear that it viewed parental leave as a workplace right – "not a welfare payment."
Fast-forward to 2015, and the government's rhetoric has changed. Dramatically.
Just two days before the budget, Prime Minister Tony Abbott stood next to Social Services Minister Scott Morrison and announced that the government was going to cancel the public parental leave scheme for tens of thousands of parents.
Currently, parents who receive an employer-funded parental leave scheme can also access the public, 18-weeks-at-minimum-wage scheme. That's the point of the public scheme: it's a universal safety net that applies to all parents, regardless of their circumstances. It was designed to act as a base that employers, if they wished, could top up.
No longer. Parents who receive an employer scheme will now be booted off the public scheme. As even the Prime Minister himself admitted, "it was a bit of a wrench for me, as you'd expect, given my long-term commitment to paid parental leave."
Other cabinet ministers were more forthright. Joe Hockey and Scott Morrison both used the phrase "double-dipping" for parents accessing both public and private parental leave schemes. Scott Morrison called it a "rort." Hockey even went so far as to imply it was "fraud", a choice of words he was soon forced to walk back from.
In just a few months, the government has turned 180 degrees, from insisting that paid parental leave was a workplace entitlement, to demonising parents as rorters and welfare double-dippers.
The phrase "double-dipping" even made it into the budget papers. Amazingly, Budget Paper 2 describes the $968 million saving as "Removing Double Dipping from Parental Leave Pay."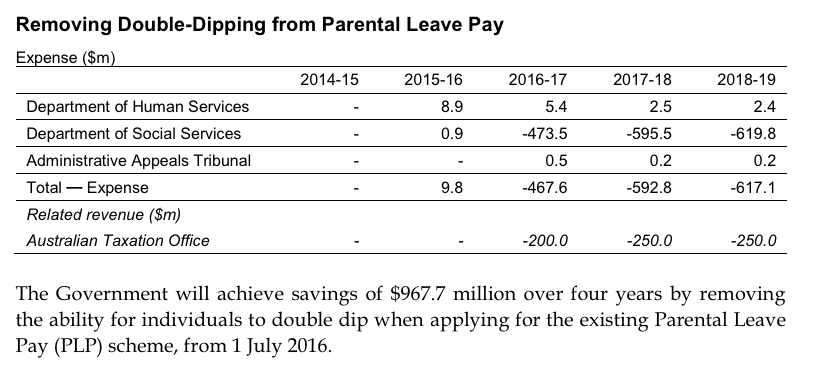 Many inside the government were horrified. The Coalition was attacking middle-class women with employer-based parental leave schemes – exactly the sort of swinging voters Tony Abbott has always struggled to convince. And it was using the language of welfare cheats, normally reserved for dole bludgers and those well down the socio-economic spectrum.
Arthur Sinodinos, the former Assistant Treasurer who nowadays languishes on the backbench as the most prominent supporter of Malcolm Turnbull's faction, made the very obvious point that "some of the language has not been particularly empathetic."
"It's not a good look to be having a go at the young mothers or new mothers of Australia and I think some of the language has been a bit unfortunate and we should be a bit more empathetic," Sinodinos told Sky News last week.
Well, indeed. The reaction from many in the business community and in the media has been savage. My favourite was a withering op-ed from Women's Agenda editor Georgina Dent, in which she wrote that the Prime Minister has "completely hoodwinked the women of Australia."
The disconnect between the government's pre-election boilerplate of paid parental leave as a workplace right, and its post-budget jingoism comparing working parents to welfare cheats, explains why the parental leave debate is not going away any time soon.
The government has done little to hose down the anger, and is pressing ahead with its attempts to amend the current parental leave scheme in the Senate. When it does reach the Senate, it will again get an airing in the media, and parents across the country will get outraged all over again. Labor opposes the change, so it will almost certainly fail.
This is a broken promise that will continue to hound the government. It's not just the rhetoric: the policy is offensive too.
Yes, vulnerable families at the lower end of the income scale are not likely to have paid leave from their employer and will be protected. But the change destroys the universalism of the current scheme. It will hit middle-class families the hardest, those where parents have the sort of good white-collar jobs that already include parental leave. It's a demographic likely to be found in plenty of marginal seats in the metropolitan suburbs.
Perhaps Peta Credlin and the government's brain trust will realise this and backflip on the policy. But there is no sign of that so far.
As long as the government persists with its plan to attack the entitlements of working parents, paid parental leave is an issue that will run and run.
Donate To New Matilda
New Matilda is a small, independent media outlet. We survive through reader contributions, and never losing a lawsuit. If you got something from this article, giving something back helps us to continue speaking truth to power. Every little bit counts.