'Oh I do, I f…ing love it, I f…ing love it,' inebriated tycoon John Singleton shouts to anyone who might listen or, better still film him.
The 'it' of Singleton's expletives is violence. In a Sydney restaurant last week, the target for his swinging punch which he subsequently refers to as 'fake glassing', was his good mate, the billionaire hamburger baron Jack Cowin.
On the same day when Singleton shouted his appreciation of violence on a pavement outside the restaurant, SBS Television showed Struggle Street, a story crafted with insight and sensitivity about powerless people who survive with few resources in a Sydney suburb, Mt Druitt. These residents experienced violence but not the Singleton kind.
Struggle Street violence is largely structural – a deep rooted, continuous and insidious assault. From birth to death, strugglers confront obstacles which block chances to improve material well-being and health, let alone to enjoy regular self-fulfilling experiences.
By contrast, Singleton's rant suggests something in the DNA of the very rich which encourages fighting as a way to the top, a way to settle old debts or to demonstrate machismo. Their martial arts could be promoted as conflict resolution, their skills to be sold at the highest possible price in any peace negotiations.
That Singleton stoush was not an isolated incident. The previous Sydney year began with two rich men rolling in flower beds, their fists flailing, their bums in the air, wrestling outside casino boss James Packer's Bondi Beach home. Tangled with his friend, the Head of Nine Entertainment Group David Gyngell, the Packer–Gyngell heavyweight contest was photographed and the pictures allegedly sold for $200,000 to News Corporation publications.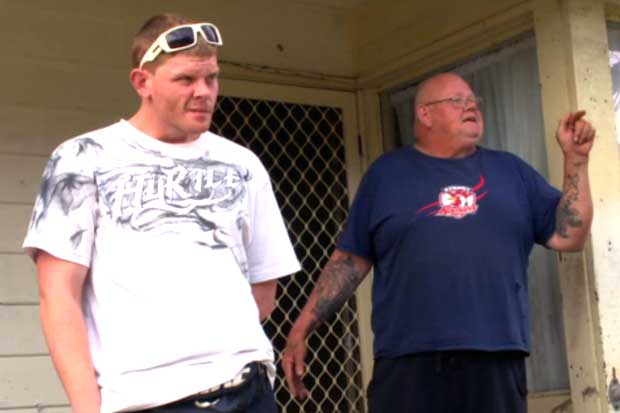 The Struggle Street violence had little to do with punching, wrestling or fake glassing, though watchers would have seen one threatened biffo between a distraught father and a drug dealer who came to obtain money owed by the family's ice addicted son.
The stage set for Struggle Street violence is poverty, drugs, alcohol, unemployment, homelessness and neglected public housing. From such a background a lethal mix flows: low self-esteem, physical and mental illness, addictions, teenage pregnancies and low life expectancy.
Almost the only consistent interest in the strugglers comes in exchanges with representatives of authority – the Housing Commission, child welfare, the police or with debt collectors. My social work experience in several countries showed that when young strugglers met empathic individuals, that was one of the few occasions when they were taken seriously, when they had a conversation other than one which told them to fuck off, or reminded them that they were of little consequence.
At the quaintly named Kingsley's Steak and Crabhouse in Woolloomoloo, after the consumption of four bottles of dry white each costing $85 – plus a few other glasses of dry white thrown in – the conversations of Singleton and his mates must have been juicy, and probably different from the exchanges depicted on Struggle Street.
Mr Singleton has explained, "The police inquiry will show that there was a few blokes, good mates, having a really good time.' His love of expletives to convey 'a really good time' sounds as though it had something in common with the language used on Struggle Street where the favourite expression derived from variations of 'fuck', used as verb, adverb and adjective.
The similarity with Struggle Street ends there. From the top of the social tree, Singleton, Packer and their mates can explain violence as a silly mistake, or just a joke. Their lot is governed by structural privilege, the means of benefitting from access to other people with business, media and sporting connections, all part of a brotherhood formed in expensive private schools. Cranbrook or any similar institution is not a stable for strugglers.
On the same day as Singleton's star performance, members of Struggle Street appeared genuine yet powerless, occasionally hopeful, yet mostly damned to live by lurching from one crisis to another.
The SBS portrayal was not a stereotyping of all the residents of Mt Druitt, but a reminder of the consequences of policies crafted to continue social and economic inequality irrespective of Australia's claims about egalitarianism or Joe Hockey' pleas to 'have a go' and 'spend, spend, spend.'
John Singleton, and before him James Packer, may have received forewarning of Hockey's 'have a go'. If so, they misinterpreted that plea as a recommendation about the benefits of a punch up.
The second plea, to 'spend, spend, spend', they had already taken for granted. The bill for the Woolloomoolloo lunch was $840.20. Given that a broken glass could be regarded as a piece of equipment, claims could be made to the Taxation Office that the cost of this lunch was a small business expense.
Every Mt Druitt case study featured violence. The former heroin addict almost crumbling before our eyes, his humiliation completed when his girlfriend concludes that her latest baby is not his. Ashley, the middle aged father whose heart problems are compounded by the early onset of dementia. The homeless Aboriginal man, William, who sleeps in the bush in a rickety shelter made from bits of carpet and corrugated tin, who applies for his birth certificate to aid his search for identity and for his family.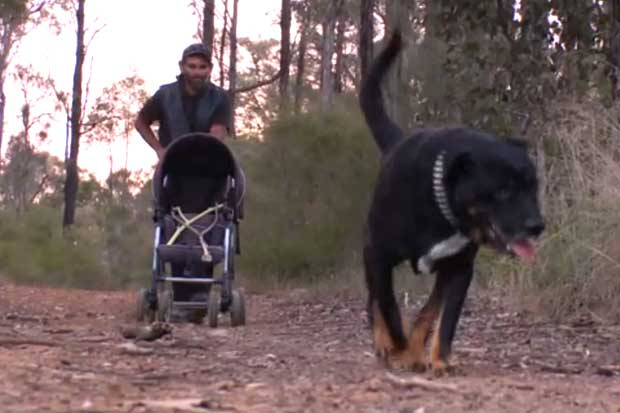 Admirable characters resisted the violence. The gutsy wife of Ashley repeats that she loves him whatever his shortcomings. The same woman enables her autistic daughter to engage with a music group so that even a small piece of musical role play will begin to build self-confidence. Then there was David the bi polar young man whose long and depressing experience of unemployment ends with an opportunity in the Panthers League Club. In a delightful repudiation of structural violence the Panthers pass him the ball, he runs with it and gets a job.
If the strugglers had been caught and convicted of fake glassing or public affray, they would probably have received at best a substantial fine – which it would be impossible for them to pay – or even a prison sentence.
Even if the police charge John Singleton with assault, he has more than enough high profile mates to support his contention that such conduct will not be repeated. A hefty fine could be imposed – and the reported $500 is miniscule – but this would not dent his lifestyle and he's unlikely to ask for time to pay.
SBS' portrayal of Struggle Street suggests there's a substantial proportion of very poor citizens surviving with little to spend and barely the strength to raise a punch. Their plight is usually unknown and invisible.
The conduct of the highly visible John Singleton and Co may result in more notoriety if a worshipful media paint them as colourful characters whose violence is just a form of entertainment. Wealthy high profile individuals can flaunt their wealth and gain interest, witness Johnny Depp sailing through quarantine followed by the thousands who, in their supportive responses to the hashtag 'War on Terrier', have supported his dogs Pistol and Boo.
John Singleton, the people from Struggle Street and even a wealthy pirate from the Caribbean have reminded us of the consequences of violence affecting the rich and poor: win, win at one end of the inequality continuum – lose, lose at the other.
It's not a picture we should f…ing love.
* Stuart Rees is the founder of the Sydney Peace Foundation.
Donate To New Matilda
New Matilda is a small, independent media outlet. We survive through reader contributions, and never losing a lawsuit. If you got something from this article, giving something back helps us to continue speaking truth to power. Every little bit counts.