Plans to build Australia's largest ever coal mine have literally been put on trial in Queensland's Land Court over the last five weeks.
Adani, the Indian company that wants to develop the Carmichael mine in Queensland's Galilee Basin, has emerged bedraggled.
The honesty and accuracy of its key economic claims is in serious doubt now that community group Land Services of Coast and Country have provided – or extracted – all of the evidence.
Normally, state governments make their approval decisions based entirely on information provided by the proponent, and sourced from hand-picked consultants. In contrast, the Land Court 'merits review' heard evidence from expert witnesses on both sides.
The court doesn't have the power to stop the mine, but Queensland's decision-makers, yet to give an approval, will now assess the application in the dim pall of serious contradictions from Adani's own expert witnesses.
The mine's environmental impact, which includes a footprint several times the size of Sydney Harbour, must be balanced against the best available estimate of its economic benefits.
Adani's 60 million tonne per annum mine is of particular significance, because if it doesn't go ahead other projects proposed for the Galilee Basin are far less likely to.
At $16.5 billion, Carmichael is the largest of nine super-mines proposed for the Galilee, and Adani is seen as the only proponent potentially able to finance the expensive rail and port infrastructure needed to get the coal to market.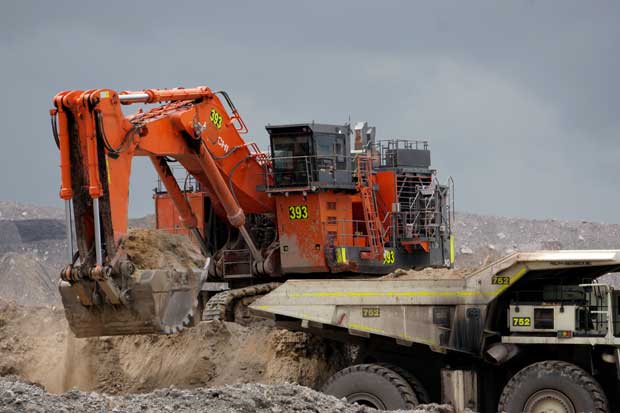 If they all proceed, the coal burnt would produce more emissions than entire nations like the UK, Italy and South Africa.
Coal from the mines would also be shipped through the Great Barrier Reef, and Adani's other plan – to build the world's largest coal export terminal at Abbott Point Port – would require dredging of the reef.
Carmichael will also destroy the last stronghold of the endangered Black Throated Finch and slurp up billions of litres of ground water.
In all, it's a massive expansion of Queensland's coal industry that, given Adani is gunning for a 90-year life for the mine, would likely commit Australia to a long-term future of coal exports.
Scientists say that can't happen if we want to avoid 'dangerous' climate change, and the Land Court case has revealed that the economic benefits aren't necessarily all they were claimed to be.
The real shockers are outlined below.
1. Adani's Investments Will "Contribute To $22 Billion In taxes And Royalties"
It's a big number, and, in light of the evidence, it also looks grossly overblown.
Adani has long claimed its "significant rail, port and mine infrastructure in the Galilee Basin region of Queensland" will deliver $22 billion "in taxes and royalties for investment into services".
Heartwarmingly, this will "help deliver schools, hospitals, roads and other services".
In reality, the mine and rail projects will generate just $16.8 billion in royalties and taxes, according to Adani's chosen economic expert Dr Jerome Fahrer.
The analysis didn't take into account Adani's port expansion, but a port, presumably, is unlikely to pay a "state mining tax".
Who knows, though. When Adani says the "state mining taxes" it pays will benefit Queensland, the company's Group Financial Controller concedes it actually means corporate tax, which flows to federal coffers.
To what extent the benefits "will extend locally, regionally and across Queensland" depends entirely on how much of its corporate tax revenue the commonwealth directs to Queensland.
Coast and Country's expert, global financial analyst Tim Buckley also testified that Adani appears to have calculated its corporate tax contribution at a rate of 32 per cent, rather than the real rate of 30 per cent, which would inflate the companies real tax bill.
Buckley doesn't believe Adani will actually pay any tax at all, though. More on that later.
2. The Three Projects Will Provide Over 10,000 Jobs
Adani's second big economy-boosting claim was that its combined mine, port and rail projects would "provide over 10,000 jobs". Dr Fahrer said the real figure,for the mine and rail projects, is just 1,464.
That's net jobs, from direct and indirect employment, so the port would have to employ a bloody lot of people to make up the difference.
Adani is standing by the claim, and points out that different economic modelling produces different results. Queensland's decision makers will have to make up their own minds.
3. Carmichael 'Won't Pay Any Australian Tax'
Amid doubts Carmichael is even financially viable – 11 major banks have already ruled out financing it – there is concern the project could end up a 'stranded asset'.
"Because of the collapse in the coal price, because of the massive coal discount and because of the cost structure, the mine, in my forecast is actually going to lose money," Buckley said.
"Therefore it actually won't pay tax."
Even if Adani does turn a profit, its corporate structure is so closely linked to well known tax havens that there's no guarantee much of that will be shared with the public. Adani Mining's parent company is a Singaporean trading hub, which could easily be used to avoid tax.
Asked if that was the plan, Adani's Group Financial Controller replied "I, I, I can't comment on that".
Multiple other companies linked to Adani's Australian operations, from the Caymans to Mauritius, could also be used to dodge tax.
4. The Reef Is Doomed, Get Used To It
Another Adani expert, Dr Chris Taylor, said in his view the world is condemned to dangerous climate change and even though that would mean the destruction of the Great Barrier Reef, neither Adani nor Australian governments should take responsibility for coal exports.
Carmichael's coal would be shipped through the reef, which of course has the potential to damage it, but it's the burning of that coal in importer countries and associated climate change that presents the greatest threat to the reef.
Dr Taylor testified that the world is unlikely to stick within the two degree temperature ceiling accepted by nearly 200 nations as the threshold for "dangerous" global warming.
While predicting a 3.1 degree rise was more likely, Dr Taylor's predictions didn't take into account the international climate pact to be negotiated in Paris this year, which primarily aims to limit temperature increases to no more than two degrees.
'If we don't dig it up, someone else will' was the thrust of Adani's argument.
The right hand panel on the image below, taken from leading American journal Science, shows what a 3.1 degree rise in temperatures would mean for the Great Barrier Reef.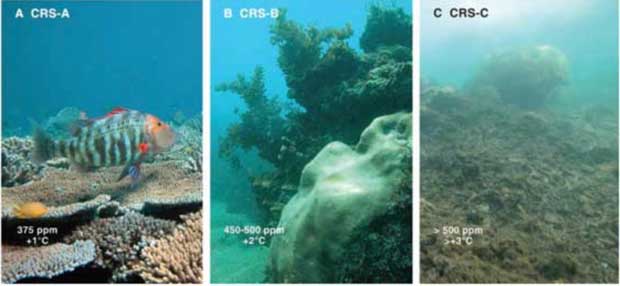 Professor Ove Hoegh-Guldberg, who testified for Coast and Country on climate impacts, summed it up neatly:
"If you take cigarette manufacturers, they don't grow the tobacco, but they package it up nicely, and clearly they're being regulated."
Donate To New Matilda
New Matilda is a small, independent media outlet. We survive through reader contributions, and never losing a lawsuit. If you got something from this article, giving something back helps us to continue speaking truth to power. Every little bit counts.