An SBS journalist who lost her job just one day after sharing an article critical of the network on social media has said she "wasn't given any concrete reasons" for the dismissal, in an email to colleagues seen by New Matilda.
Marion Ives, who has worked with the broadcaster as a journalist in various capacities over the past seven years, arrived at work on Friday to be told she would not receive any future shifts.
Ives was on a casual contract with SBS, and had come in to work on the Friday despite the fact it was her son's third birthday.
On Thursday, the day before being told she would not receive further work, Ives shared an article by journalism lecturer Helen Vatsikopoulos – a former Dateline host, SBS employee, and Walkley award winner – from her personal Facebook page, drawing an angry response from a senior member of the SBS newsroom.
In the piece, Vatsikopoulos drew attention to the fact SBS had decided not to employ Arabic speaking journalist Widyan Al-Ubudy at the completion of her cadetship, and referred to recent allegations the network was 'whitewashing' its staff, and moving away from the special obligations contained in its charter.
New Matilda understands that Ives shared the article from her Facebook page without comment, and did not explicitly endorse its content.
But it was enough to draw a response from Steven Wilson, Chief Producer at SBS News, who left comments under the post expressing his displeasure at the substance of the article.
"Shouldn't people just shut up unless they know the facts?" Wilson commented.
He went on to attack the accuracy of the piece. Ives deleted the post later on Thursday.
Wilson today told New Matilda he had not conveyed his frustrations about the piece, nor the fact Ives had shared it, to management at SBS.
"I didn't speak to anyone more senior than I," he said.
When pushed on whether he had spoken to others of his own level or below he said "possibly", but would not elaborate.
Wilson would also not be drawn to speculate on the reason Ives had her shifts cut, referring questions to SBS management.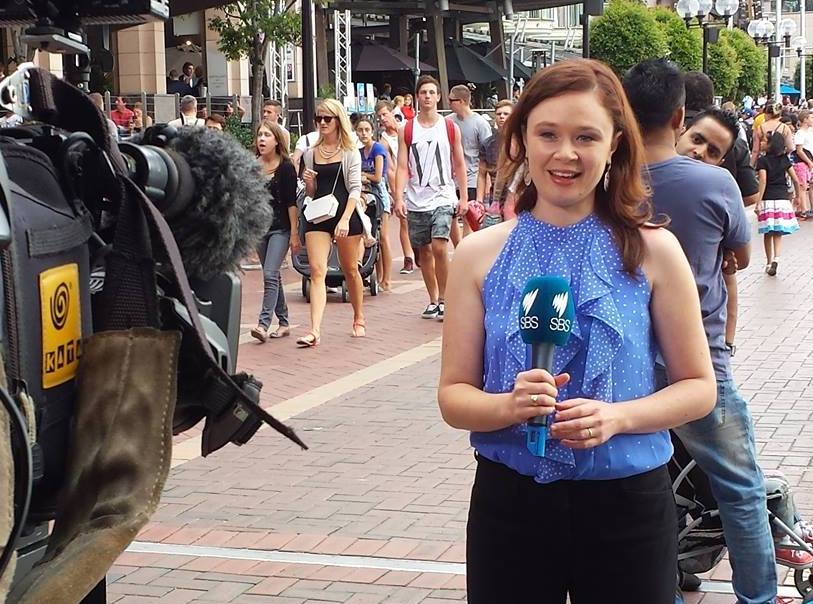 In a brief response to detailed questions, a spokesperson for SBS declined to clarify whether Ives' social media activity had influenced the decision.
"As I'm sure you can appreciate, SBS is not in a position to discuss employment information about individuals," he said.
That stance is at odds with the release by SBS only a week earlier of a five paragraph statement the sacking of sports reporter Scott McIntyre, detailing the reasons for his dismissal.
The SBS spokesperson described the McIntyre and Ives cases as "different situations".
"SBS regularly reviews its workforce to ensure it meets the needs of the business," they said.
While management declined to discuss the Ives matter, one source within SBS said she was a long-term and respected member of the team. Another said she had regularly worked weekends.
In an email sent to colleagues after her sacking Ives suggested she had not been given sound explanation for the dismissal.
"After seven years as a regular part of the SBS team in Sydney and in Melbourne, I am sad to say farewell to you all," Ives' email said.
"I wasn't given any concrete reasons, but today I was told 'budget constraints and reviews of staff' mean no further casual shifts."
In a strange symmetry, that was the same reason SBS reportedly gave for not hiring Al-Ubudy, the subject of the Vatsikopoulos piece shared by Ives.
"SBS sources tell me they were shocked when they heard that management did not offer the Iraqi-born reporter a job upon the completion of her cadetship, late last year," Vatsikopoulos wrote.
"The reason, reportedly, was budget constraints, which didn't stop the station hiring two Anglo women in the same period – Brianna Roberts and Alyshia Gates."
Vatsikopoulos told New Matilda she had received messages of support in relation to her article from employees at SBS, but that many had been unwilling to publicly express them "for obvious reasons".
"These are messages on private message, no-one is going out there," she said.
Multiple sources have indicated staff at SBS are anxious about making critical comment of the broadcaster as funding is tightened.
On April 26, SBS announced it had dumped sports reporter Scott McIntyre after he sent a series of tweets critical of Anzac day celebrations and Australia's military history.
The incident caused the union representing journalists – the MEAA – to issue a statement flagging concerns that media employers were limiting the freedom of expression of staff with overly restrictive social media policies.
The MEAA is now assisting McIntyre and his legal team.
When contacted by New Matilda, Ives declined to provide comment, but offered the following statement.
"I am extremely grateful for the very many emails and calls of support I have received from present and former SBS colleagues, which has been a great comfort at this stressful time."
In her own email to colleagues, Ives said working with the staff at SBS had been "an immense privilege and pleasure".
"I'm so proud of the SBS World News product and strongly believe it remains a unique, necessary and important part of the Australia media landscape. After years of my loyalty and dedicated reporting, it's a shame I won't be able to remain a part of that anymore.
"I'm sorry I haven't had the chance to say goodbye to everyone in person. Today's my son's 3rd birthday and as such I've decided to go home to celebrate with him."
With a young child to help care for, Ives now faces the daunting prospect of finding employment in an industry shedding jobs at private and public outlets alike.
* NOTE TO READERS: Comments for this story have been turned off, and existing comments deleted. New Matilda readers are reminded not engage in abusive comments, nor to post comments which are defamatory of other people. Repeat offenders will have their accounts deleted, and banned permanently from the site.

Donate To New Matilda
New Matilda is a small, independent media outlet. We survive through reader contributions, and never losing a lawsuit. If you got something from this article, giving something back helps us to continue speaking truth to power. Every little bit counts.