It happened quickly, with no warning and no leaks. Christine Milne, the leader of the Australian Greens, stepped down from power.
She was replaced, apparently by unanimous agreement within the Greens' party room, by Victorian Senator Richard Di Natale.
Milne kept her decision close, giving few indications of her intentions. A number of highly-placed factional insiders told New Matilda today that they had no inkling of the decision. But there appears to be no good cause to doubt her stated reason: simply, that it was time.
Milne clearly believes that generational change is in order. "I decided that now is a very good time for me to be going," she said yesterday, "because the party is in a really good shape."
On any analysis, the party is indeed in good shape. The Green vote continues to hover around a solid base of about 11 per cent. The party has a record number of federal senators, and has advanced in state parliaments in both New South Wales and Victoria.
The Greens continue to build their base in the inner cities of Melbourne and Sydney, but they are also winning state seats in places like northern New South Wales.
The re-election of Scott Ludlam in the Western Australian Senate by-election might just be the most important victory, keeping the future superstar in the parliament.
It's worth remembering that in 2012, when Milne inherited the leadership from the sainted Bob Brown, many pundits and commentators confidently expected the Green vote to crumble in the absence of their charismatic founder. "Greens leader Bob Brown retires," Andrew Bolt blogged, "and his party will not be long in retiring with him." Many in the Labor Party agreed.
In fact, the Greens were not a one-man show, as I argued at the time. The party has retained its electoral base in the post-Brown era and now seems poised to continue their insurgency against Labor's left flank. In the recent Victorian and New South Wales elections, the party also won seats off sitting conservatives.
Milne's legacy is the consolidation of the party's base and a seamless handover to the next generation. It's no small achievement.
As a leader, Milne was cut from a different mould than the avuncular and charming Brown. In contrast to the air-brushed politicians of the contemporary era, Milne brought with her a steely determination honed in the brutal environmental politics of Tasmania in the 1980s and '90s. Although insiders insisted she was a warm and personable presence away from the spotlight, in public she never lost that icy resolve.
Milne was first and foremost a policy wonk, possessed of an enviable grasp of the details. In energy policy, she was probably the most knowledgeable politician in the parliament. In 2012, I interviewed her for New Matilda's "future shock" series on energy policy. She spent nearly two hours discussing the intricacies of carbon and climate change in impressive detail.
Of course, the climate policy that Milne played such a vital role building was later dismantled by Tony Abbott in 2014. The Greens were forced to look on in horror as the most anti-environment government in a generation took a chainsaw to the climate laws they had championed. Milne and her supporters were forced to confront an unpalatable truth for minor parties everywhere: a party without the balance of power can effectively be sidelined.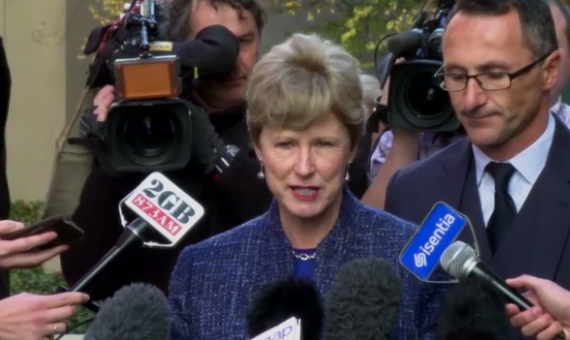 What of the Greens' new leader, Richard Di Natale?
The Senator from Victoria surprised many by seizing the leadership with apparent ease. He immediately set about staking out a more centrist agenda for the party, adding inequality and health to climate as the centerpiece of his policy agenda. He then gave a number of assured performances in media interviews, refreshingly free of the sculpted sound bites and tortured syntax we've come to expect from major party leaders.
The Di Natale ascension cements the rise of the Victorian branch of the party, which now has a dominant role. Di Natale has long been thought of as a future leader inside the Victorian Greens. New co-deputy Scott Ludlam remains a star of the future, and now the heir apparent.
In contrast, Larissa Waters will have to work hard to retain her Queensland senate seat. The sidelining from the deputy leadership of the party's only lower house member, Adam Bandt, reflects the factional power balance in the Victorian branch; party assurances that he has stepped aside to concentrate on impending fatherhood remain unconvincing.
On early indications, Labor in particular should be worried about the Greens' new leader. Di Natale is 44, the child of Italian immigrants from suburban Melbourne. Before politics, he was a GP with a specialty in HIV and public health. He has a farm in the Otways and a young family.
It's a background far closer to middle Australia than either Tony Abbott or Bill Shorten. "I'm not an ideologue," he announced yesterday, claiming he was in parliament to "get outcomes."
But Di Natale faces plenty of challenges. The increased scrutiny that leadership brings can disguise many pitfalls for the unwary; any stumbles will be pounced upon by a merciless media that is still struggling to come to terms with the decay of the two-party system.
The Greens still have many enemies: not just on the right, but also among fellow progressives, many of whom hate the Greens with the fury reserved for internecine disputes. Labor knows it is fighting for its long-term political survival, particularly in the inner cities. The ALP will use every opportunity to destroy the threat on its left flank.
Nor have the Greens ever put together a truly coherent set of fiscal and economic policies. If the Greens were to hypothetically hold government, how high would they hike taxes? Would they drive investment away?
Can they be trusted with "the economy", the pole star of contemporary political discourse? As the party attempts to tack towards the "mainstream" – Di Natale's own word, used yesterday – he will have to explain where the party stands on these kitchen table, hip-pocket issues.
But if Di Natale can communicate a progressive agenda persuasively, Labor will be worried. Di Natale may well be able to win away more of Labor's voters from the centre than Milne, who appealed largely to the party's base. He can do this without pretending to represent an alternative government, a tremendous rhetorical advantage. And his middle class background and seemingly no-nonsense approach may play surprisingly well with voters.
Donate To New Matilda
New Matilda is a small, independent media outlet. We survive through reader contributions, and never losing a lawsuit. If you got something from this article, giving something back helps us to continue speaking truth to power. Every little bit counts.