The emergence of vigilante-style "paramilitary" forces recruiting members with "firearms experience" to threaten Aboriginal youth suspected of rock-throwing and vandalism shows that Alice Springs needs a proper community response to help keep vulnerable kids safe, according to the town council's only Aboriginal councillor.
Yesterday New Matilda reported on Gary Hall, a spokesperson for the Alice Springs Volunteer Force, who this week sent a Facebook call-out for those with "communications, logistics and firearms" experience who would be willing to help teach others.
It's in response to a recent spate of rock-throwing, property damage and vandalism following an annual football carnival which attracted an influx of visitors to the Central Australian town.
Hall describes his group as a "paramilitary force" modelled on the Ulster Volunteer Force (UVF) in Northern Ireland, responsible for an estimated 500 deaths and classified as a terrorist organisation in Britain, Ireland and the US.
Recent anti-social behaviour in Alice Springs lead to a number of racist comments being left across social media, and an extreme response from the NT government, who warned parents that kids could be removed by child protection if they were found on the streets.
Despite the concerns of the potential use of "firearms" against Aboriginal youth, the Alice Springs police yesterday confirmed to New Matilda that criminal charges were not being considered, and instead they were monitoring Mr Hall.
Alice Springs Town Council's only Aboriginal councillor, Chansey Paech told New Matilda he believed there was potential for the threats to escalate, but said it was now up to police to continue monitoring Mr Hall's activities.
"I am extremely concerned over the statements about firearms… it's looking at that punitive approach and I don't support that. The police should keep on monitoring people like this because we don't want to see an issue where something happens to the young people in town who are already victims," Councillor Paech told New Matilda.
"[This] has the potential to grow and escalate, and so the police and other services need to keep an eye and monitor this."
Councillor Paech said the NT government had a role to play in the rise of vigilante-style groups, due to its failure to provide services for Aboriginal youth in the town.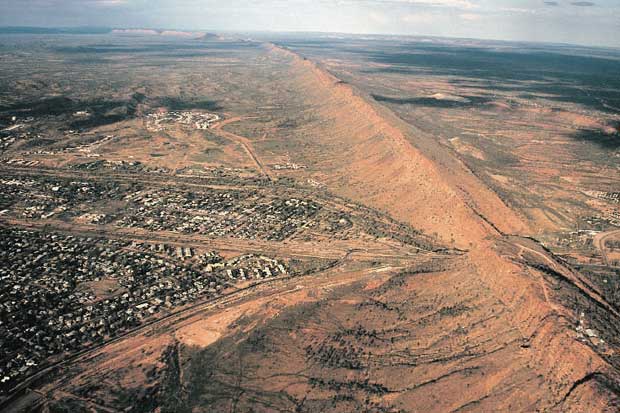 "We need a holistic approach, and we need an integrated youth response. The NT government has to deliver an integrated response so we don't end up with volunteer groups like the ones we are seeing coming together."
"This involves the whole of community's input and I'm very concerned about what could happen with groups like this."
He said youth services that could help lower anti-social behaviour had been gradually de-funded and under-utilised by the NT government.
"The Northern Territory government had youth services in place for some time but they were cut under this current government.
"So we need to obviously look at what has worked in the past. Things like a youth outreach service, which was an integrated response, and one of many initiatives which was delivering places of safety for young children who were vulnerable and in harm's way.
"These services were all cut. My argument has been there has to be after hours services in the Alice Springs community to help young people. You have services like the Tangentyere night patrol which is not adequately funded.
"The best way to overcome this is not through vigilante or volunteer groups. Governments need to make a solid commitment to people in the community to better fund and resource these services."
The Principle Legal Officer for the Central Australian Aboriginal Legal Aid Service (CAALAS) Mark O'Reilly told New Matilda the recent anti-social behaviour had reduced as visitors left Alice Springs.
He said the rise of vigilante-style groups needed to be condemned.
"There is a lot of community frustration and a lot of questions on how to respond to anti-social behaviour and I think that's a good thing to have this conversation about how to respond and get different community views about an appropriate response," Mr O"Reilly told New Matilda.
"Fortunately, the overtly racist aspect is in the minority. But it's still something we need to be mindful of and need to respond strongly to. We need to show the community that it's not the way to go and be strongly critical of these sorts of responses."
He says the NT government's response to threaten parents with child removal was "problematic".
"It was a blanket statement," he says.
"But things have settled down – at this stage people were leaving town and going back to their communities so it was going to subside anyway. A better response would be to look at how we deal with events where there will be a spike of young kids in town potentially in unsupported circumstances because of a combination of effects."
He says there is also a need for a longer-term solution to help young, vulnerable kids on the streets.
"There needs to be some real long-term commitment to funding youth services in this town. These things seem to come and go in waves," he says.
Donate To New Matilda
New Matilda is a small, independent media outlet. We survive through reader contributions, and never losing a lawsuit. If you got something from this article, giving something back helps us to continue speaking truth to power. Every little bit counts.