Broad sweeping statements about family violence in Aboriginal communities and calls to punish perpetrators more harshly could adversely affect Aboriginal women, who are the fastest growing demographic in prison, a leader of a new campaign to cut rising Indigenous incarceration rates has warned.
The newly formed National Justice Coalition launched its Change the Record campaign today, a strategy to slow the rising numbers of Aboriginal men, women and children in jail.
The coalition is made up of a number of Aboriginal and non-Aboriginal organisations who work across human rights, legal aid, family violence, health, and social services.
The group is calling on the Council of Australian Governments (COAG) to address the root causes of the Aboriginal incarceration crisis, which has over the past 10 years seen an 88 percent increase in the numbers of blackfellas in prison.
A key concern is how the high numbers of Aboriginal kids who come into contact with child protection and the devastating rates of family violence against Aboriginal women help pave the pathway to prison.
Aboriginal women are 34 times more likely to be hospitalised as a result of family violence than non-Aboriginal women.
Shane Duffy, co-chair of the National Justice Coalition, said incarceration rates could not be curbed without addressing its root causes.
"The end result is the incarceration rates but the root cause of this, the symptoms that we are trying to change are issues around family and community violence. It's a big part of it," Mr Duffy told New Matilda.
"We've talked about disability, we've also talked about health, housing, family violence, we've talked about child protection. Basically what we are saying is that you need to look at justice reinvestment. You take the money from the prison and invest it in services on the ground, services that will address the symptoms and you will keep people out of jail."
The Change the Record campaign says that "along with the experience of poverty and disadvantage, involvement in the child protection system and family violence are two of the clearest indicators of people who are more likely to end up in the criminal justice system.
"Early intervention strategies to prevent crime include measures to stop domestic violence and avoid exposure to the child protection system by supporting families and strengthening communities.
"These strategies will decrease imprisonment rates."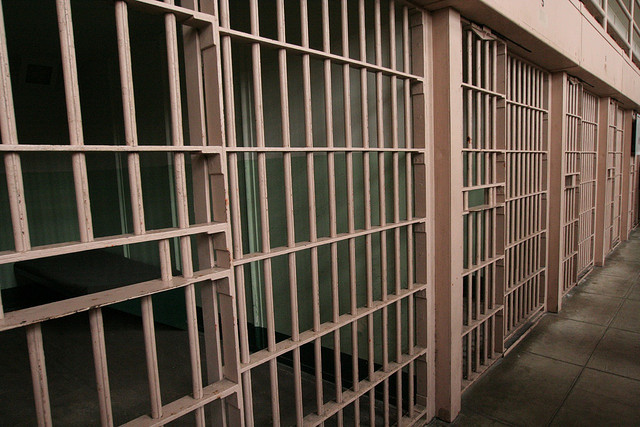 Earlier this week, prominent Aboriginal academic Marcia Langton told ABC's Late Night Live program that justice reinvestment ended up supporting the perpetrators of family violence, at the expense of the victims.
Prof Langton told the program that there was a disconnect between the numbers of Aboriginal people who are jailed for issues like traffic offenses and non-payment of fines, and problem of Aboriginal men who are given lighter penalties over domestic violence.
"If you look at how the system works for Indigenous violence, and perpetrators of violence get more services than the victims do. We want to get the balance right and there's a huge fashion in restorative or distributive justice or what's called justice reinvestment – but basically what all that is to support perpetrators of violence, meanwhile the victims who are usually women but not always, there are male victims as well… they aren't getting any support," Prof Langton said.
But Mr Duffy said these sorts of approaches could serve to the detriment of Aboriginal women.
"What concerns me more about this broad sweeping approach is if it was adopted, how it would impact on women. 75 per cent more Aboriginal women have gone to prison over the past ten years… so irrespective of gender around domestic violence and family violence, we have to look at the root causes of why people [perpetuate family violence]in the first place, looking at the emotional and social wellbeing, looking at issues like housing.
"Here's an opportunity to say through the Change the Record campaign that we can develop and do the research to find evidence-based policy of what does or doesn't work, to be able to form a social policy perspective to put to the federal government and translate it back to the state and territory level as well.
"Broad sweeping statements are not helping anyone."
He said arguments against justice reinvestments are too narrow, and that it is not solely about perpetrators.
"Justice reinvestment is about investing funds from the prison system back into services on the ground. That's another – dare I suggest – another narrow minded view about the advantages and potential of justice reinvestment, this focus on perpetrators being male.
"It's a mechanism to go and address the root causes and look at why people are offending. Justice reinvestment is not just about the perpetrators."
Vickie Roach is one woman whose life was marred by her contact with the child protection system, and later became a victim of domestic violence, which saw her in juvenile detention as a teenager, and then later imprisoned as an adult.
Roach would like to see more of a diversionary approach to family violence, which would move away from punitive measures like imprisonment.
"There's nothing to be gained from a purely punitive approach, it doesn't deter crime. I'd like to see more diversionary approaches to family violence like the Koori Courts, like a circle of elders," Ms Roach said.
"There will always be people who society has to be protected from, and they have to be somewhere secure where they can't harm other people but why does it always have to be a jail? I'd like to see alternatives that don't make things worse for the offender.
"We know the solutions – investing in housing, education and health – that's what makes a difference and what helps communities stay strong and healthy.
"The only way to get people out of the criminal justice system is to have an alternative that's healing, that's not punitive. You have to give people dignity and everything about the criminal justice system takes that away. The criminal justice system damages people – it damages women, children, men, entire communities."
Mr Duffy has reiterated the call for justice targets under the Council of Australian Government (COAG)'s Close the Gap framework.
"Under the safe community building block, there are no key performance indicators," he told New Matilda.
"We are saying to government to set justice targets to help reduce incarceration. Justice across all of the social services sector, including drug and alcohol and domestic violence and so forth. There is already bilateral support across government to close the gap – we are using that as a mechanism to get justice targets."
He says a key part of the strategy involves placing the solutions back in the hands of community.
"Now is the time to have a discussion with government. We need to be participatory in an relation to any social or public policy that's developed and it can't be done in isolation by predominately white bureaucrats with no understanding of each individual or community circumstance."
Donate To New Matilda
New Matilda is a small, independent media outlet. We survive through reader contributions, and never losing a lawsuit. If you got something from this article, giving something back helps us to continue speaking truth to power. Every little bit counts.