A West Papuan independence activist, who has been in exile for 12 years after escaping the Indonesian-controlled province, has called on the Australian government to look on "in [and]sympathy in pain" for his own people, who are being "killed like animals" following the execution of two Australians.
Last night Australians Andrew Chan and Myuran Sukumaran – along with six others from Nigeria, Brazil and Indonesia – were executed by firing squad on Nusakambangan Island, east of the capital Jakarta.
Mary Jane Veloso from the Philippines was spared after being given a last minute stay of execution to testify in the trial of an alleged drug trafficker. Another man – Serge Atalaoui from France – was also scheduled to be executed but last week received a temporary reprieve.
The killing of two members of the Bali 9 – Chan and Sukumaran – has sparked an emotional response across Australia.
Amnesty International's Crisis Campaigner Diana Sayed labelled their deaths "senseless, tragic and wasteful act of state-sanctioned murder".
"Hundreds of thousands of people came out to show their support for Andrew and Myuran and all of those on death row, signing letters, online petitions and hosting events. They respectfully called on the Indonesian government to stop the executions and to show mercy," Ms Sayed said.
"These efforts have served to strengthen the global campaign to end the death penalty putting the spotlight clearly on Indonesia."
West Papuan leader Benny Wenda today called on Australia to also pay attention to his own peoples' plight, with an estimated 500,000 Indigenous West Papuans killed under Indonesian occupation of his homeland.
Mr Wenda today sent his condolences to the families of those killed, and said his people shared their pain.
"I would like to remind the world that this is exactly what the Indonesian government is doing to my people. Over 500,000 West Papuans have been systematically killed by Indonesia ever since [it]illegally invaded our country in 1963," he said in a statement.
In 1969, about 1,000 Papuans out of a population of 800,000 were hand-picked to vote in the "Act of Free Choice", which is commonly referred to as the "Act of No Free Choice".
There are concerns they were threatened or coerced into voting for West Papua to become part of Indonesia.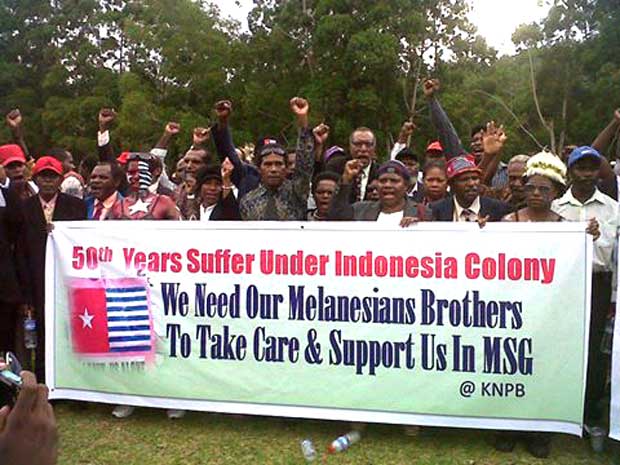 Since then there have been constant concerns over human rights violations in the province and brutal and violent crackdowns on peaceful demonstrations. Because of a notorious ban on international media, the atrocities have largely flown under the radar.
Mr Wenda said a photo, currently the subject of an Australian government complaint, showing an Indonesian police chief from Bali posing on a plane with Andrew Chan as he is transported to the island in preparation of his execution earlier this year, was similar to the photos taken by Indonesian security forces who pose with tortured West Papuans.
He compared it specifically with a photo of Indonesian soldiers holding the body of West Papuan independence activist Yustinus Murib, who was killed by military forces in 2003.
"I feel that these photos show the world the kind of attitude the Indonesian authorities have towards anyone who opposes them," Mr Wenda said.
"So many West Papuans like Yustinus Murib are also escorted by smiling and sadistic Indonesian soldiers and police officers, only to be killed like animals at the command of the Indonesian government."
He called on Australia and the world to understand the pain felt by West Papuans under Indonesian control.
"I know that the Australian government is launching an official complaint about the photo…. I hope that the Australian government as well as others throughout the world will also look with the same sympathy and pain at the humiliation and suffering of my people under the Indonesian authorities as well," he said.
"People all around the world can see the similarity with these sadistic looking photos."
"…My deep sympathy and pain is with all those who are facing execution by the Indonesian government. Myself and my people know exactly what it is like to face seemingly imminent death at the hands of the Indonesian military."
Mr Wenda said it was time for his people to be independent, and that they would continue to campaign in the face of military intimidation.
"We West Papuans cannot live under a regime which continues to kill us all the time and happily hold up our dead bodies like animal trophy kills. We will struggle on for the independence of our nation through the fulfilment of our right to self-determination. No matter how many of us are executed, we will continue to campaign to be at last free from this military occupation and terror.
"…Please look to my people's suffering against the brutality of the Indonesian government. We must not let Indonesia get away with executing people any longer."
Donate To New Matilda
New Matilda is a small, independent media outlet. We survive through reader contributions, and never losing a lawsuit. If you got something from this article, giving something back helps us to continue speaking truth to power. Every little bit counts.