Alice Springs residents are forming vigilante-style groups described as "paramilitary" forces and are threatening violent action against Aboriginal youths suspected of rock throwing, property damage and other criminal activity.
Locals are also making racist threats against Aboriginal people online, and posting about bashing, running over and even killing those involved in crime in the troubled Central Australian town.
Tensions have flared in the wake of the annual Lightning Cup Football Carnival, held over the Easter long weekend.
The event, and the simultaneous school holiday period, brings thousands of young people and their families into town from remote communities.
Many stay for the days and weeks following.
Despite police thanking visitors for their behaviour during the event itself, the swell in the population has coincided with an increase in vandalism, property damage, attempted break-ins and in particular, rock throwing.
By Tuesday this week, 21 people, 18 of them minors, had been arrested for such offences since the football carnival, and scores more have been moved on from public spaces. Dozens of rock throwing incidents have been reported over the period.
Some Alice Springs residents, concerned about personal safety and sick of damage to their cars and homes, have taken to airing their frustrations online.
There are calls for a curfew; a petition has been signed by more than 440 people calling for the football carnival to be cancelled; and a number of locally based Facebook pages are seeing increasingly angry residents vent their spleen.
On the Alice Spring Community Open Forum, a closed Facebook page, a number of people have posted racist and vitriolic rants directed at Aboriginal people.






This posting was left on the Northern Territory Police Force Facebook page.

Blair McFarland is the manager of the Central Australian Youth Link-Up Service. He is worried that such comments could spill over from social media into real violence.
"It could be really bad… people might feel they can take violent action and are in some way authenticated by people talking tough on Facebook," he said.
Amidst the hate-fuelled tirades, a relative newcomer to town has launched a call to action. Gary Hall has lived in Alice Springs for just under four years. He told New Matilda that seeing the remnants of rock-throwing activity after the football carnival motivated him to respond.
"I'm from Northern Ireland. There, we do not leave responsibility in the hands of the government or the civil authority alone. Because they can only do so much," Hall said.
"In Alice, we can't just rely on an overstretched, under budget police force. We all have a duty of care to each other and our town. So that's how the group was formed."
That 'group' is the Concerned Residents Council (CRC), which Hall describes on Facebook as "mums and dads protecting areas through non-violence".
Volunteers have taken it upon themselves to conduct late night, unsupervised patrols of so-called "hotspots" around Alice Springs including Billygoat Hill, Piggly's supermarket and Eastside in what Hall says is a bid to prevent rock throwing, vandalism and violence.
"We had about 14 to 17 people on the first night we went out. On the second night we split into several groups," he said.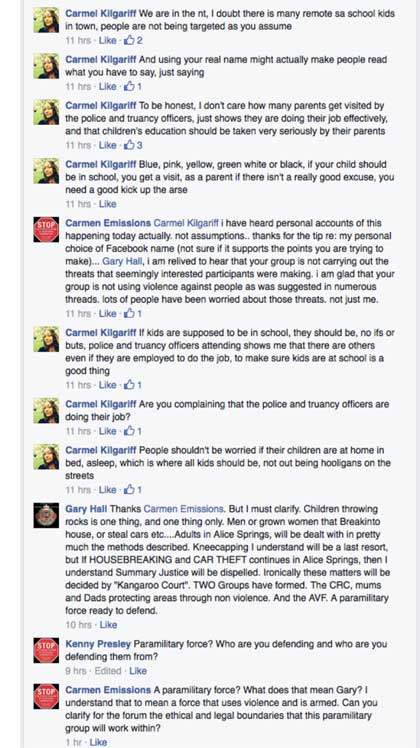 "In real terms [we've had] 99 per cent positive feedback, one percent negative.… In that one percent there has been some extreme elements, people saying "kick the n*****s in".
"I don't consider that positive, I consider it negative," he said.
Hall denies the CRC's action is based on race.
"I fail to see how racism comes into this… anyone who acts on that clearly doesn't understand the issues," he said.
Antoinette Carroll is the Chairperson of the Central Australian Youth Justice Committee. She says it's difficult to see how the recent community watch activity isn't targeted at Aboriginal youths.
"The young people coming before the courts [over these incidents]are pretty much 99.9 per cent Indigenous young people," Carroll said.
She also worries about where the activities may lead.
"We had a fine member of our community, Kwementyaye Ryder, killed just a few years ago. It was a vigilante crime, just picking on someone because they were Aboriginal," she said.
Kwementyaye Ryder, an Indigenous trainee ranger, died after he was bashed and kicked in the head by five white males in Alice Springs in July 2009. The youths had been driving up and down the dry riverbed of the Todd River in the early hours of the morning, threatening Aboriginal people sleeping rough, which included firing a pistol.
Five youths were sentenced to between 12 months and four and a half years over the killing.
Carroll is concerned about the recent actions of the CRC and the discussions online.
"We've spoken to police about some of this stuff on social media and I hope that they are taking it in hand," Carroll said.
Other activity – online and off – may be of even more concern. Gary Hall is also involved – though he insists only as a spokesman – with another group known as the Alice Springs Volunteer Force, or the AVF. He's described them on Facebook as a "paramilitary force ready to defend" and posted chilling messages on their behalf, including: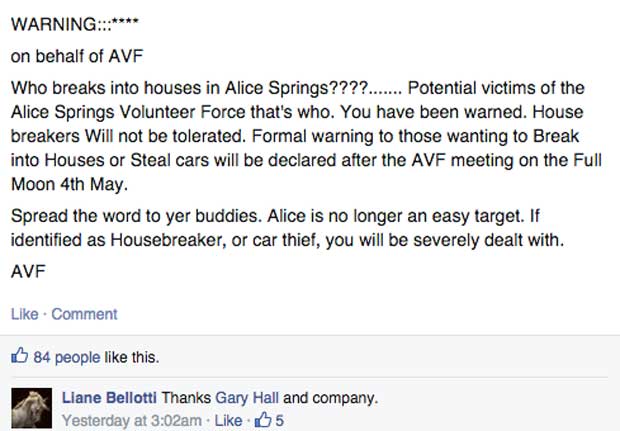 Hall says the AVF was established late last year. "It continues to be active in Alice Springs. They are not online, they are not on Facebook, they are not known.… They would consider themselves a paramilitary force, not a vigilante force," he said.
When asked to clarify the nature of the group, Hall told New Matilda "the newly established AVF would be basing their activities on similar military wings around the world, like the Ulster Volunteer Force," he said.
The Ulster Volunteer Force, or UVF, is a militant group responsible for at least 500 deaths during the 'troubles' in Northern Ireland, and classified as a terrorist organisation in Britain, Ireland and the United States.
Superintendent Travis Wurst says Alice Springs Police know of the new groups, and condemn their activities.
"I'm well aware of the comments being made on social media," he said. "The general public may have been upset, but the way they have been reacting by setting up these community groups, vigilante groups as some may call them, is dangerous and irresponsible," Wurst said.
"They should leave that business up to the police."
Despite the concerns about vigilantism and racialised violence, Gary Hall says the Concerned Residents Council will remain active in Alice Springs for as long as is necessary.
"We are not going anywhere. People say it's the same every year – well thanks to the CRC this will not be happening again. We will take control of our streets."
* New Matilda is a small, independent Australian media outlet. We rely almost entirely on reader subscriptions for our survival. If you would like to help us keep reporting, you can subscribe here. Or you can help us by sharing this story on social media (click on the links below).
Donate To New Matilda
New Matilda is a small, independent media outlet. We survive through reader contributions, and never losing a lawsuit. If you got something from this article, giving something back helps us to continue speaking truth to power. Every little bit counts.