Australia should cut emissions by 30 per cent on 2000 levels within a decade in order to make a fair contribution to global efforts to tackle climate change and protect its own national interest, the Climate Change Authority said today.
The authority, which has released a draft report as part of a 'Special Review' requested by Environment Minister Greg Hunt, has also reiterated its view that Australia should build towards a 2030 reduction of between 40 and 60 per cent.
"These are challenging targets," Chair of the authority Bernie Fraser said, "but not more so than the targets now being adopted by many other countries".
The recommendation comes just days after major players in the United Nation Paris climate talks, including China and America, questioned Australia's targets and they would be achieved under current policies.
The Climate Change Authority was set up to advise the government on climate policy, and said that as the driest inhabited nation on earth and one likely to be badly affected by global warming, it's in Australia's interests to act.
"To the extent that support for global action on climate change and doing its fair share of emissions reductions can avoid these dangerous impacts, it is clearly in Australia's interests to do so," Fraser said.
The authority has previously said Australia's current target of reducing emissions by five per cent on 2000 levels by the end of the decade is inadequate. Experts have questioned whether that target will even be achieved under the Coalition's 'Direct Action' policy
The Climate Change Authority says a reduction of 19 per cent in the same time would be more appropriate, and would prevent Australia from having to make sudden, potentially more costly, cuts to meet more ambitious targets in the future.
The federal government however, "has shown no inclination to budge from [its]minimum target", Fraser said.
National Climate Change Manager at the World Wildlife Fund, Kellie Caught, said her organisation agreed with the "clear message from the Climate Change Authority" that "Australia needs to lift its game if we are to protect the people and places we love".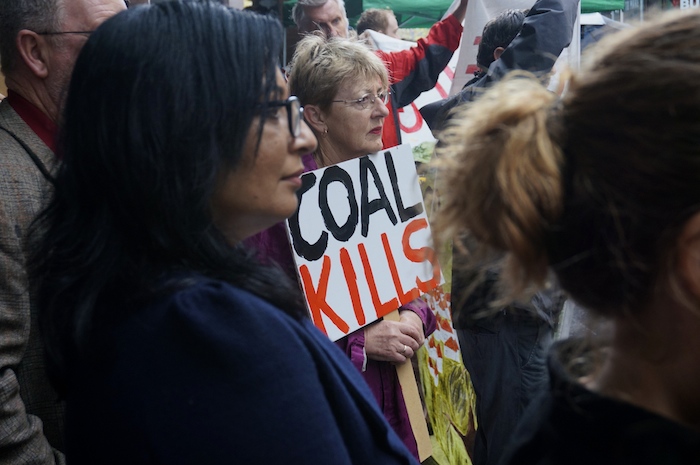 A question by the Chinese government published earlier this week as part of the Paris climate talks process revealed that,"Australia proposed a conditional target of 15 per cent or 25 per cent based on the level of international action". China, the world's second largest emitter, wants a specific definition of "international action".
Delays to deep cuts in Australia's carbon emissions have often been blamed on a perceived lack of international action from large emitters like China.
However, as the world builds momentum, aiming to strike the meaningful global deal that previous rounds of talks have failed to produce, other countries are showing an unprecedented commitment to reducing emissions.
The US has already committed to a 26-28 per cent cut below 2005 levels by 2025, and China will aim to peak its emissions by 2030.
More than thirty countries have now submitted targets to the UN ahead of this year's talks, and European Union member countries will aim for a goal of 40 per cent on 1990 levels by 2030.
Australia is lagging behind the pack, experts warn, but has said it will submit its targets by mid-year.
Australia's emissions represent just less than 1.5 per cent of the global volume, but it is per capita emissions are the highest in the world.
"In absolute terms Australia's emissions are on par with those of the UK, which has about three times the population of Australia," Fraser said.
"The fact that UK emissions are also less than 1.5 per cent of global emissions has not deterred that country from continuing to adopt ambitious actions to wind back emissions to support the two degrees goal," he noted.
The two degree goal underpins the Paris climate talks, after 196 nations declared at the Cancun talks in 2010 they would seek to the avoid "dangerous" climate change which would ensue if temperature rises exceed two degrees Celsius.
Despite being one of those nearly 200 countries, the Abbott government appears to have reneged on its support for the two degree goal.
A recent issues paper, released as part of the process of determining what cuts will be made and how in the post-2020 period, relied on modelling which would put the world on track to a 3.6 degree temperature rise.
When asked last week whether the government remained committed to the target, a spokesperson for Environment Minister Greg Hunt would not directly address the question.
On Sunday Professor Tim Flannery, who used to head up the Australian Climate Commission before the Abbott government defunded it on taking office, told New Matilda "our international reputation is pretty much at rock bottom".
If the government abandons the two degree goal it would further undermine Australia's credibility on the global stage.
"The assertion that, as a small emitter, Australia could sit on the sideline of this particular global contest was always more self-serving than credible," Fraser said.
"To maintain that posture in light of the increasing international actions to reduce emissions – by developed and developing, big and small countries – makes it even less credible."
"The fact is Australia stands to be massively affected by global warming whatever its share of global emissions."
Yesterday, a report from Australian National University Associate Professor Frank Jotzo found that Australia could de-carbonise its economy and achieve 100 per cent renewable energy by 2050, while continuing to grow its economy.
Donate To New Matilda
New Matilda is a small, independent media outlet. We survive through reader contributions, and never losing a lawsuit. If you got something from this article, giving something back helps us to continue speaking truth to power. Every little bit counts.