Indonesia's Human Rights Commission has recommended an inquiry into a 2014 massacre in West Papua in which the Indonesian army and police allegedly opened fire on a group of peaceful protestors leaving four students dead and at least 17 injured.
There are now calls for the recently elected President Joko Widodo to make good on his promises to improve the human rights situation in the province, and ensure there is a transparent and independent inquiry into the killings.
It follows the release earlier this week of a disturbing video showing the aftermath of the 'Paniai Massacre', filmed by citizen journalists and published by Minority Rights Group International.
On December 8 2014, members of the Indonesian police and army allegedly fired into a peaceful rally of about 800 people assembled in a field outside the police station in Enarotali, in the Paniai province in West Papua. Four unarmed teenagers were shot and killed – Abius Gobay, 16, Alpius Youw, 18, Simon Degei, 17 and Youlianus Yeimo 17.
At least 17 people were injured, including primary school aged children.
The video shows devastated West Papuans carrying and cleaning the bodies of the four deceased high school students.
It shows an injured man on a hospital bed saying "the community was totally unarmed. The military had weapons. We civil servants and village heads stood in the middle then the heads of Awabatu village and several civil servants were shot."
The video shows a primary school student who had been shot in the thigh.
Another woman was hit in the arm and is shown lying in her hospital bed.
Following the massacre, President Widodo promised to resolve the case. In comments in the West Papua capital of Jayapura shortly following the shooting, he said he wanted "this case to be solved immediately, so it won't happen again in the future".
"By forming a fact-finding team, we hope to obtain valid information [about what actually happened], as well as find the root of the problems," he said according to the Jakarta Globe newspaper.
The Indonesian Human Rights Commission Komnas HAM began investigating the killings and four months on uncovered a series of gross human rights abuses.
It is now calling on the Indonesian government to undertake a more detailed investigation through a pro-justicia inquiry, which would be the next step for prosecution in the Human Rights Court, according to Amnesty International.
Amnesty International this week called on President Widodo to make good on his promise.
"The culture of impunity has contributed to previous administrations turning a blind eye to human rights violations by Indonesian security forces in Papua, including unlawful killings, excessive use of force, and torture and other ill-treatment," Amnesty said this week.
"Should Komnas HAM's investigations and the President's public commitment to resolve the case lead to genuine accountability and reparations for the victims and their families, it would be a positive indication for Papuans of President Widodo's commitment to improve the human rights situation in the region."
Director of the Minority Rights Group International Claire Thomas said President Widodo had already "left a trail of broken promises on West Papua".
"If he is serious about implementing political reform in Indonesia, he needs to ensure that the military is open to public scrutiny and state actors perpetrating abuses against Papuans are held to account. The investigation into the Paniai massacre will be a crucial test of Widodo's commitment to human rights in West Papua," Ms Thomas said.
But Indonesian political expert Dr Richard Chauvel from Melbourne University says President Widodo has been "indecisive" in his response to the killings, and while the report from the Komnas HAM is important, it is the first step.
"I think it's clearly a positive sign. Komnas HAM is an institution of the state, it'll have much greater access to witnesses, other stakeholders in the killings in Paniai late last year than a private NGO," Dr Chauvel told Radio New Zealand.
"So as an institution of the state, it's going to have the capacity to do the research, to collect the evidence and make recommendations.
"But it's my understanding that Konmas HAM is not a part of the executive – it's recommendations will not automatically become government policy.
"It is yet another input into government policy; and Jokowi, on issues relating to Papua, has been less than decisive and less clear in his direction than many of his supporters at the time of the campaign and his subsequent election would have certainly hoped for."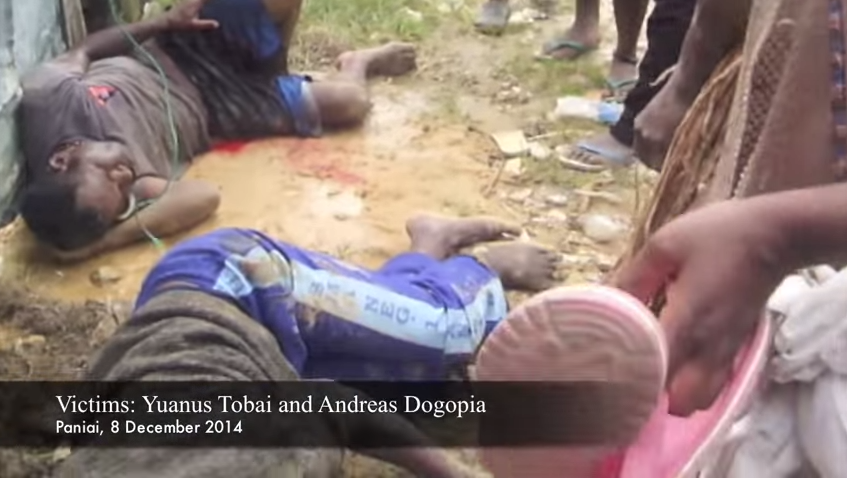 The Paniani region has been the target of brutal crackdowns by the Indonesian military which escalated following the launch of Operation Matoa in December 2011, designed to break a local armed resistance movement. This operation led to the displacement of an estimated 14,000 Indigenous West Papuans.
Donate To New Matilda
New Matilda is a small, independent media outlet. We survive through reader contributions, and never losing a lawsuit. If you got something from this article, giving something back helps us to continue speaking truth to power. Every little bit counts.